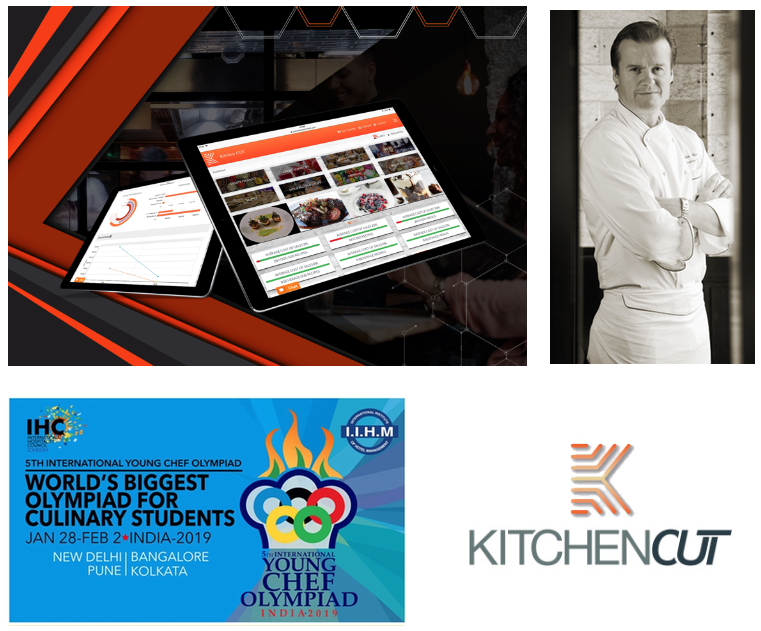 The 5th International Young Chef Olympiad (YCO) 2019, organised by the International Institute of Hotel Management (IIHM), took place in India. Kitchen CUT Co-Founder and Michelin Starred chef, John Wood has returned as Chief Judge and this year, all competitors and mentors had the opportunity to use Kitchen CUT's leading edge F&B Management software to help them on their quest for first place.
The world's biggest culinary Olympiad was held from 28th January to 2nd February. The participating countries have been divided into five groups, each of whom took part in  three different rounds being held at Delhi, Pune, and Bangalore, culminating in a grand finale and closing ceremony in Kolkata on Saturday 2nd February.
This year, with allergen management and reporting nutritional information such vital considerations within the F&B industry, there were points awarded for allergen/nutritional/calorific data for each recipe. In a bid to make this more simple and accurate, all competitors and mentors involved with YCO 2019 were able to use the Kitchen CUT system for creating recipes, sub recipes and menus, tracking nutritional information and allergens as well as a whole host of other features.
Over 50 young chefs have competed from all over the world and so the event showcased the brightest and most promising talent from across the globe. Encouraging new talent is something that Kitchen CUT Co-Founder and Michelin Starred chef believes is fundamentally important and so the decision to become involved as a judge for the event was an easy one:
"I've always been passionate about giving back to the industry I have been a part of for over 35 years, particularly in supporting young chefs just starting out in hospitality. It's an absolute honour to be here judging at the Young Chef's Olympiad again. The danger of mismanagement of allergens has never more in the forefront of the industry's awareness and I am dedicated to raising awareness and showing young chefs that the only way to avoid tragedy is to use a robust, automated system to track allergens. With Kitchen CUT, they can do this simply, efficiently and accurately," he commented.