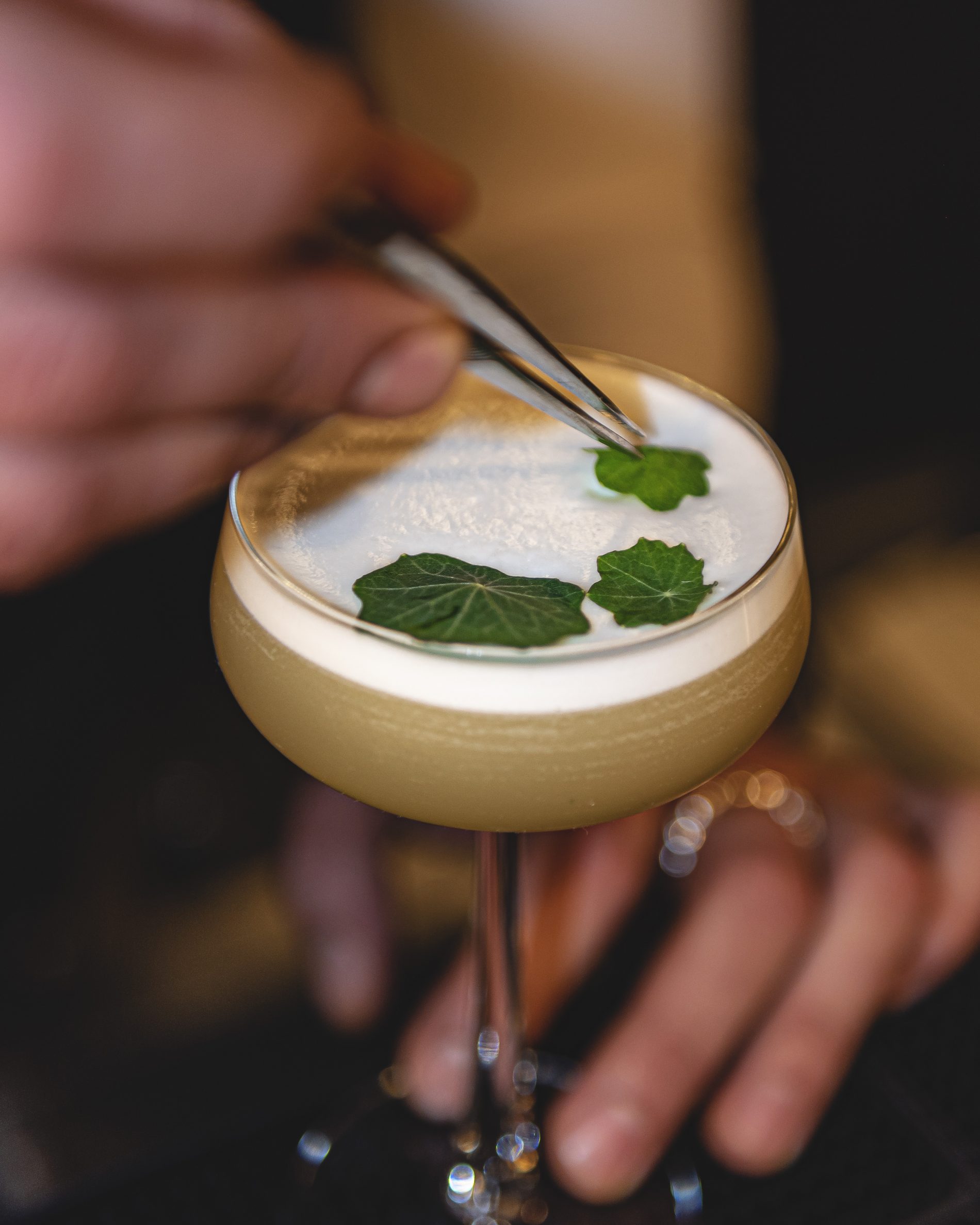 Dakota Leeds has launched a brand-new cocktail menu that pairs art with experimental mixology.
Inspired by some of the most classic works from iconic artists across the globe including Vincent van Gogh, Leonardo da Vinci and William Turner, the 'L'art du Cocktail' menu has been created by the bar team, headed up by Hotel Bar Manager, Mircea Mirica.
The new menu consists of 15 flavoursome cocktails and showcases different stages of art through past decades. Each drink has been created with the art it depicts in mind and is brought to life through the use of creative ingredients, garnishes and glassware.
'Rain, Steam & Speed' (William Turner) is a homage to the advancements of the railways in industrial Britain and the drink pays tribute with a smoky flavour to represent the steam train, with hints of fruitiness for the fields featured in the painting. 'The Cyclist' (Natalia Goncharova) is a refreshing tipple blending elderflower cordial with Sacchetto Prosecco and Schofield's Dry Vermouth and features edible stones that are exaggerated in the painting. And the drink dedicated to Paul Strand's 'Wall Street' print photograph uses the Fibonacci sequence in the measurements of the ingredients.
Mircea Mirica, Hotel Bar Manager at Dakota Leeds, said "The motivation behind the art inspired menu stemmed from a visit to the Tales and Spirits bar in Amsterdam, and 'The Drop of Art' cocktail on our menu is a true replica of the drink served in the Netherlands. This cocktail inspired the team to develop a new menu based on works of art.
"A lot of thought, passion and time has gone into designing each drink to make it as experiential and memorable as possible. The team researched the period and artist that each cocktail is based on and developed a drink that encapsulates key elements of the artwork.
"Our aim is to deliver a truly amazing cocktail experience that our guests will remember. The new cocktails are designed to not only leave a lasting impression but their interest into discovering why certain ingredients are used and the reasoning behind the presentation. There is so much more to discover when sampling the 'L'art du Cocktail' menu, similar to the paintings they depict, and we hope our guests enjoy our very own works of art."
Cocktails include; Drop of Art (Vincent van Gogh), La Gioconda (Leonardo da Vinci), Rain, Steam & Speed (William Turner), After Dinner at Ornan's (Gustave Courbet), The Water-Lily Pond (Claude Monet), Portrait of Eugenia Primavesi (Gustav Klimt), Self-Portrait in a Striped T-Shirt (Henri Matisse), Several Circles (Wassily Kandinsky), The Two Fridas (Frida Kahlo), The Cyclist (Natalia Goncharova), Pleiades (Max Ernst), Wall Street (Paul Strand), The Son of Man (René Magritte), The Telephone 2 (Tamara de Lempicka), Campbells' Soup 1 (Andy Warhol).