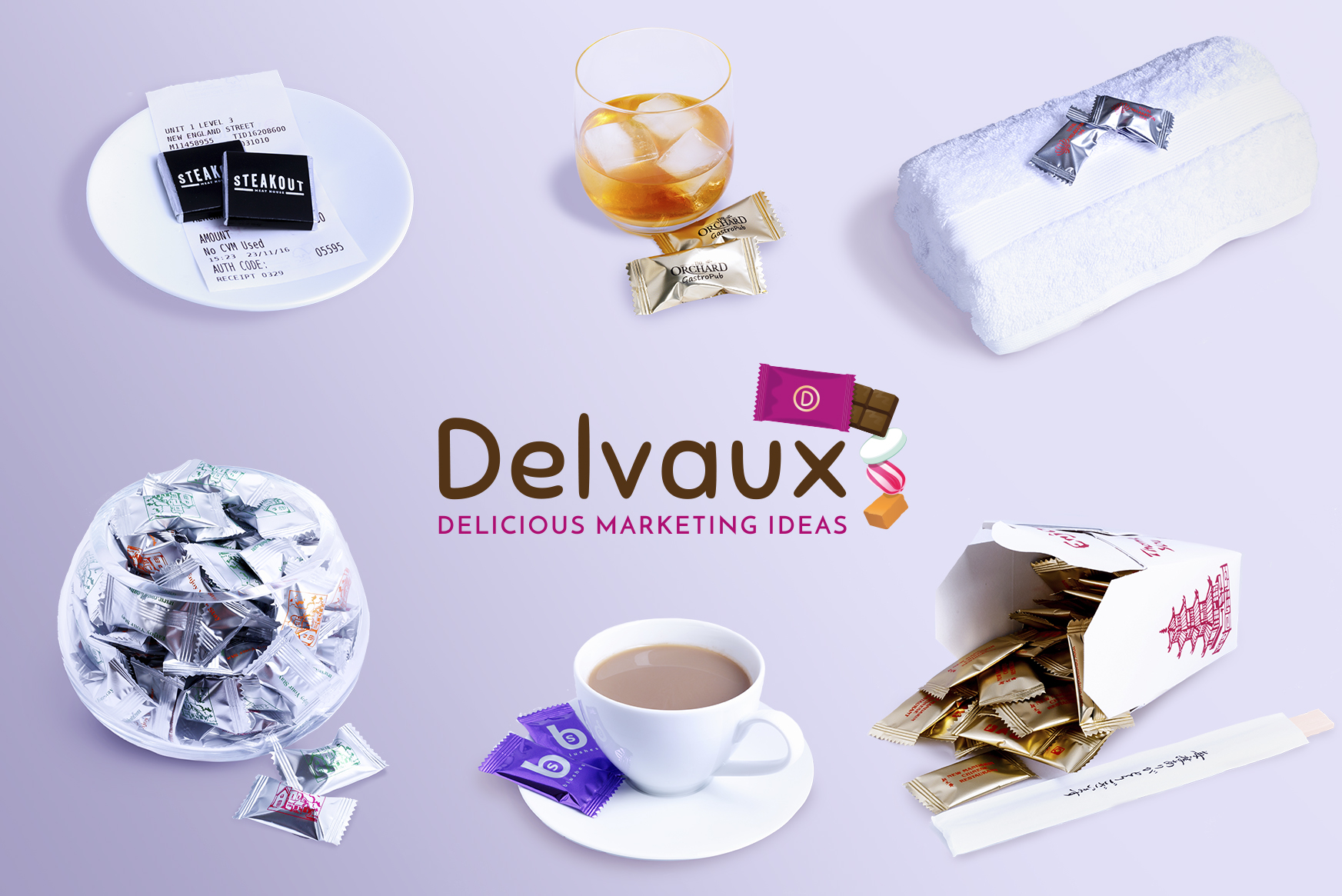 34 years ago Delvaux's founder, the mother of the current Managing Director Natalie Atkinson, recognised that whatever your business, first and last impressions count!
Since then Delvaux have specialised in helping 1000s of restaurants, bars, caterers, hotels, spas, conference centres and wedding venues to make positive first and last impressions with what Delvaux call "edible advertising" …those tasty chocolate and sweet treats wrapped in branding, advertising messages and imagery which make such a positive impression on future and current customers.
Since taking over the reins at the family firm 4 years ago, Natalie and her team have been busy innovating to meet the different needs of the sector and to reflect changing consumer taste. The result is a much bigger choice of sweets, designs, wrapper types and printing options too!
"Now when a business wants something different to serve after dinner, to give out with their bills, to offer in a reception area, to leave on a hotel pillow or to give out as promotional items, we can supply a wide range of personalised sweets as well as chocolates from stock at short notice, including individually wrapped Flat Imperial Mints, Chewy Mentos, Fruit Sweets, Jelly Beans and Salted-Caramel Fudge, to name a few" Natalie tells us.
"Our topical, colourful range of seasonal designs now includes Christmas, Easter, Mother's Day, Father's Day, Halloween, Chinese New Year, Eid Mubarak and other celebrations such as Weddings, Birthdays and Anniversaries."
"Of course while rapidly expanding our range of flow-wrap confectionery sweets and adding a bespoke option and seasonal designs too, we continue to supply the ever-popular rectangular flow pack Mini-Chocolates and square Neapolitan Chocolates, printed either digitally in full colour or in single colour with luxurious hot-foil."
Delvaux's customers are clear that there is no more cost-effective way to incentivise and thank their future and current customers, build brand loyalty and make a positive lasting impression than with personalised sweets and chocolates… please see below for a special offer for FEAST readers to enjoy the benefits yourself!
To see the new range of personalised Sweets & Chocolates and seasonal designs from Delvaux Ltd please see:  https://www.DelvauxChocolates.com/Shop or call Richard, Sales Manager, on 01932 571180 or email:  [email protected]
Use coupon code "FEAST" when ordering for a special 20% OFF your first order with Delvaux Ltd, exclusive to FEAST readers (T&Cs apply).