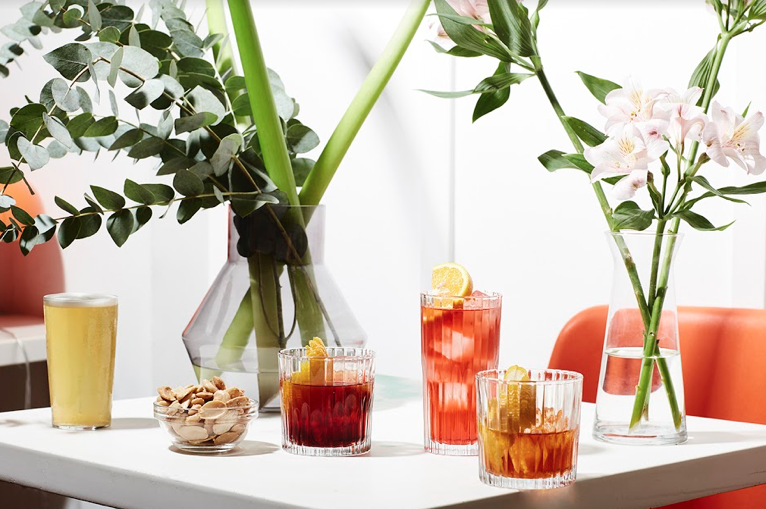 Diddy's bar, a neighbourhood spot in Hackney owned by Hackney locals, bar manager Diddy Varley and architect Jayden Ali, is about to launch a new menu for September. This is a great excuse for you to potter down to the Hackney bar, meet Diddy herself, and discover the amazing creative projects they're working on (check out their Still Life photography exhibition). 
The new menu centres on simplicity; with drinks split into four sections – Spritz, Margaritas, Sours and Negronis. These classic cocktails have a few modern twists, such as the Sbeergliato: a play on the notorious negroni sbagliato which uses Pilsner instead of gin and Prosecco, giving it a refreshing, sweet and savoury flavour. Tequila and mezcal are at play with the, Ancho Reyes Negroni made with campari, vermouth, mezcal, and Ancho Reyes, a relatively new Mexican chili-infused liquor that adds a kick to the smokey short drink. Plus an Ancho Reyes Margarita and a Tequila Espresso Martini.
There will also be three new British ciders: Pollen, a high acidity and bitter cider from a single farm in Herefordshire; Oliver's Yarlington Mill, a medium dry, rich and full bodied cider using wild yeast ferments; and Starvecrow Natural Cider made by natural winemakers Tillingham Wines who have used non traditional apples (such as Bramleys, Goldens, Charles Ross and Braeburns) to make a light, pale gold colour cider with delicate aromas of honey, hay and baked apple.
The food is simple café style with comforting toasties, charcuterie and burrata, chia seed puddings for the those who require, and Hackney Geleto for a sweet treat (or a sorbet chaser for your shot of mezcal).