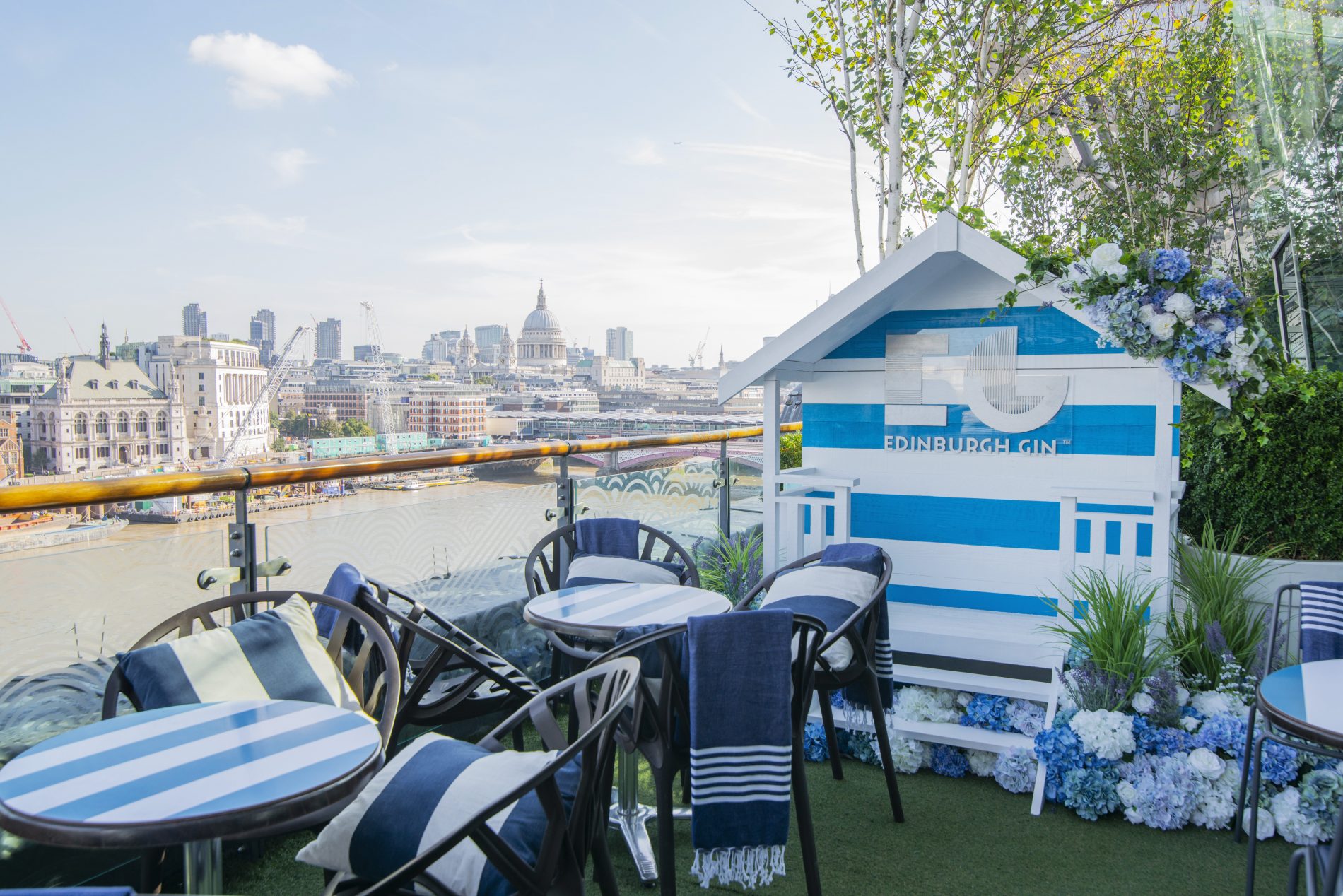 In a new partnership with OXO Tower Restaurant, Bar and Brasserie, Edinburgh Gin unveils an exclusive coastal-themed terrace in the heart of London, the Edinburgh Gin Seaside Terrace.
Inspired by Edinburgh Gin Seaside – the award-winning gin distilled using coastal botanicals including ground ivy and scurvygrass – the activation has transformed OXO Tower Bar's terrace with a distinctive seaside theme.
Running for six weeks, the terrace includes a bespoke cocktail menu curated in collaboration with Edinburgh Gin and OXO Tower's renowned mixology team.
Cocktails made using Edinburgh Gin Seaside and other gins from the range include a Seaside Spritz, a Scottish Negroni and Edinburgh Gin's signature serves. Guests can also enjoy a coastal inspired bar snacks menu.
Neil Mowat, UK Marketing Director, Ian Macleod Distillers said: "Our partnership with OXO Tower reinforces our goal to showcase the very best Edinburgh Gin has to offer to consumers in the capital. Seaside has formed the inspiration for the terrace and has resulted in an inspired cocktail selection that gives OXO Tower's guests the chance to experience Edinburgh Gin on the famous banks of the Thames River."
Nick Jarman, General Manager, OXO Tower Restaurant, Bar and Brasserie said: "Partnering with Edinburgh Gin to create such an exciting activation concept is testament to our commitment to working with the very best Britain has to offer. It's collection of gin and liqueurs allowed our bar team and chefs to create unique cocktails and a delicious food menu inspired by Scotland's famous coastal views and world-famous seafood."
This builds on a programme of activations in London this summer which kicked off with Edinburgh Gin's Seaside themed installation for the Chelsea Flower Show at Peter Jones.
The Edinburgh Gin Terrace is open until Sunday, 6 October, for more information: https://www.harveynichols.com/restaurant/the-oxo-tower/whats-on/upcoming-events/the-edinburgh-gin-terrace/