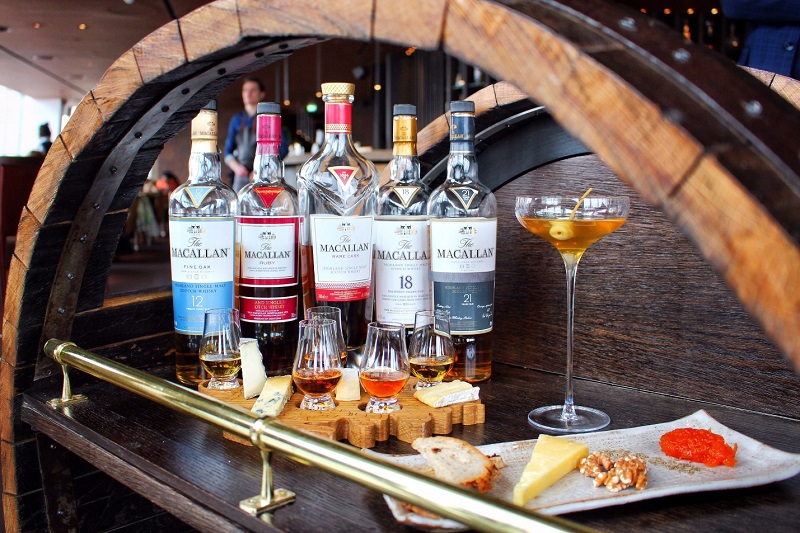 The Macallan is a luxurious single malt whiskey brand have revealed the results of their most recent working partnership. Macallan has revealed that they have been working with Oblix at The Shard in order to make the whisky company's first ever unique Macallan Whisky Trolley, which contains a range of different whiskeys of all ages and types.
Oblix is well known as being London's most iconic restaurants, situated on floor 32 of The Shard. It is said that both Oblix and Macallan are both pioneering and by working in collaboration they have been able to deliver a new product to their guests. The Whisky Trolley has been created to showcase the range of different single malt Whiskeys and that will work well with the restaurant's cheeses.
The bespoke creation was designed then crafted by hand in Glasgow. The basis of the trolley is a Macallan Sherry butt which was chosen specifically for the project by The Master of Wood, Stuart MacPherson. The Sherry butt was selected and taken from Spain in order to be used by Macallan. The thoroughness in selecting the wood and the casks as part of the Macallan process that is perfect for showcasing the end product as part of the Trolley.
It is thought that both Macallan and Oblix try to push against the boundaries of their industry in order to try and alter the way that the population see food and drink. The partnership between the two big brand names will offer diners at The Oblix a brand new and memorable experience; by savoring the complexities of the Macallan Whiskey and the enhanced flavor of the cheeses Oblix offer to serve with it.  The Whisky trolley holds a variety of different styles of whiskeys, and they will be served alongside a selection of Scottish cheeses on a wooden map to allow guests to see the geographical pairing of the products.