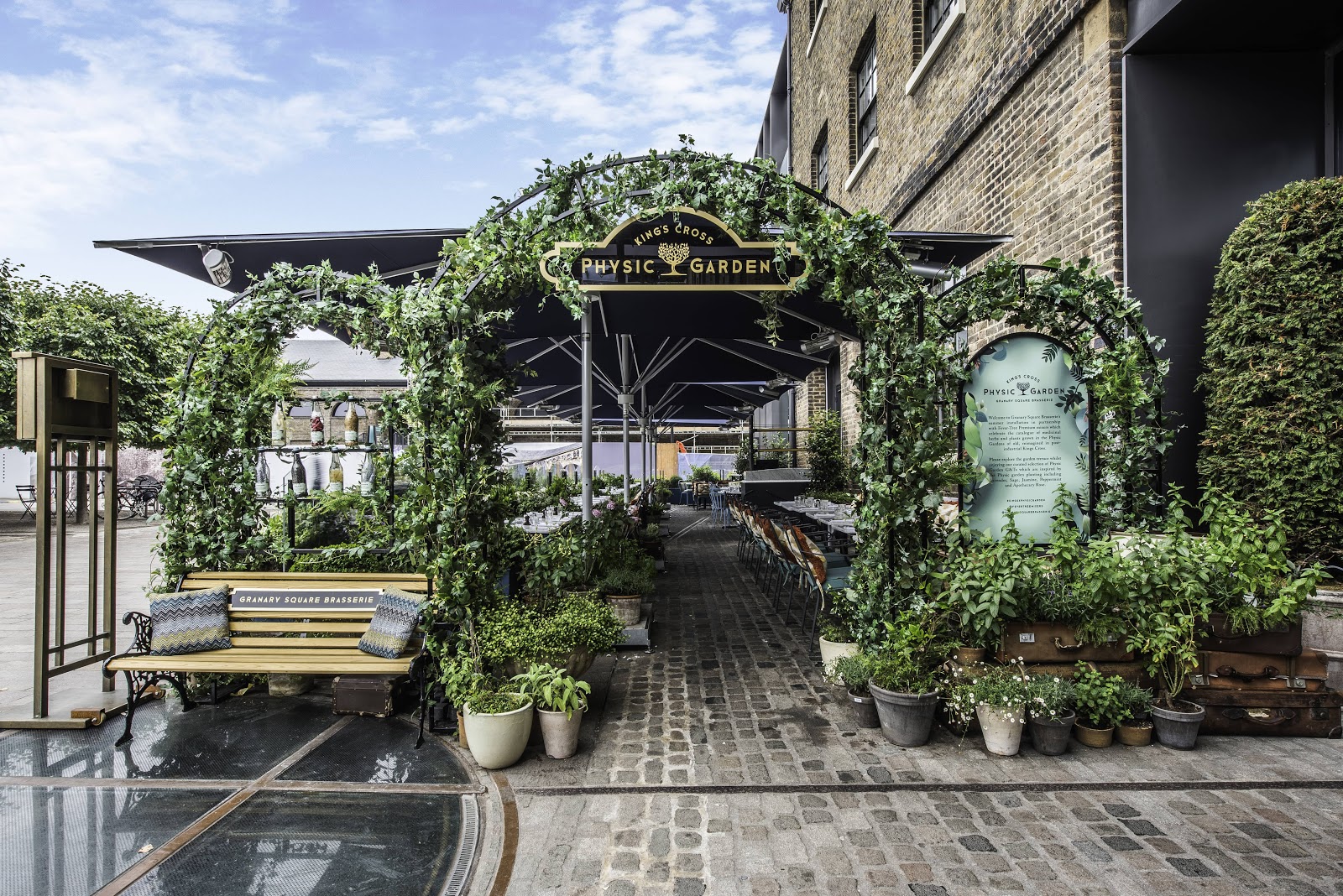 Granary Square Brasserie and Fever-Tree have launched a terrace that offers a series of bespoke gin cocktails in beautiful surroundings for the warm, summer season. The Physic Garden takes inspiration from traditional physic gardens, with an installation that conjures old-age practices of growing and blending herbs and plants for curative benefits.
Granary Square Brasserie's expert 'apothecary' team is celebrating the delicate botanicals within the gin, combining them with herbal garnishes and Fever-Tree mixers to create six innovative new Gin & Tonics, including:
Juniper & Lavender – Fever-Tree Mediterranean Tonic water, Kew Gin shaken with lavender, cucumber and muddled lime, served at the table in a Boston shaker, garnished with lemon, rosemary, and lavender.

Honey & Sage – Fever-Tree Sicilian Lemon Tonic, Warner Edwards Honeybee Gin, Honeywater and muddled Sage, garnished with sage leaves and a Falls Farm honey dipper.

Jasmine & Peppermint – Fever-Tree pink Aromatic Tonic, Monkey 47 gin, Chartreuse wash, served in a ceramic beaker with peppermint mist sprayed at the table, garnished with Jasmine blossom and lemongrass.
Fever-Tree and Granary Square Brasserie have also launched the House of Apothecary, a brand new series of curated gin blending dinners for those who want to try their hand at creating their very own gin.
Alongside enjoying gin serves from the menu, guests will also blend their own gin to take home from a range of aromatic distillates in homage to the apothecaries of old. Also included in the £90 ticket price is a mouthwatering three-course dinner of classic dishes, such as seasonal risotto, indulgent shrimp and avocado burger and chicken Milanese.
"Using the concept of a Physic Garden to create delicious gin serves is an exciting way to reintroduce the process of apothecary in mixology to a new audience. The installation we are launching with Fever-Tree has re-imagined the Physic Garden for a modern audience and works to create a menu of botanical-inspired drinks that taste great and showcase their curative benefits. The whole experience, from the terrace to the Gin Blending Dinners, will give gin-lovers a fantastic experience this summer," said Will Beatty, Bar Manager at Granary Square Brasserie.