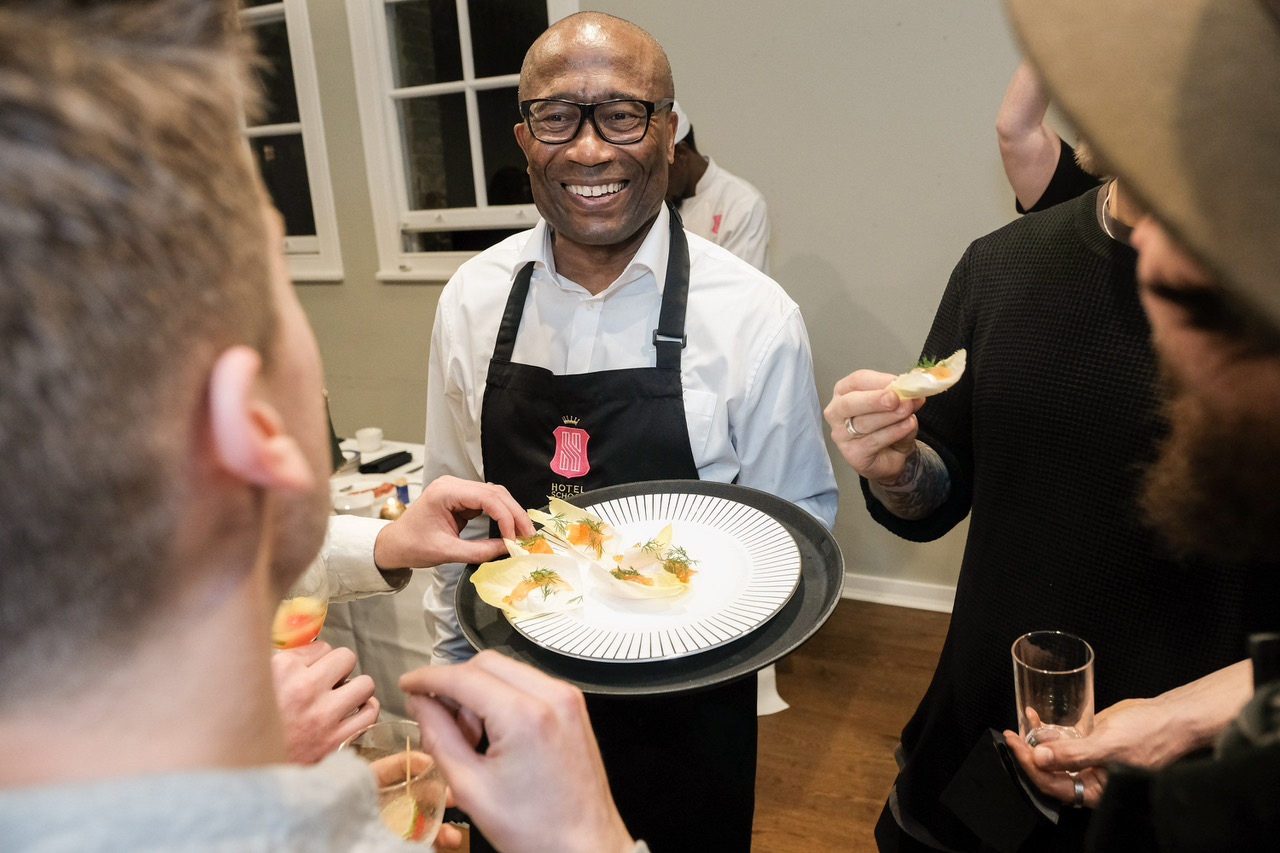 Searcys is proud to announce a new partnership with London charity Hotel School, joining a stellar team of British hospitality companies working with the organisation. 
The Hotel School was created to teach hospitality skills to homeless and vulnerable people, empowering them to find sustainable employment whilst also providing support throughout their first steps into work. As the newest partner and the first caterer joining the charity, Searcys will offer their support by welcoming Front of House apprentices at their venues, starting this month with a placement at the recently launched Saatchi Gallery Brasserie and Champagne Bar. 
Created as a joint venture between The Passage (London's largest voluntary sector homeless resource centre) and The Goring Hotel, The Hotel School is a true coming together of the community. As one of the UK's oldest hospitality companies, Searcys joins London's five star hotel community and over 50 local businesses working to support the charity. 
Aiming to equip as many vulnerable and homeless people with the skills they need, the Hotel School offers various training programmes to inspire and train each individual. This includes a one-week programme giving an insight into the hospitality industry, to a 10-week programme teaching the key skills and knowledge to prepare students for the four key areas of service, kitchen, housekeeping and reception. Designed to be challenging but inspirational, the courses are part of the selection process, and have seen an 80% graduation rate. 
"We are very excited to collaborate with Searcys. Searcys' commitment to invest time into their employees and giving them opportunities to develop within the company is what fascinated me most about their business. It's the key factor that we are looking for in an employer partner at Hotel School." says Dana Sandrock, Employment and Progression Coordinator at Hotel School. 
Kate Bell, Head of People at Searcys says: "Hotel School joins our other hospitality partner Beyond Food in their important work to provide meaningful employment opportunities and 
support for our sector. All of us at Searcys have taken their work to heart and I am delighted at the warm welcome our venue teams are providing for Hotel School and Beyond Food graduates." 
Contributing to a new generation of chefs 
As the third biggest employer in the UK, the hospitality industry accounts for over 3.2m jobs. Searcys is committed to change the often mixed perceptions of a career in hospitality and create opportunities for new jobs and career development. 
Another partnership Searcys is proud to support is Beyond Food, a London-based charity helping a new generation of chefs by giving vulnerable adults hospitality training and work placement. Searcys has supported and collaborated with the charity for the past two years with their Christmas campaign, raising £23,000 during the festive season by inviting guests to donate £1 per bill. Searcys has also placed Beyond Food Graduates at their venues in Kings Fund, the Saatchi Gallery and St Pancras. 
Last year, Brigade and Beyond Food won the UK Social Enterprise Award under 'Education, Training & Jobs' category, and their founder Simon Boyle was presented with the Extra Mile Award at the annual Foodservice Cateys, run by The Caterer.