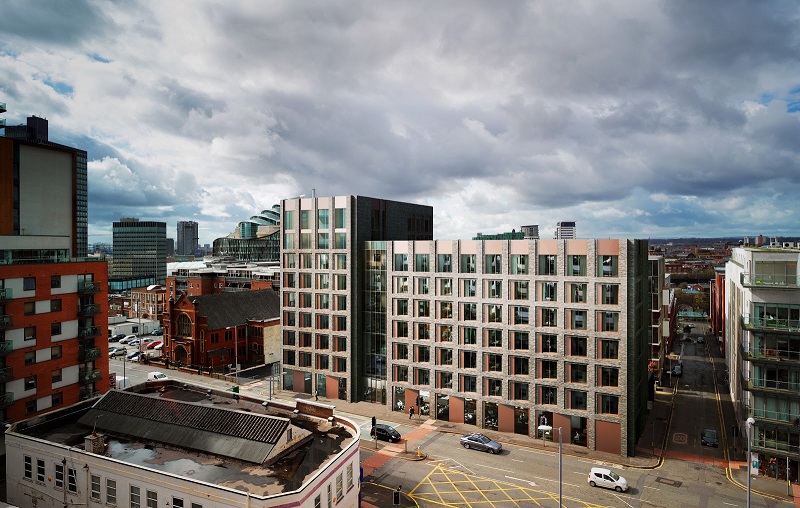 Maven Capital Partners has announced their latest hotel development. The company has started work on the creation of the first Hampton by Hilton to be located in central Manchester. Maven will be acting as the asset manager for this construction project on behalf of the Hong Kong based company, IP Investment Management. The construction of the 221-guest room will be carried out by Create Construction, who is also working on the delivery of a 130-guest room Hampton by Hilton which is taking place in Blackpool.
The new Manchester hotel will be located on Rochdale Road and Sharp Street which is in Manchester's Northern Quarter. The site of the new hotel will put future guests in close proximity of a number of attractions, including the 21,000 seat Manchester Arena and a range of bars, restaurants and shops. Redefine BDL Hotels has been appointed to operate the hotel. The hotel management company already works to manage three other properties in Maven's hotel portfolio.
Hampton by Hilton is considered to be one of the UK's fastest growing brands and has recently opened in a number of new locations including Edinburgh, Glasgow, London and Aberdeen. This current development is the first Hampton by Hilton to be located in Manchester and will help to bring an established hotel name into the city's hotel sector. Manchester's hotel sector has seen a strong level of occupancy over the course of the past few years, and the creation of a new hotel will surely help to boost this success.
Maven has seen their property portfolio expand significantly over recent years and the team now manages 19 different property investments which have a combined Gross Development value of more than £250 million. The development of the Hampton by Hilton hotel in Manchester will be the company's eight hotel development and expands their hotel portfolio, which also includes Hotel Indigo, Ibis Styles and Travelodge hotels.