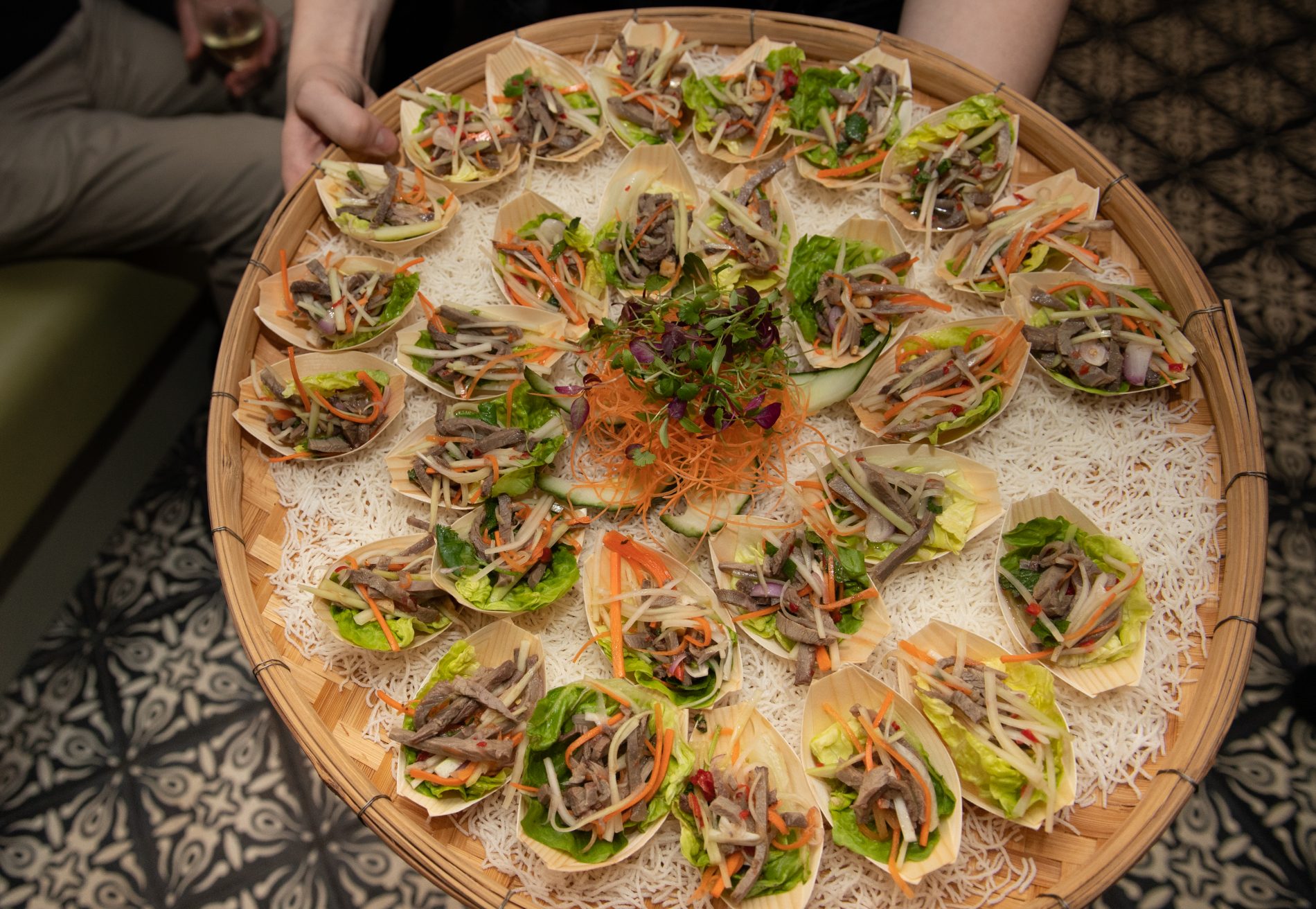 Bold flavours, exotic ingredients and an abundance of delicious Thai food arrived in Weybridge this week as Giggling Squid welcomed guests to its new historic Church Street restaurant.
Giggling Squid is all about how people eat their food and spend their mealtimes in Thailand. Generous food to share and celebrate together, whether you have more adventurous tastes or prefer simple and satisfying; an all-involved, love of food, living for flavour, being together experience.
Locals can now experience the vibrant Giggling Squid menu, which takes inspiration from Thai traditions and legends, as well as co-founder Pranee Laurillard's food memories. Each dish, cooked by expert Thai chefs and served with true Thai generosity, has its own personality and story, and celebrates the abundance of ingredients found across Thailand.
Featuring Giggling Squid's fresh and stylish interior, celebrating ingredients from the sea and land and including a subtle hint of Thai, the 110-capacity (and 16-cover outdoor) Weybridge restaurant even includes flowers hand-pressed by Pranee, in beautiful vintage frames. Hand-painted stencils combined with bold, floral wallpapers add a subtle splash of colour.
The popular tapas lunch menu offers an extensive selection of small plates and includes Giggling Squid favourite Salt & Pepper Squid alongside the fiery Som Tam Papaya Salad and the Big Flavour Mushroom Larb (a speciality salad from Isan Province with juicy, exotic mushrooms tossed in fresh mint, dried chilli flakes, ground toasted rice and shallots).
Offering great value for money, the lunch Tapas Sets such as the 'Hungry Squid' are priced between £9.95 and £12.95 and feature a selection of four carefully curated dish combinations for those who can't decide on one dish. The two-dish meal combi, priced from £8.50 – £10.50, also offers fantastic value for lunch time guests.
The creative evening menu is filled with Pranee's favourite dishes. Samui Zingy Prawns (prawns with a fresh, citrusy sauce) is a popular choice, as is the Betel Leaf & Ginger Lime Salmon Morsels (salmon pieces nestled in lemongrass, lime cubes, ginger and roasted shredded coconut wrapped in betel leaf).
Alongside classic curries and noodle dishes other must-tries include the menu's 'From the Land' and 'From the Sea' dishes. Chubby Cheek Pork, soaked in ginger, black pepper and palm sugar before being slow-cooked is a tender dish full of sweet and subtle flavour. Pad Cha, a popular Thai seafood stir fry with a fiery flavour combination of pounded chilli, garlic, thinly sliced krachai and fresh peppercorns delivers a zingy punch of flavours.
A dedicated vegan menu and wine list is also available alongside a large selection of vegetarian dishes.
A welcome change from other high street offerings, families will be able to enjoy the 'Little Tapas for Little People' menu (£5.99 for two dishes) with the option to add a pudding for £1.99.  Designed to encourage children to be more adventurous with their food choices, the menu features smaller versions of popular dishes including Chicken Satay, Pork Dumplings and Pad Thai.
Thai-born Pranee and her husband Andrew, founded Giggling Squid – the nickname of one of their children – to bring a true experience of Thai eating to the UK where food is celebrated and there's no standing on ceremony. The Weybridge launch takes their family of restaurants to 34.
Pranee comments: "We're thrilled to have introduced Weybridge to our Giggling Squid family. I want each guest to feel like they're coming into my home – feeling welcome, relaxed and generously looked after. We're the only place to bring you Thai food with personality that's cooked by experts and served with heart!"