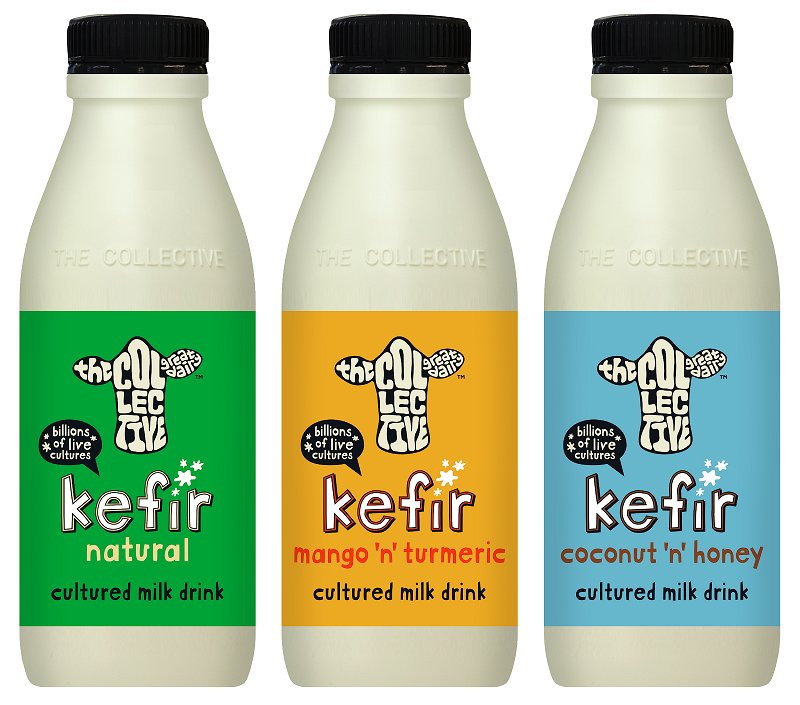 The Collective is launching at the end of this month a range of cultured milk drinks packed with billions of live cultures, called kefir. They will be available in 500ml bottles and in three delicious flavours: Natural, Mango 'n' Turmeric and Coconut 'n' Honey.
"We're so excited to launch our kefir range in the UK as we're big believers in the holistic health benefits of fermented food and are ready to take dairy to the next level with our kefir. We take pride in creating great tasting products, and kefir is no different. Our team has carefully selected innovative and delicious ingredients and a diverse blend of 13 culture strains to develop three great tasting and nutritious products," said Amelia Harvey, co-founder of The Collective.
The Natural kefir is a creamy tasting drink with some slightly tart notes similar to the traditional natural yogurt and a gentle effervescence that makes it refreshing and moreish. For the Mango 'n' Turmeric product, the team has used the finest Alphonso mango and has added a pinch of turmeric that pair perfectly with the juiciness of the tropical fruit. The creamiest kefir is the Coconut 'n' Honey one, made with coconut milk, blossom honey and vanilla.
Enjoyed around the world for over two thousand years, kefir has been linked for centuries with positive health and well-being. The drink is made by fermenting milk with live cultures, much like a traditional yogurt, with the difference that kefir contains a diverse blend and sheer number of live cultures. Live cultures are widely known for improving lactose digestion in people who have difficulty digesting lactose.
The Collective branded kefir 500ml range will be available all around the UK starting with the end of April in Sainsbury's and other retailers soon after, priced at £2.50 per bottle.