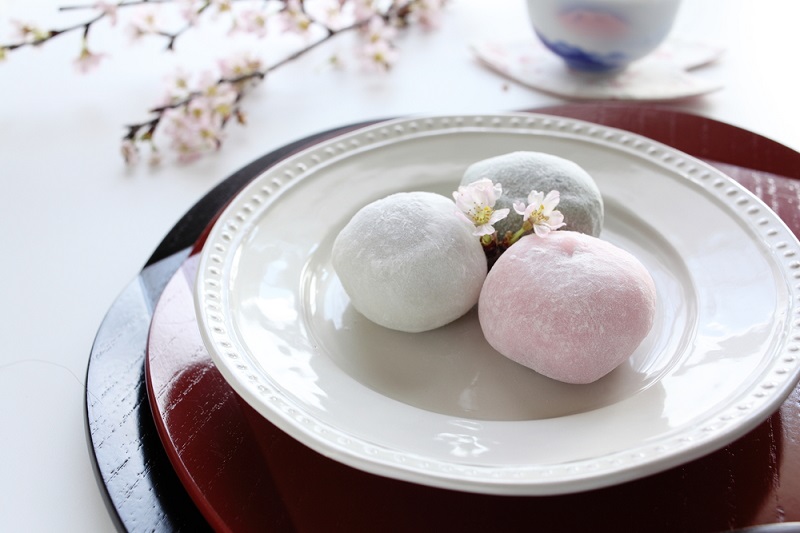 Yutaka, the Japanese food specialist, is launching its first ever sweet Japanese cakes with a range of mochi cakes knows as daifuku. These cakes are perfect for spring and are Japanese favourites at blossom picnics accompanied by Yutaka green tea.
The mochi cake is a traditional Japanese rice cake made from mochigome, which is a short-grain glutinous rice. It gets pounded in an age-old ritual until it can be shaped into small round cakes. Its centre is filled with a sweet, red bean paste to provide a tasty treat, as well as bringing those who eat it luck.
The original cakes used to be much larger and they were flavoured with salt instead of sugar, as the sugar was considered a luxury. Back in the 18th century, an entrepreneurial woman started selling sweet mochi cakes in her bakery and that's when they became a phenomenon.
Yutaka's range will include three varieties: Pink Mochi, White Mochi, and Yomogi Mochi, green in colour and flavoured with the Japanese Mugwart herb. These frozen cakes will be available from the end of April in single packs of 95g, priced at £1.50 – £2.00 each. Into the trade, they will be sold in boxes of 24 single-colour units with the boxes bundled as four.
Introduced to the UK market in 1995, the Yutaka range of authentic Japanese food products includes ingredients for sushi, sauces, soups, rice, noodles and easy to use meal kits. As it was the first brand in the market, it continues to be the leading authentic Japanese range in 16 countries across Europe and the Middle East.
The name behind the Yutaka brand, Tazaki Foods, was the pioneer of Japanese food in the UK when the company opened the first Japanese restaurant in the country. Since then, the company has been the leading supplier to the Japanese restaurants, hospitality industries and food manufacturers in the country.