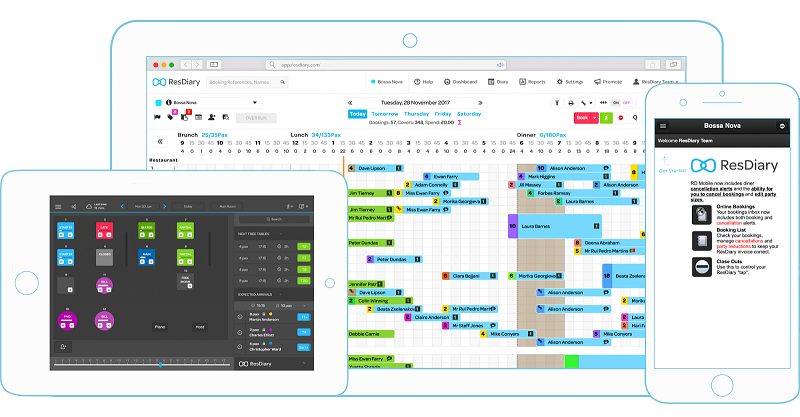 The latest hospitality technology transaction led by GCA, the global investment bank, involved advising ResDiary, a provider of online restaurant reservation software, on its sale to French-listed hospitality group AccorHotels. This transaction follows a number of high profile tech deals for GCA with international strategic acquirers, such as Google, Verizon, ADP, and Amazon.
ResDiary is a leading software as a service (SaaS) platform for restaurant reservation and table management, used by over 8,600 venues across 60 countries and seating more than 160 million diners a year. Founded in 2004, the Glasgow-based company provides hospitality venues with a high-end table management solution that optimises food and beverage revenues, while controlling operational costs. The software is used globally and the company's customers include TGI Fridays, Loungers, Sapporo Teppanyaki and over 35 Michelin-starred restaurants.
"ResDiary is a real UK SaaS success story. ResDiary has a differentiated proposition which resonates with its customer base, reflected in the Company's rapid global growth and outstanding SaaS metrics. It has been a pleasure working with the ResDiary team and in AccorHotels they have the ideal partner for future growth," said Adrian Reed, Managing Director at GCA Altium.
As a world-leading travel & lifestyle group and digital innovator, AccorHotels offers unique experiences in more than 4,300 hotels, resorts and residences, as well as in over 10,000 of the finest private homes around the world. The company provides innovative end-to-end services across the entire traveller experience with an unmatched collection of brands and rich history spanning close to five decades.
"We have had a very successful relationship with AccorHotels in Asia Pacific, and all the ResDiary team is thrilled to join the Group. We are looking forward to expanding our service on a more global level with AccorHotels," said Mike Conyers, ResDiary Co-founder and CEO.
The ResDiary transaction was led by GCA Altium's Adrian Reed and Sam Fuller, with support from Jon Stead and Durgesh Panchani, while a Brodies team led by Will McIntosh provided the shareholders with legal advice.