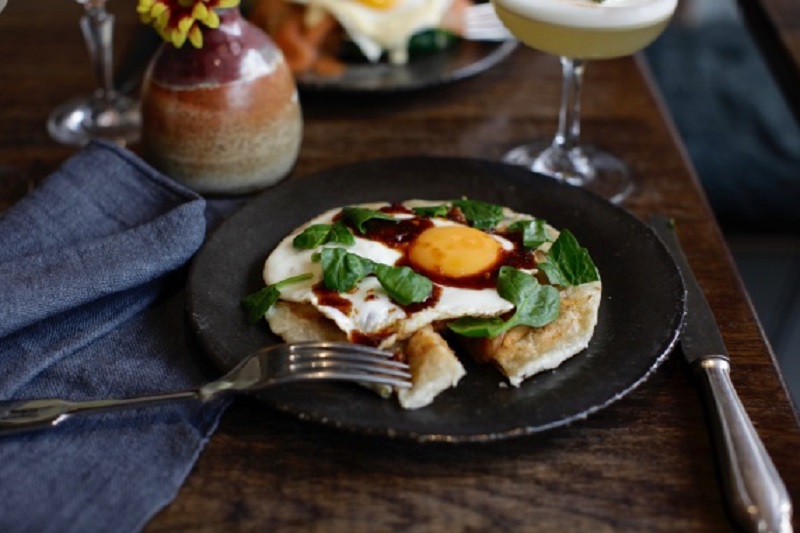 Most of us have a sweet tooth, but there are also people out there who prefer savoury pancakes over Nutella and strawberry ones. For this reason, Mr Bao in Peckham has created the perfect pancake recipe for those who hate sweet toppings.
Mr Bao, a favourite on The Taiwanese joint's brunch menu, will be serving a traditional spring onion pancake this Shrove Tuesday that is stuffed full of spring onions and sesame seeds, fried until crispy, and then topped with basil, a fried egg, and house-made kimchi. It will be served all day for the price of £6.
However, if you can't make it to Peckham but would love to try this dish, here is the recipe for it.
Ingredients:
· 2 spring onions, chopped
· 500g plain flour
· 1 tbsp toasted sesame seeds
· 3 tbsp vegetable oil
How to make the dough:
Add the flour to 150ml of boiling water and stir constantly. Once cooled, slowly add 150ml of cold water and when finished, turn the dough into a ball, cover it with cling film, and leave it to rest.
How to cook the savoury pancake:
First thing you need to do is cut a piece of dough about the size of a small fist and roll it into a flat circle. Spread a bit of vegetable oil over it then add the chopped spring onions and the toasted sesame seeds and smush the dough back into a little ball again so that it combines all the ingredients. When ready, roll it back into a flat circle and add a little oil to the frying pan. When the oil is hot, add the spring onion pancake and when the bottom is a nice golden colour, flip it.
How to serve it:
At Mr Bao it is served in a traditional way, topped with fresh Homemade Kimchi, basil, eggs, and grated cheese, so at home you can follow this recipe or come up with your own.