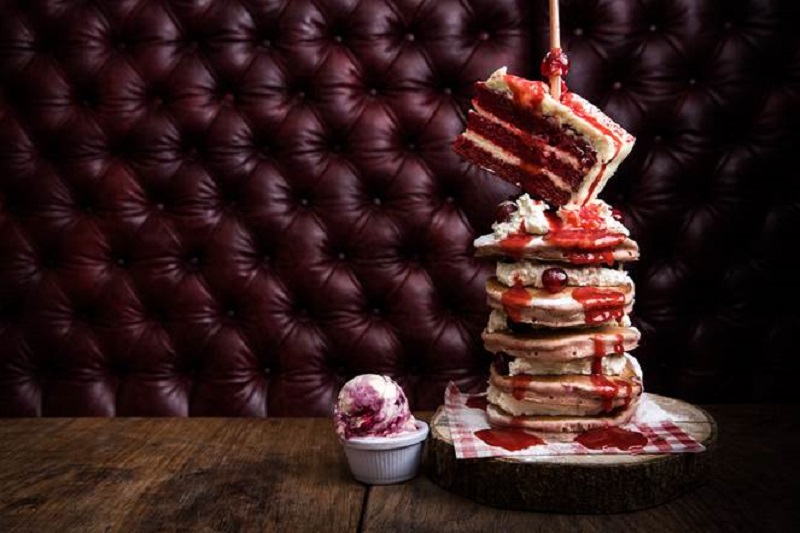 Special events on the calendars of all foodies (Pancake Day, Veganuary, Valentine's Day etc.) make a lot of collaborations and new menus in some of the best restaurants around the country. With Veganuary coming to an end, the next most awaited food day is Pancake Day, for which a lot of restaurants and brands are preparing.
The latest collaboration made especially for Shrove Tuesday is between Polo Bar and the British premium ice cream brand, Jude's. Together they have created three mouth-watering specials that will be available from the 3rd of February until the 13th of February.
The exclusive menu boosts in creative mixtures and delicious ingredients, such as the Red velvet & cherry ripple, which will cost £12. This dish unites red velvet pancakes with Jude's Cherry Ripple ice cream, vanilla cream, and glace cherries, topped at the end with a slice of fresh red velvet cake. For those who want to enjoy a more comforting and familiar taste, there will be an Apple crumble & custard pancakes, selling at £10 and consisting of fluffy vanilla pancakes, Jude's Custard Ice cream, Polo Bar's homemade custard, and a piece of apple crumble. Those wishing to opt for something more exotic and less heavy for the stomach, there is a Tropical option for £10, which will mix fresh fruits and Jude's Mango & Passion Fruit frozen yogurt.
Polo Bar is a 24-hour British café, situated on Bishopsgate, opposite Liverpool Street Station in the middle of The City. Owned by Phillip Inzani, a former Director at Ponti's and designed by Mark Wilkie of The Narrative, Polo Bar channels the essence of London with banquette seating and tiled walls giving it an urban, almost London underground vibe.
Jude's ice cream uses local dairy from Hampshire to make up their traditional crème anglaise base, flavoured with the best natural ingredients. Their brilliant small team of ice cream makers create innovative and delicious British ice cream for everyone's taste buds.