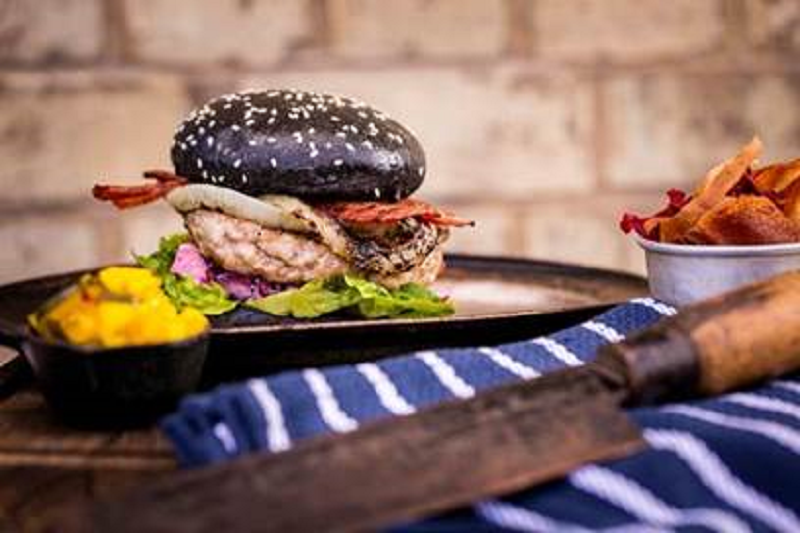 National Burger Day is tomorrow and at Feast, we have covered a number of different new and innovative products that have been marketed to celebrate the day. With opportunities to suit everyone, there has been coverage of Jude's Ice Cream Parlour and their Black Coconut Ice Cream Burger, served with mango and coconut flakes in a black brioche bun, which will be available at The Pear Tree Café; The Gourmet Burger Kitchen's new Mr. Lava Lava and The Mindful Chef and Hally's collaboration.
With more options to celebrate National Burger Day on the 24th August across London, here is a quick round-up of some of the favourites.
Señor Ceviche, the Peruvian Restaurants in both Carnaby and Charlotte Street, is known for serving fresh ceviches as well as spicy Peruvian BBQ dishes and a selection of Pisco cocktails to their diners. On order to celebrate National Burger Day, the restaurant will be service a seafood burger, made from tuna and sesame and served in a sweet potato bun with a soft shell crab and spicy truffle aji amarillo mayo.
The Chop House restaurants have announced that they will be celebrating National Burger Day with an equally innovative creation. The Black Boar Burger includes both shoulder and belly meat from wild boar, which is then served with dry cured streaky bacon in a charcoal bun and mixed root crisps. This offering is perfect for meat lovers across London.
The Vurger Co. will be offering a burger for National Burger Day that is perfect for vegans, using the "Power of Plants" to create the Vanilla Black Vurger. Created in collaboration with the Chef Andrew Dargue, this Vurger will use classic favourite Tikka Masala for their patty as well as candied chilli and mint yoghurt in order to deliver a tasty meat free meal. This Vurger will be available at the Pillbox Kitchen for one day only.
Aquavit, the restaurant in St. James' Market will be using the experience in Nordic cuisine to celebrate National Burger Day with a beef patty served with pickled cucumber, roasted onions, Västerbotten cheese, smoked mayonnaise and a Swedish cream mustard in order to pack the Burger full of Nordic flavour.
The Game Bird will be delivering a more traditional Burger, consisting of an 8oz Beef Burger with Westcombe Cheddar, caramelised onion jam and chips. Other restaurants offering Burgers in London for the National Day ae Dirty Bones, Little Social, Tommi's Burger Joint, Coq 'Argent, Plateau, Tom's Kitchen, Avenue, New Street Grill and Skylon.
For those wanting to celebrate National Burger Day, it would seem that London's restaurants have something for everyone.