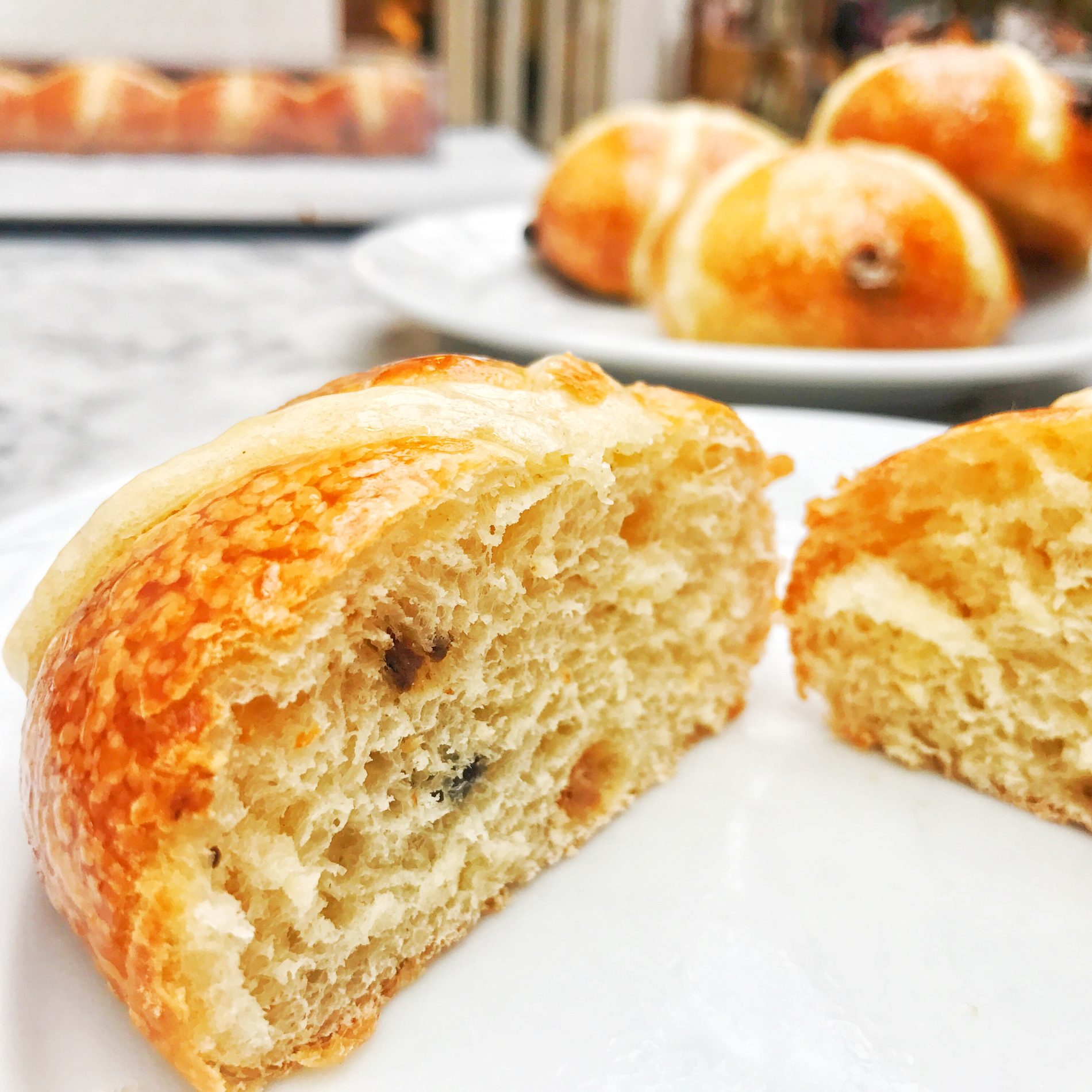 Chef Dominique's version of Hot Cross Buns differs from others recipes because he uses dried cherries, cranberries & candied orange peel within the bun and then finishes with a spiced cinnamon star anise glaze.
The Hot Cross Buns are available to purchase at the bakery's Belgravia location, are warmed and served with butter when eaten-in and they can also be ordered via Deliveroo. They are priced at £2.50 or £12.50 for a box of five and available from now until April 22nd.
We are also pleased to provide you with Chef Dominique's recipe for home Chef's to recreate at home, an ideal activity for the long Easter weekend.
Dominique Ansel's Hot Cross Bun Recipe
Makes approximately 10 buns.
The Spiced Sugar Syrup
Ingredients
200g granulated sugar
120g water
3 cloves
1 cinnamon stick
2 pieces of star anise
Method
Combine all ingredients in a medium pot and bring to a boil while stirring occasionally.
Strain out the spices, and set aside until ready to use.

The Dough
Ingredients
180g whole milk
300g bread flour
6g salt
10g dried instant yeast
1 egg
6g ground cinnamon
20g granulated sugar
40g raisins*
40g sultanas*
*Soak the raisins and sultanas in a bowl of water for two hours first, then strain and squeeze the water out.
Method
In a stand mixer fitted with a dough hook, combine milk, flour, salt, sugar, yeast, cinnamon, and egg. Mix on low speed until ingredients are combined, then add the butter.
Turn the mixer to medium speed and mix until a smooth ball of dough has formed (about five minutes).
Add in raisins and sultanas and mix on slow speed until evenly distributed throughout the dough.
Transfer the dough to a greased mixing bowl. Cover with cling film and let sit in a warm area until the dough has doubled in size (about one and a half hours).
Punch down the dough, divide into 60g portions and shape each into a tight ball. Place the buns evenly on a baking tray lined with parchment, loosely covering with cling film. Once the buns have doubled in size (about two hours), pipe a cross on each one with the glaze.
Pre-heat oven to 170°C. Bake until the buns are golden coloured (about 15 minutes).
Remove from the oven, and immediately brush the surfaces of each bun with the spiced sugar syrup using a pastry brush. Serve toasted with butter.