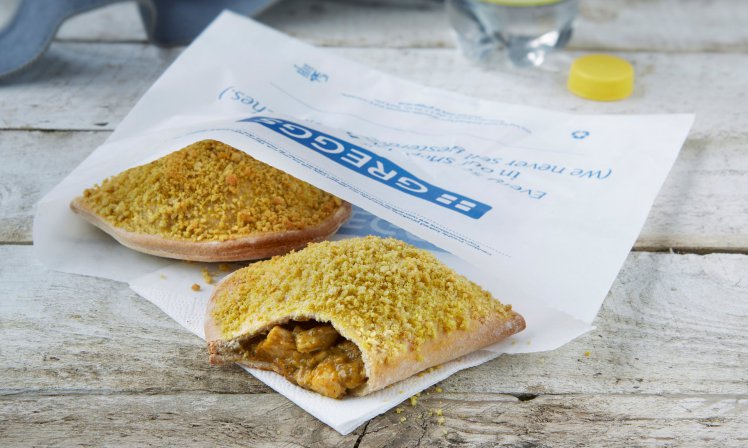 Greggs has launched two new 'healthier' alternatives to their traditional pasties, this week.  The two new pasties, Chicken Katsu Curry and Bombay Potato, are made with sourdough pastry rather than puff pastry and have a crumb topping.
Marketed as 'balanced choice bakes' the pasties come in at under 300 calories each, containing 9g of fat, compared to the company's beef and vegetable pasty which contains a whopping 33g fat and over 500 calories.
The new creations are further additions Greggs' balanced choice range which was launched earlier this year. The range contains a series of healthier salads, noodles and falafel.
Recent research has estimated that based on current trends 38% of people in Britain will be obese by 2025. The nation's obesity crisis has encouraged food chains to consider alternative, healthier options to encourage the public to eat a balanced diet.
Roger Whiteside, Greggs chief executive said: 'Greggs is well-loved for its traditional pasties and sausage rolls, but we recognise that our customers are increasingly looking for lower calorie and lower fat options.
'All the research says Greggs is a brand which appeals right across the whole spectrum of consumers. We want them to come more frequently.'
Greggs is currently trying to change its image of traditional baker towards becoming a food-on-the-go specialist in order to gain access to the £6 million-a-year lunchtime market. To fit in with this new image, over 200 Greggs stores were refitted earlier this year.
Looking to the future, Greggs is considering moving into other food types such as sushi, and has suggested the possibility of a gluten-free range.
Coordinator of the Children's Food Campaign, Malcolm Clark said: 'Providing healthy options is a good step, but making healthier food the standard promoted item and standard customer choice would be much better,' he said.
'Hungry customers' good intentions may still often crumble at the sight of cheaper, less healthy savoury snacks and the rows of doughnuts and other iced goodies tempting them.'