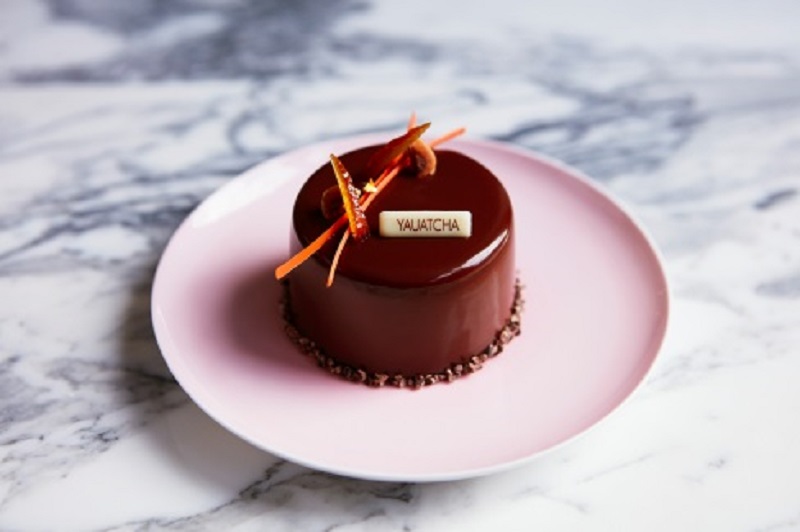 Yauatcha has launched a new patisserie collection in order to celebrate the new season, as the nights grow longer and the temperature, and leaves, start to fall. At their Soho and City Restaurant as well as the Yauatcha standalone restaurant in Broadgate Circle the company have launched The Autumn Collection.
This new range of delicious patisserie includes five new petit gateaux and macarons that have been designed to celebrate a range of warm and comforting seasonal ingredients. The flavours used in this new product range includes plums and blackberries as well as other flavours such as ginger, chocolate and red wine to evoke the feel of autumn and winter as the nights draw in.
This new Autumn collection also includes the Early Martini which is an exclusive new cocktail that has been created through a partnership with Grey goose. This new cocktail is said to be an innovative interpretation of the much loved Espresso Martini. The cocktail features Grey Goose Vodka that has been infused over the course of 24 hours with Earl Grey as well as coffee and chocolate liqueurs in order to deliver a subtle but delicious drink.
The new Autumn Patisseries collection includes a Pear Bavarois and the Autumn Forest Fruits, which is a plum and blackberry mousse that has been layered elegantly on top of a plum and red wine jelly before being finished with a red wine glaze and a fresh selection of autumn fruits.
It is vital for restaurants and bakeries to focus on the seasons when creating new patisserie collections. In order to highlight and show off the deep berry flavours and colours that are evocative of autumn, Yauatcha use equally autumnal spices like ginger in order to celebrate a range of autumnal ingredients. The new patisseries collection is available for guests to enjoy at the Yauatcha Soho, City and Yauatcha Patisserie. The early Martini is available at both Yauatcha restaurants.