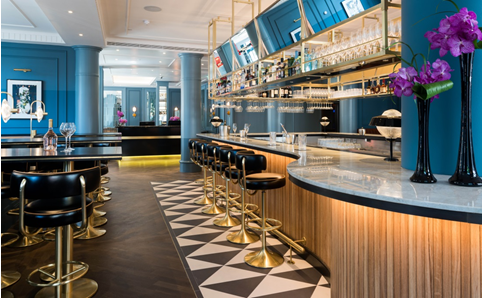 The Trafalgar Dining Rooms, a location in the centre of London have recently launched their new express lunch menu. This offering by the restaurant is the perfect smart solution that will offer visitors a stress-free business lunch.
The restaurant is newly-opened and can be found in the centre of London. In order to attract those looking for business lunch locations, the new restaurants have unveiled a new express lunch service. At Trafalgar Dining Rooms, a party of colleagues will be able to enjoy the finest and freshest and local – wherever possible- ingredients with flavours and dishes that are a reflection of London's cultural melting pot. The menu offers starters such as chicory, sorrel, apple and harissa dressing for vegetarians or smoked mackerel, labneh, dill and flatbread The restaurant also offers platters for those wanting to small bits of everything. The mains on offer at Trafalgar Dining Rooms include grilled Pollock, tahini, sumac butter and fried capers; spiced pork belly, Chakalaka and rosemary jus. On offer for dessert as a part of this express lunch menu includes roasted pineapple, coconut and lime sorbet or a more savoury option of goat's cheddar and spiced tomato chutney to be enjoyed by sesame crackers.  
This express lunch menu at the new London restaurant is available between 11:30am and 5pm. The menu costs £16 for two courses and £19 for all three courses. This is an excellent value meal made with high quality fresh ingredients while also offering the rapid but excellent service required of a business lunch The restaurant is offering a stylish and comfortable lunch location to be enjoyed by at a restaurant found within The Trafalgar St. James hotel, which looks out over Trafalgar Square. The restaurant is the perfect location for local residents as well as those just visiting the city.