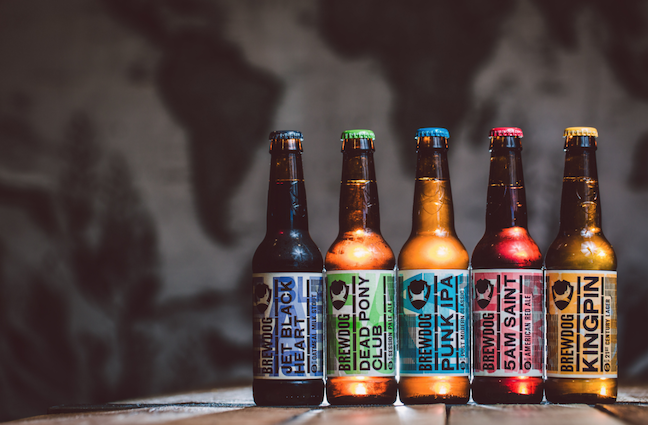 BrewDog, the independent Scottish craft brewing company announced that they will be offered any deal savvy shoppers something much more than the normal discounts for TVs, toasters and tablets as a part of their first ever Black Friday discount event.
BrewDog UK was first started in 2007 with the focus on creating a new and creative lagers and ales that were different from the industrially brewed counterparts available prominently on the UK beer market. The company's sale event was called the Jet Black Friday, a take on the company's milk stout called Jet Black Heart. The BrewDog online shop offers a wide range of BrewDog beers as well as a number of guest breweries that have been selected from companies from around the world. The online shop also has a selection of merch available for committed beer and BrewDog fans.
All beer lovers, or those looking for the perfect gift for their beer loving friends, family and partners are encouraged to visit the BrewDog online shop. Although the most significant part of the deal is now over, the independent craft brewers offered a minimum of 20% off all orders across all platforms between the 24th of November and Sunday the 26th November, there are still savings to be made for those who visit the site regularly. Those who have invested in BrewDog's record-breaking crowdfunding initiative were also able to claim an extra discount. The fund is called Equity for Punks and is currently still open for investment. Those who invested or donated received a further 10% discount on their orders. This initiative allows those who are interested to invest in the independent brewery, and will help to support the company's growth and ambitions.
For those who have already made a Jet Black Friday purchase of over £75 will receive free delivery for their next order before Christmas. The promotion will run on all orders that were made until midnight on the 26th November, with the free delivery eligible for all subsequent orders until the 15th December. Those who are regular purchasers from the site, or made a purchase over the weekend are encouraged to revisit the site and stock up on their favourites before the festive frivolities of Christmas and New Year begin!