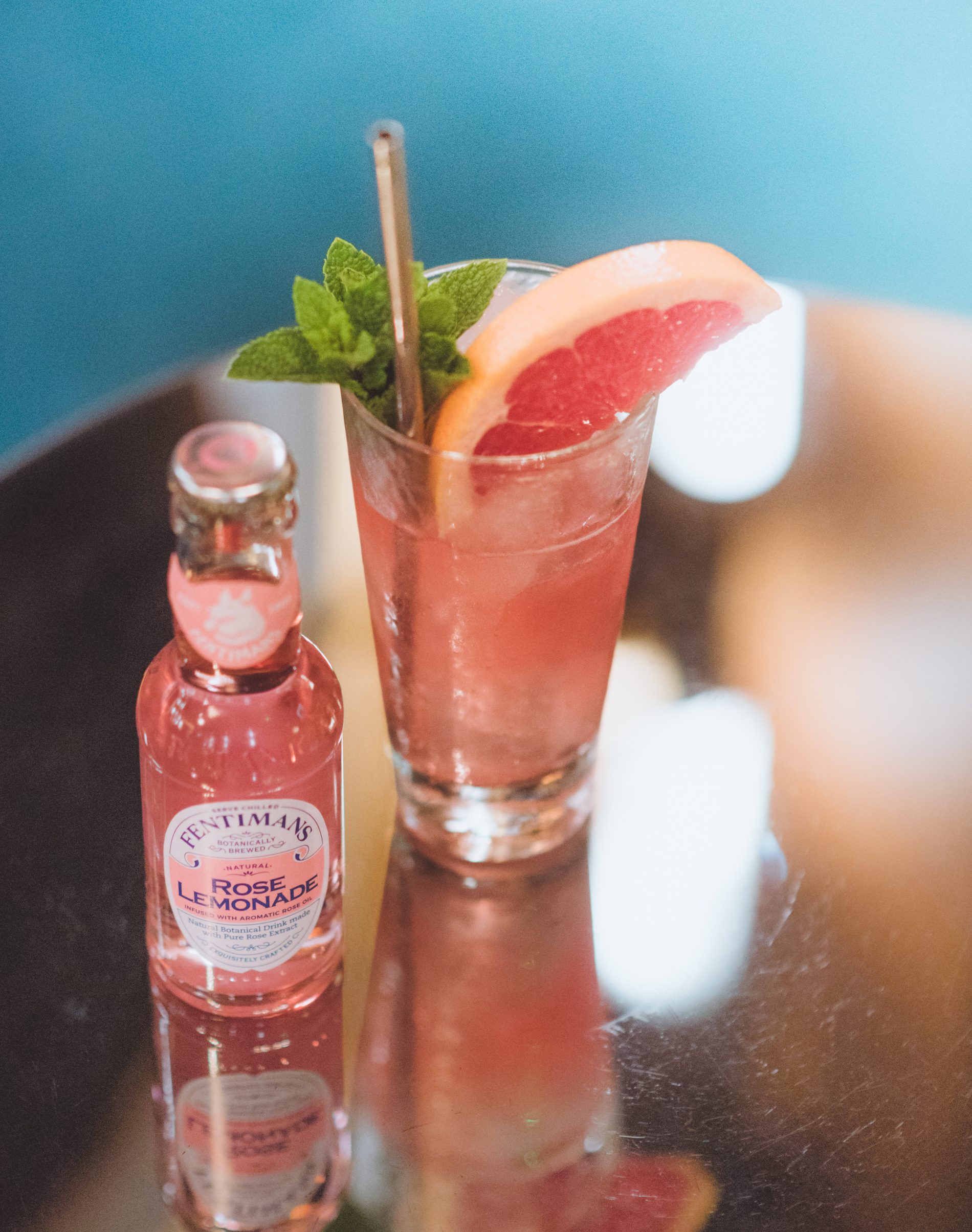 Eric Tinca from Satan's Whiskers wins coveted prize .
Botanical drinks brand, Fentimans has announced the winner of it's first national Summer of Rose cocktail competition, the final of which took place at Bar Disrepute in Soho on Monday 29th July 2019.
Eric Tinca from Bethnal Green cocktail bar, Satan's Whiskers won the coveted top spot and a trip for two to Ibiza's Paradiso Art Hotel with his impressive cocktail, 'Pink Parlour'. Vibrant, pink and perfectly evoking a day by the pool in Ibiza, Eric's winning drink was a delicious combination of Fentimans Rose Lemonade, fresh raspberries, Campari and Koko Kanu coconut rum.
In second place was Holly Law from new Soho bar, Murder Inc, who impressed the judges in her first ever cocktail competition with Blossom, a concoction of Fentimans Rose Lemonade, nettle cordial and vermouth. Third place went to Alexandre Robin from Sketch Bar, whose cocktail, Riddle No. 9 combined Fentimans Rose Lemonade, Tanqueray Ten, Double Jus and grapefruit bitters.
Having partnered with the famous Paradiso Art Hotel in Ibiza, the Fentimans 'Summer of Rose' cocktail competition created a response from over a hundred bartenders across the country keen to create beautiful pink-tinged cocktails and be in with the chance to win one of the most coveted prizes of the summer. The other talented bartenders who took part in the final included; Joseph Miller of Blackfriars Restaurant, Newcastle, Tom Sutton from Her Majesty's Secret Service in Bristol, Joe Stefani Rodgers from The Kenilworth Boutique Hotel & Cocktail Lounge, Warwickshire, Daniel Crowther from Hedonist, Leeds, Joe Taylor from Tomahawk Steakhouse in Northumberland, Ryan Finch from The Wigmore and Emanuele Mensah from Disrepute, London.
The ten finalists competed against each other in front of a panel of three industry expert judges; Andy Ives (BarLife UK), Cameron Attfield (Disrepute), and Hannah Sharman Cox (Drink Up London), who assessed the drink on flavour, aroma and appearance before deciding unanimously on the winner.
Rose Lemonade's vibrant pink colour has made it an Instagram favourite recently, and this combined with a distinctive Rose flavour, has made it one of the UK's most lusted after drinks. Like all Fentimans drinks, only the finest natural ingredients are used. Rose Oil from the world famous 'valley of the roses' in Kazanlak, Bulgaria, is the magic behind the great flavour. What's more, the rose petals can only be picked two weeks of the year and in the two hours before sunrise.
The brief for the Summer of Rose competition was simple – entrants must make a drink that captures the essence of the Summer and the most creative and original cocktail or mocktail wins a trip for two to Ibiza. The drink must contain Fentimans Rose Lemonade and the serve needs to have the potential to be re-created multiple times in a busy bar environment.
Eric's winning drink will be served at Satan's Whiskers during the summer as well as being listed in the Paradiso Art Hotel for two weeks following the competition. Eric was delighted with his win, saying:
"I came up with the 'Pink Parlour' to recreate the feeling of getting away from everyday life and having that holiday feeling, no matter whether you are in Ibiza or in the middle of London."
For Further Information about the Fentimans Summer of Rose Cocktail Competition,
Please Contact Kapranos PR: [email protected]