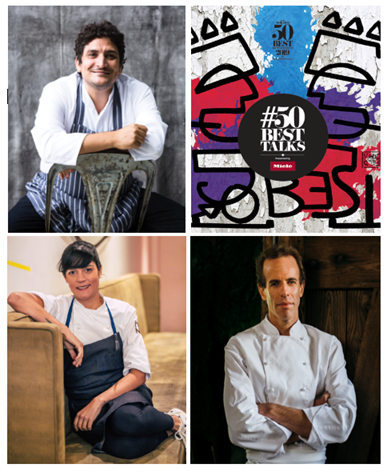 Speakers include Mauro Colagreco from Mirazur in Menton, France – newly voted No.1 at The World's 50 Best Restaurants 2019 – Dan Barber; Yannick Alléno; Manu Buffara; Alain Passard; Romain Meder and Bertrand Grébaut
#50BestTalks presented by Miele, an integral part of The World's 50 Best Restaurants' global celebration of culinary diversity, will land in Paris, France, this September. Launched in 2014, the #50BestTalks series brings together influential figures from across the restaurant industry to debate and discuss issues at the heart of today's food landscape. The theme of the September event is "Beyond Frontiers" – exploring the universality of cooking, how food crosses and blurs national boundaries to write new culinary stories.
The event will be held at the Musée du Quai Branly Jacques Chirac in Paris, on Monday, 16th September 2019 from 10.00am to 2.30pm, and provides a platform for some of the world's most acclaimed chefs and restaurateurs. Featuring leading international culinary figures as well as an elite group of French chefs, the discussions will take in the changing face of French gastronomy around the world, the common language of cooking against a backdrop of rising tension around immigration, and the irrepressible power of nature.
Mauro Colagreco, of Mirazur, in Menton, France – voted The World's Best Restaurant 2019, sponsored by S.Pellegrino & Acqua Panna, in Singapore in June – will discuss his Argentine-Italian heritage, as well as the people and places that have inspired the creation of his unique culinary voice. Through his personal interpretations of natural ingredients and flavour combinations, the chef has forged a style of his own on the French Riviera that crosses borders both physical and conceptual.
Dan Barber, chef-owner at Blue Hill at Stone Barns, in Pocantico Hills, USA, and winner of the Chefs' Choice Award 2018, sponsored by Estrella Damm, will also be a keynote speaker. Known for his cerebral and campaigning approach to food production systems, Barber will outline how all of us need to embrace, respect and work with nature for a better future, citing the influence of French culinary culture on his own philosophy.
From Brazil comes Manu Buffara, chef-owner at Manu restaurant in Curitiba, which was named the Miele One To Watch as part of Latin America's 50 Best Restaurants 2018. This young female chef's refreshing approach to farming, foraging and cooking exemplifies how we can return to our roots as subsistence producers.
The presentations will be interspersed with a lively on-stage panel discussion to include some of France's most celebrated chefs, whose restaurants feature on the elite 50 Best list. Hosted by broadcaster and food-lover Eric Brunet, the provocative debate will ask whether French cuisine can continue to help shape global gastronomy or whether its influence – and very identity – is under threat.
The line-up of participating chefs from Paris will include Yannick Alléno of Alléno Paris au Pavillon Ledoyen (No.25 in The World's 50 Best Restaurants 2019); Alain Passard of Arpège, recipient of the 2019 Chefs' Choice Award, sponsored by Estrella Damm; Romain Meder, chef de cuisine at Alain Ducasse au Plaza Athénée.
(No.16) and Bertrand Grébaut of Septime (No.15). They will be joined by Mauro Colagreco, with Brunet also involving the audience in a question and answer session.
The morning conference will be followed by a gastronomic experience curated by a 50/50 mix of female and male chefs, who together define the richness and diversity of the Parisian culinary scene today. It will include Adeline Grattard from restaurant Yam'Tcha, Guillaume Sanchez from Ne/So; Chiho Kanzaki and Marcelo di Giacomo from Virtus; and pastry chefs Yann Couvreur from Pâtisserie Yann Couvreur and Moko Hirayama from Mokonuts. Fine French mixology will be represented thanks to a pop-up bar with cocktails shaken by the team behind Little Red Door, ranked No.33 on The World's 50 Best Bars 2018 list.
William Drew, Director of Content for The World's 50 Best Restaurants, comments: "We are honoured and excited to bring #50BestTalks, presented by Miele, to France, the birthplace of modern fine dining. Paris is a city with a uniquely French character but with a truly cosmopolitan atmosphere and history – the perfect location for a discussion on the blurring of culinary boundaries. 50 Best is about more than simply lists: we also seek to provide a platform for debate and positive change in the industry."
The Paris event follows hot on the heels of the most recent edition, #50BestTalks: Kitchen Karma, which took place in Singapore in June. Kitchen Karma was the best-attended Talks yet, with 650 members of the public and international media gathered at Marina Bay Sands to see Massimo Bottura, Daniela Soto-Innes, Eric Ripert, Ana Roš and Tetsuya Wakuda discuss the changing culture in restaurants and how they are making strides towards fostering a positive working environment.
"At Miele, we strongly believe that cooking is an intuitive, possibly even universal, language that can bring together different people and unite cultures," says Anne Geisert, Managing Director Miele France. "With our premium kitchen appliances and expertise in stylish pleasure we want to provide the basis for this extraordinary dialogue. Therefore we are honoured to be the presenting partner for #50BestTalks in Paris, and to be among such an inspiring group of chefs and restaurateurs."
The #50BestTalks venue, Musée du Quai Branly, is set on the banks of the Seine, facing the Eiffel Tower. Opened in 2006, the city's fourth largest museum exhibits 3,500 works of primitive art from Africa, the Americas, Asia and Australasia. Its international collection, as well as the imposing modern design of the building by architect Jean Nouvel, provides a fitting backdrop to a discussion about identity, crossing frontiers and drawing from nature.
To apply for media accreditation and tickets for #50BestTalks and media itinerary, please contact [email protected]
To register for and access 50 Best's online media centre, please visit: https://www.theworlds50best.com/mediacentre/media-contacts