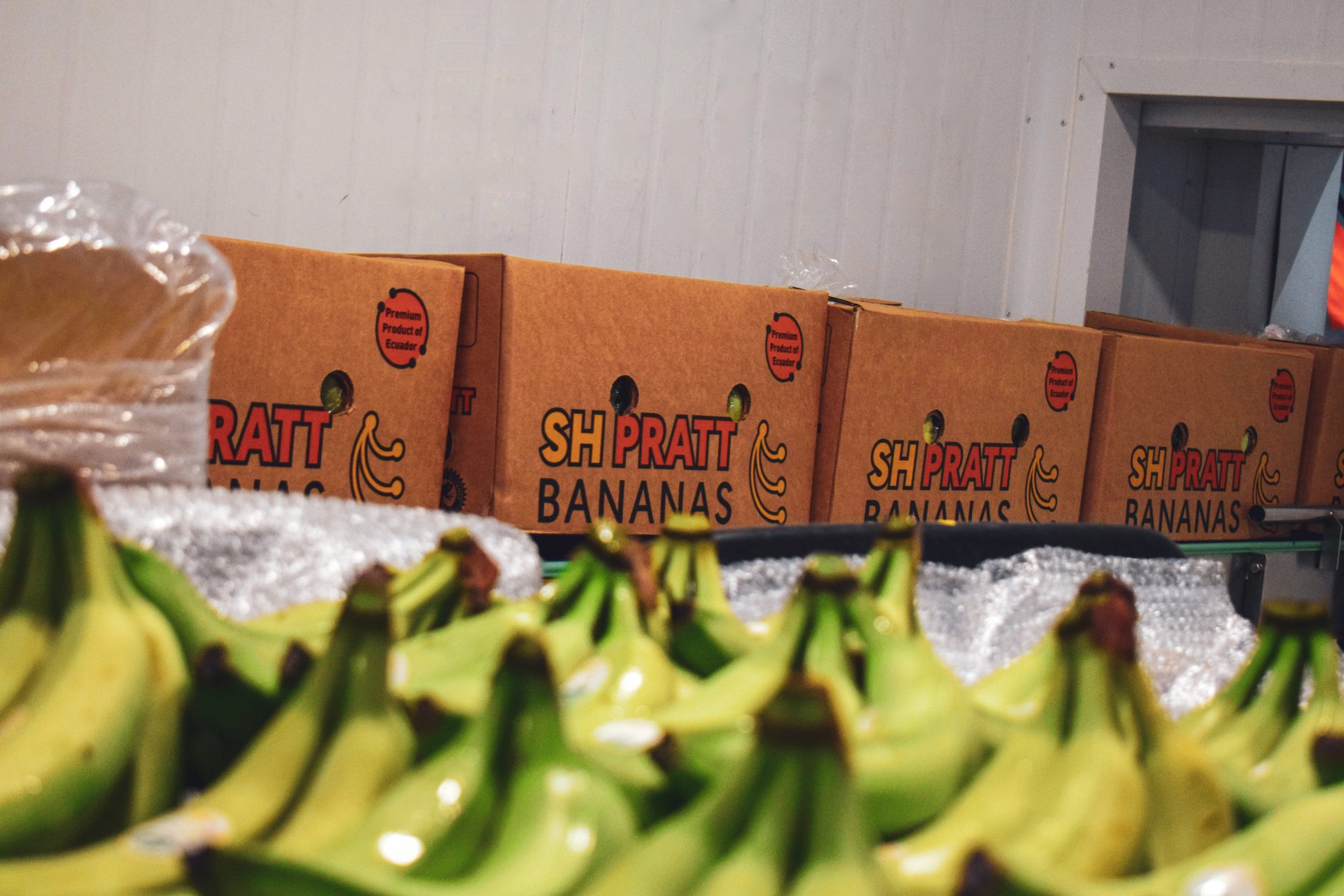 SH Pratt Group are experts in the food produce and distribution industry. With a turnover in excess of £175m they ripen 30 million bananas every week, which is one third of all bananas sold and consumed in the UK. In addition the organisation's Halo multi-temperature fresh produce handling facility at DP World London Gateway in Essex has officially pledged to save over 1.5 million kilos of CO2 during the course of its 2019 operations.
STRATEGY – 'It's taken us decades to get here' – Robert Wells, SH Pratt Group CEO
SH Pratt CEO, Robert Wells, views the banana ripening business as a family affair. Having come into the organisation as a young man and eventually taking over from his father, his daughter Ophelia and son Robert also both work at the company's headquarters in Luton.
"I was working for my dad here at weekends and in the school holidays before I could even drive," Robert explains. "Then I started at the business full-time aged 22. I finished my last term at polytechnic, came to work here in the summer holidays and just carried on.
"I have regrets that I didn't get experience working somewhere else, but I remember my father came home from lunch one day and asked 'did I want to run the business in the future?" I was always passionate about it and immediately said 'yes.'
"At 58 I have a slightly different perspective. For the first 10-15 years you're learning how to run a company and this process could have perhaps been sped up if I'd experienced other environments beforehand. Having learnt this lesson, my daughter has previously explored other options and my son has benefitted from three or four placements before joining us.
"I'm now a hands-off CEO, which is the way it should be. I have the freedom to review our strategy and direction but I remain accessible and approachable so any of our people can speak freely with me. I constantly stress that colleagues need to tell me the truth because if we're sharing poor information we're well and truly lost.
"While the industry has historically been quite static, over the last few years the banana business has really begun to grow. This means our company has also developed significantly, which has brought a whole different aspect to how we do things. Before, we could run things almost by the seat of our pants, but now have to get the most from people and this requires careful planning to make sure we keep the business safe.
As a privately-owned family operation we've grown by the tried and tested route of limited borrowing from banks. It's my ambition to keep us this way, partly because of our history and my emotional tie to these beginnings, but mostly because it gives us the freedom to act quickly.
"Commercially our customers prefer a business like ours to be light on its feet and able to respond instantaneously to new challenges and demands. This is the secret to our growth. Years ago I was pitching for a piece of work with a retailer and said I'd be ready in six months' time. It was never going to happen – you have to be fast.
"This attitude has been learnt from retailer demand and industry's ability to supply. For many years where there were opportunities for retail growth it would take 18 months to put up a new building. Today we've got this covered. We have the infrastructure and the site to make quick decisions and can set up new rooms within four months."
Environmental sustainability is another area where SH Pratt group excels, with production buildings covered in solar panels, logistical routes constantly scrutinised to ensure the minimal amount of journey time, and wastage minimisation where bananas deemed unfit for supermarket consumption are repurposed as animal feed or biofuel.
"Refrigeration uses a lot of electrical power, even more so in warm weather," continues Robert, "and these two factors go very much hand-in-hand in the summer when demand for bananas and fresh produce is at its highest.
"For all of our electrical consumption we need around 6,000 amps per phase, and contribute to 10% of this using sustainable power. I would like to go higher but we're limited by current technology.
"Over the last few years we've replaced our refrigeration by going down the ammonia route, which is both efficient and environmentally-friendly. The day we changed to ammonia we saw a 25% drop in our electricity use, which is great news when you consider we have 140 ripening rooms, each with six fans inside.
"Sadly the end consumer is rarely aware of the environmental steps we've taken in a market where issues of cost and quality dominate the conversation.
"The overall reason we're as successful as we are is the diligence we apply to doing the job. Our clients need high quality product delivered to the right place at the right time. The better we are at planning, the lighter our involvement has to be. Looking at the longer term, we have to make decisions based on profitable diversification and our needs as a group.
"Once you're seen as being successful there's only a certain amount of time before your competitors join you. We'll continue with what we do best and my ambition is to make the group as big as it can become, but this is dependent on how we and the market perform.
"As long we remain diligent, flexible, retain the ability to react quickly and maintain the trust of our customers our organisation will prevail."
RECRUITMENT – 'There's always a driver shortage and Brexit hasn't helped' – David B'Bade, MD at Kinetic Recruitment
Kinetic Recruitment is part of the SH Pratt Group and, as well a specialist in driver recruitment, the firm also acts an expanding stand-alone agency offering staffing solutions and training across logistics and many other sectors.
Company MD, David B'Bade, jumped at the opportunity to run a new division within SH Pratt Group and joined towards the end of 2015. An experienced recruiter, he started out as a consultant aged 21 before moving onto accounts specialist, then manager and was eventually head-hunted to start a recruitment division at Transport for London.
What is it that attracts him to such a demanding role? "It's an interesting industry, regardless of the level you begin at," David explains.
"Recruitment is not for the faint hearted, you have to make your bones. You can't just walk into a business with a nine-to-five mentality. You have to pick up the phone speak to people and make things happen. You also have to generate money and a lot of people can be scared to do this.
"If a client has a desk to fill, we look at it in terms of the figure involved. For example it can mean this desk is worth £5,000 to occupy, plus electricity costs. In order to stay in your job you have to provide a return on investment, whether you're in a sales role, dealing with customers, or managing accounts.
"The challenges involved can range from the hard work of finding good candidates, through to managing the expectations of an unhappy customer. If there's a lorry hold up it inevitably has a knock-on effect which means someone isn't going to be pleased.
"All you can do is anticipate the issues, apologise where appropriate – even when these things are out of your control – and develop adequate solutions and back-up plans. If a driver can't get to their destination, we need to find another one who can.
"There's always a driver shortage and Brexit hasn't helped, but this is one of the mysteries of the sector. Perhaps there's a stigma about being a truck driver, but the reality is it's a very well-paid job.
"We train people to become HGV-qualified, after which they'll earn in excess of £35-40,000 a year. They can also develop their career and specialise in transporting volatile goods such as petroleum or other chemicals.
"What makes us different from other recruitment agencies? Well for many it's about chasing the margin. While recognising that costs are important we're fortunate in that being part of SH Pratt means we'll always be able to put service over profits.
"We invest heavily in the professionalism of our drivers who are all fully trained and uniformed. In addition to Kinship's fleet of trucks all of our transport management staff are also 'Certificate of Professional Competence' certified.
"High-quality recruiters are always going to be needed. As well as finding and training the right people, administrative elements of the business such as ensuring IR35 compliance are becoming increasingly important.
"Ultimately we're not just about drivers. We expect to grow over the next five years and become a major force in recruitment."
LOGISTICS – 'Our biggest success factor is that SH Pratt Group is a family business' – Howard Gill, MD at Kinship Logistics Ltd
Howard Gill joined Kinship Logistics as MD 18 months ago with the remit of focusing on the delivery of SH Pratt Group's cornerstone product – bananas, while also incorporating the variety of fresh produce on offer for customers of Halo, and grow as an independent transportation business.
"Some 75% of our work was originally bananas. That's now at 60% as banana volume grows and we get new work in as well. All of this is managed with 60 vehicles and 75 multi-temperature wagons moving up to 7, 500 pallets every week.
"We collect raw materials from locations including Portsmouth, Dover, London Gateway and Tilbury Docks, before transporting bananas to Luton and processed products direct to the retailers.
"A big part of the business is overcoming the unpredictability of fuel prices, traffic and hold-ups. For example, we can have a booking for a 2pm arrival at a depot, but if the warehouse has a busy day or insufficient staff, the driver can be left there waiting. On top of this they can only work for 15 hours, and if a 60 to 90 minute turnaround is delayed before the next job, an inevitable knock-on takes effect.
"Every day is a new reset, like a train or bus timetable, and if you're trapped in traffic there's nothing you can do about it. While everyone sees that front end, very few are aware of what goes on behind the scenes. From the driver making their journey overnight, to the workers at a sorting centre – everything is geared towards the customer receiving their produce in the freshest possible condition the next day.
"We believe in delivering ultimate quality throughout the process. Our equipment is all new, but our biggest success factor is that SH Pratt Group is a family business. Decision making, looking after people and prioritising quality – everything can be put in place very quickly and efficiently. The fact that we are so willing to embrace change and there's no red tape to hold things up makes all the difference.
"A classic example of this is the development of Halo. The company wanted to grow and diversify its focus on the banana market so it simply developed a facility at DP World London Gateway where 80% of the UK's fresh produce arrives. This kind of thinking has just enabled us to win 100% of a major retailer's banana supply. We're flexible, quick-moving and prepared to do more with less.
"Halo will lead to a big growth in Kinship's business over the coming two years. We're also looking towards developing a Northern depot in addition to our historical location in Luton.
"I suppose the most surprising part of our work is that we're constantly looking into how we can take vehicles off the road. I've always disliked skeletal containers, which mean that vehicles have to come back empty after a 120-mile journey. It's a drain on drivers and impacts the environment unnecessarily.
"Now we're delivering on two jobs in both directions. We pick up and bring goods directly into London, taking carbon out of the atmosphere while keeping containers out of the port. It's a very competitive business which can be repetitive, but every day is different. Fortunately Kinship has excellent people who take pride in problem solving."
SH Pratt Group: https://www.shprattgroup.com/