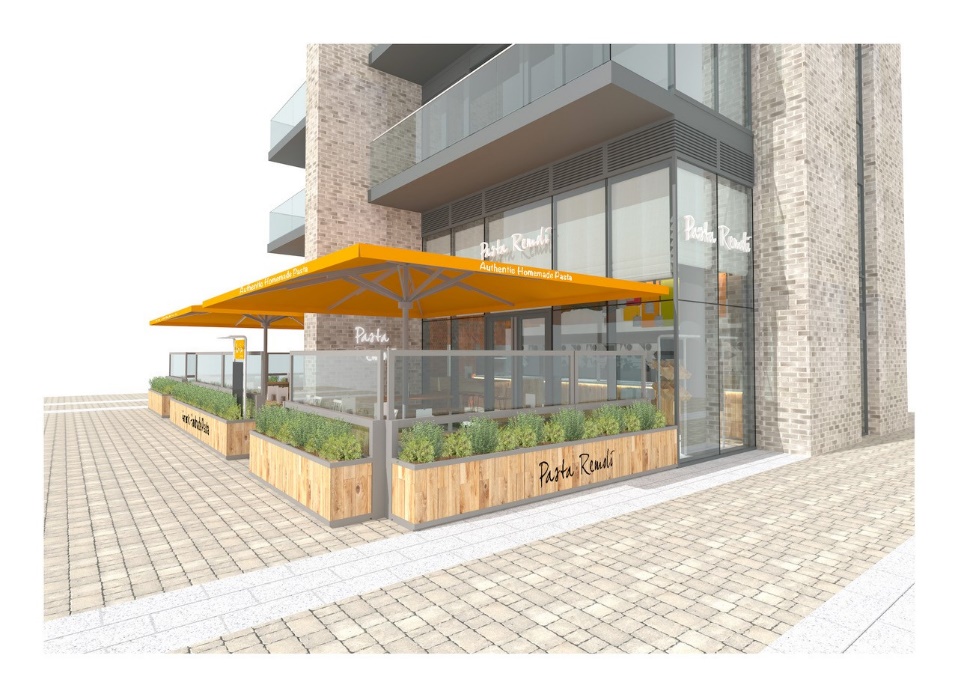 Simone Remoli, Chef and Founder of Pasta Remoli together with co-founders Francesca Tarquini and Stefano Anfussi will be opening a new restaurant in Wembley Park, making it the fourth Pasta Remoli for the popular London-based casual dining fresh pasta group.
The new site just steps away from Wembley Stadium will offer guests the high quality, homemade pasta in a fast-casual environment that Pasta Remoli customers enjoy so much.
"What a location! We are right next to the iconic Wembley Stadium which means that concert days and football matches will attract thousands of people to our site. We are thrilled to be part of the substantial revitalisation of the area and are surrounded by great bars, shops and restaurants so we're in fantastic company."
The beautiful, new, glass-fronted site is 100sqm inside, seating 50, and has an outside seating area of 75sqm.
The stylish contemporary interior of the new Pasta Remoli Wembley Park is designed for local residents, businesspeople, students, concert goers and football fans to eat great food quickly and comfortably with facilities for take-out and delivery.
The casual dining group offers homemade, traditional pasta dishes in a quick, affordable and authentic way, based on its unique concept where diners can choose their pasta, choose their sauce and then choose their cheese. Inspired by a love for authentic Italian ingredients, Pasta Remoli, often described as serving some of the best pasta dishes in London, will also offer a weekly-changing seasonal special, homemade breads, cakes and desserts.
Simone Remoli has said that the new opening is the next stage in the development of the Pasta Remoli brand and offering. "We are gearing up for strong but gradual growth over the next five years, within London, and potentially elsewhere in the UK," says Remoli.
"What's important for us is that we maintain a quality experience for our diners, and that we stay true to our ethos – authenticity, quality, and very much doing things our way. It is very important for us that we control our growth plans without having to compromise in order to meet expectations of outside investors," continues Remoli.
Pasta Remoli currently has locations in Finsbury Park in North London, Westfield Stratford in East London and Ealing in West London.