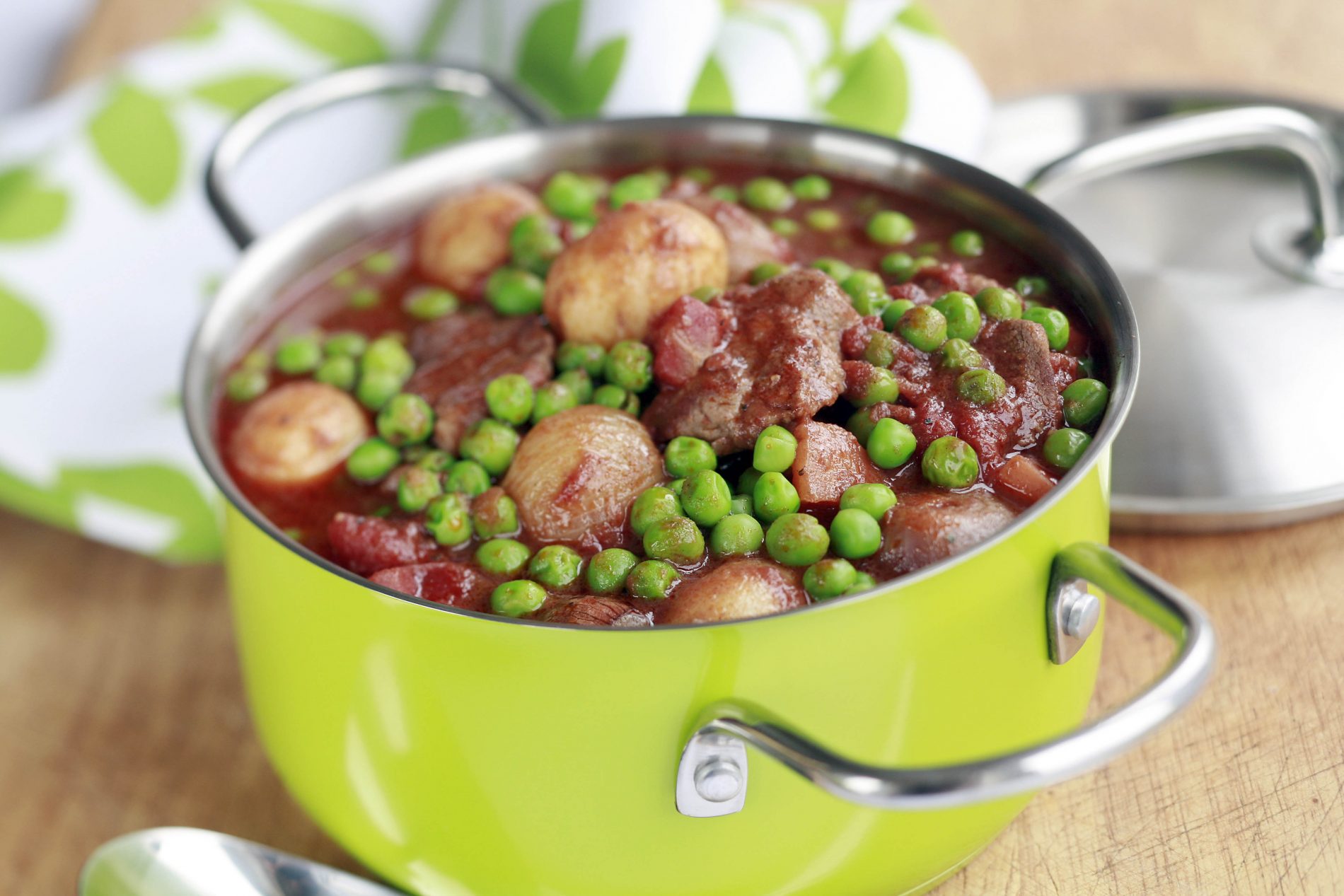 This week we celebrate Love Lamb Week and Yes Peas! Has decided to share some of their pea-licious lamb recipes that you can make at home!
One Pot Lamb Casserole with Peas, Button Onions and New Potatoes
Serves 4
Ingredients
2 tbsp plain flour

Sea salt and black pepper

650g lamb neck fillet, diced

2 tbsp vegetable or rapeseed oil

12 button onions or shallots, peeled

1 carrot, peeled and diced

1 tsp ground cinnamon

1 x 400g tin chopped tomatoes

2 tsp runny honey

400ml chicken / lamb stock

200g baby new potatoes, washed

250g frozen peas

1 tbsp mint, finely chopped
Method
Preheat the oven to 180°C/350°F/Gas Mark 4.

Season the flour and toss the lamb in it. Heat the oil in a large casserole and brown the lamb pieces in batches. Set aside and add the button onions and carrots to the pan. Cook for 5 – 10 minutes, until the vegetables are a light golden brown. Add the cinnamon and cook for a further minute.

Add the chopped tomatoes, honey and stock, stirring well, and bring to the boil. Return the lamb to the pan, add the new potatoes and season to taste. Cover and cook in the preheated oven for 1 hour and 20 minutes, until the lamb is tender.

Remove from the oven and stir through the frozen peas, and a little more stock if necessary. Cook for a further 5 minutes. Sprinkle with the chopped mint and serve.
Herb Crusted Rack of Lamb with Pea, Mint and Shallot Sauce
Serves 4
Ingredients
2 tbsp olive oil

4 x 3 cutlet mini French trimmed racks of lamb

100g fine fresh breadcrumbs

1 tbsp chopped parsley

1 tbsp freshly chopped basil

1dsp freshly chopped rosemary

Sea salt and freshly ground black pepper

4 heaped tsp good quality Dijon mustard (1 per rack)

50g melted butter
Sauce:
50g butter

100g shallots, peeled and diced

350g frozen peas

100ml good vegetable stock

2 tbsp freshly chopped mint

1 good tablespoon double cream
Method
Place one tablespoon of olive oil in a frying pan and heat. Seal the racks of lamb on all sides. Remove from the heat and place in a roasting tray.

Mix the breadcrumbs and chopped herbs together with a little sea salt and black pepper. Spread each rack with 1 tsp of mustard and press plenty of the breadcrumb mix onto each rack. Melt the butter and the remaining olive oil and drizzle over the herb crusted meat.

Place in a pre-heated oven, 180°C/Gas mark 5, for 12 – 15 minutes. Turn the heat down to 160°C/ Gas mark 3 and cook for further 5 – 6 minutes. Allow to rest for approximately 5 minutes and serve with the pea puree.

For the sauce, melt the butter in a frying pan and add the shallots. Fry for 2 minutes. Remove from the heat then add the frozen peas and coat in the butter and shallot mixture. Add the vegetable stock. Bring to the boil and simmer for 3 minutes, remove from the heat and add the freshly chopped mint and the double cream. Place into a bowl and blend until chunky. Return to the pan and boil rapidly for a further minute reducing any excess liquid.

To serve, arrange a bed of sauce on four plates and top with the racks of lamb.