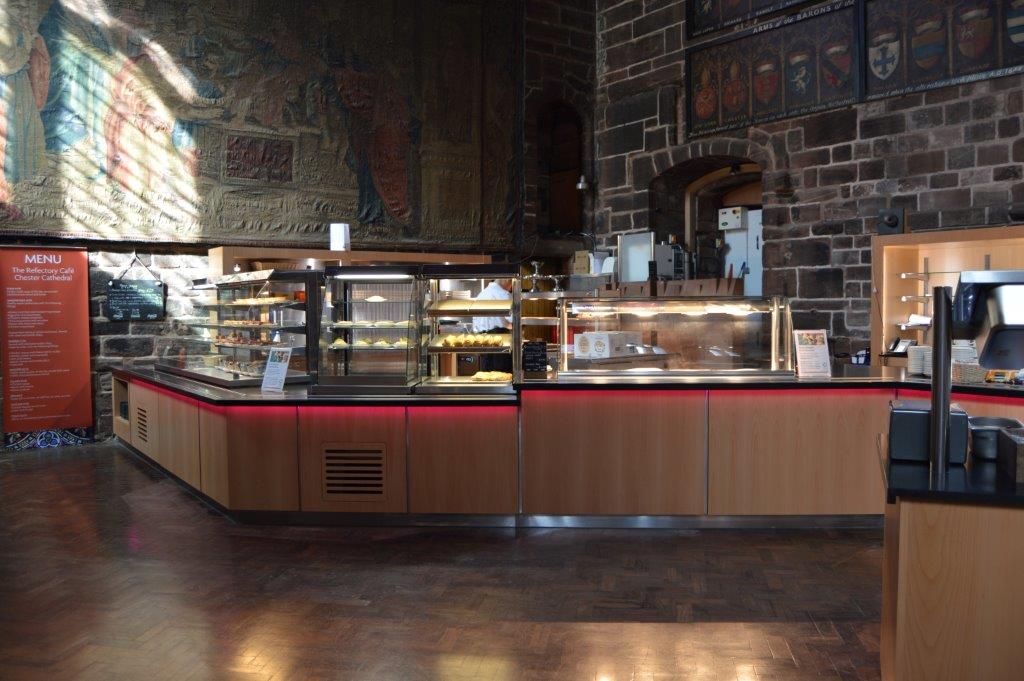 Chester Cathedral's Refectory Café has been renovated with the help of Victor Manufacturing and it now serves soups, salads, cakes and sandwiches seven days a week. The room and kitchens are also used to cater for events with full table service and bar facility.
As it is visited by hundreds of people every day, it was essential that the Café met the demands of sudden lunch-rushes, as well as enhanced customer experience. The design also has to complement the ancient surroundings which include a 17th Century tapestry, Heraldic paintings and iconic stained glass windows.
Victor Manufacturing worked with distributor BidFood to refurbish The Refectory's counter and catering equipment in a project which spanned two years, with the café opening in March 2018. In order to bridge the gap between the cathedral's history and requirements for a modern café, traditional and modern materials were selected.
For the main counter top, a 40mm-thick Silestone was chosen, while Negro Tabas was selected as the colour and inset tray runners with LED lighting were incorporated to complement the venue's Gothic style whilst providing a 'pop' of contemporary aesthetics. For the counter front panels, traditional wood was used, while stainless steel was installed on shadow gaps and kick plinths.
A range of catering equipment from Victor was installed within the bespoke counter, including a round arm curved glass Synergy drop in units, designed to be dropped into a counter to form a food servery; and a roll in heated, refrigerated and ambient Optimax merchandising units, designed to facilitate the effective presentation of chilled produce whilst maintaining core product temperatures.
Victor also manufactured custom-built shop fitting shelving, enabling the easy position of goods within key areas of the café to emphasise product visibility and drive profits through spontaneous purchases.
The new and refurbished Refectory Café provides now extra space that enables members of staff to achieve maximum table space, storage and increased serving capabilities during daily service and also when hosting events.