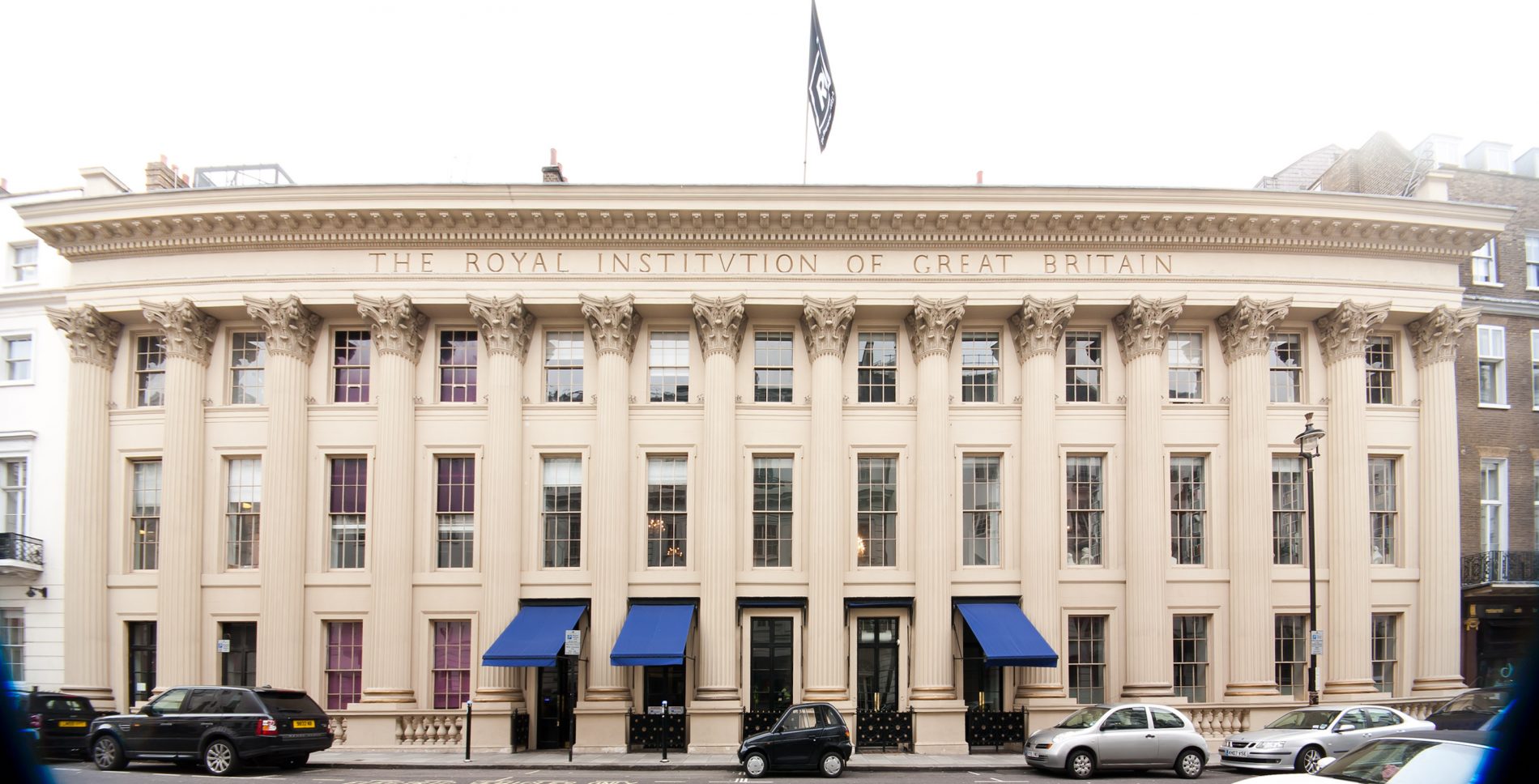 Searcys has been appointed as the new caterer at the Royal Institution; a prestigious Grade I listed venue in Mayfair, Central London. Located just off Piccadilly on the historic Albemarle Street, Searcys now runs the event catering and on-site café menus at the Royal Institution, bringing 172 years of hospitality expertise to the stunning surrounds of Mayfair.
Home of science and innovation for over 200 years, the Royal Institution is a striking three-floored event venue, with historic Georgian rooms adorned with fine portraits and original structural features, blending harmoniously with contemporary and well-equipped event spaces.
The Royal Institution has been home to eminent scientists whose discoveries have shaped the modern world, including Humphry Davy's miners' safety lamp, Michael Faraday's work on electromagnetic induction and Kathleen Lonsdale's use of X-ray diffraction to identify the structure of Benzene. Its famous speakers included HG Wells, Sir David Attenborough, Helen Sharman and Grayson Perry. Today, the Royal Institution is a registered charity encouraging everyone to think more deeply about science and its place in our lives.
Available to suit all event needs – from small meetings and conferences to parties and receptions – the venue includes spaces ranging from the lower ground floor Atrium and Museum with a Mezzanine, to the first floor Library, 400-seater Theatre and the decorative Writing Room.
Sustainability and wellbeing 
Searcys' award-winning catering service is now available at the Royal Institution's event spaces and on-site café. With a drive towards sustainably sourced produce and high-quality service, the new tailored menus and hospitality packages showcase the best of seasonal and home-grown ingredients.  Searcys' commitment to a sustainable operation at all levels of service saw the oldest UK catering company awarded 3 Stars by the Sustainable Restaurant Association in December 2019.
Conference and events menus focus on nutrition and wellbeing, including healthy swaps from sugar-based meeting snacks, such as Acai, banana and berry pots. Large parties will be catered for with enhanced packages, from interactive food stations and drink experiences, to dedicated vegan dining options, with dish highlights of smoked seitan with pearl barley, charred broccoli, lemon and shallot vinaigrette.
The café, located in the heart of the venue, features a regularly changing menu serving a selection of sandwiches, freshly baked pastries and Ottolenghi-style salads, which include a vegan superfood salad with black rice, quinoa, broccoli, black beans and avocado; and Roast British chicken, heritage beetroot, orzo pasta and shallot relish. In keeping with the sustainability drive, all tea and coffee is Direct Impact sourced, with Searcys' bespoke blend of coffee beans from family-run farms in Peru and Colombia, and roasted by Bristol-based, Extract Coffee.
Chief Operating Officer at the RI, Michael de Crespigny, said: "We are delighted to have appointed Searcys as the Royal Institution's catering partner, building on our already outstanding offer to clients who hire the RI for their business conference or special occasion. And with our new café, what better way to discover science at the RI, and then discuss it with friends over a coffee and a bite to eat."
Searcys' restaurants, Champagne bars and events spaces are synonymous with warm hospitality and British heritage, with the Royal Institution joining a number of celebrated venues in London and nationwide. These include the HAC and One Moorgate Place, Vintners' Hall, the Barbican and the Gherkin in the City, Design Museum, Blenheim Palace and The Roman Baths.