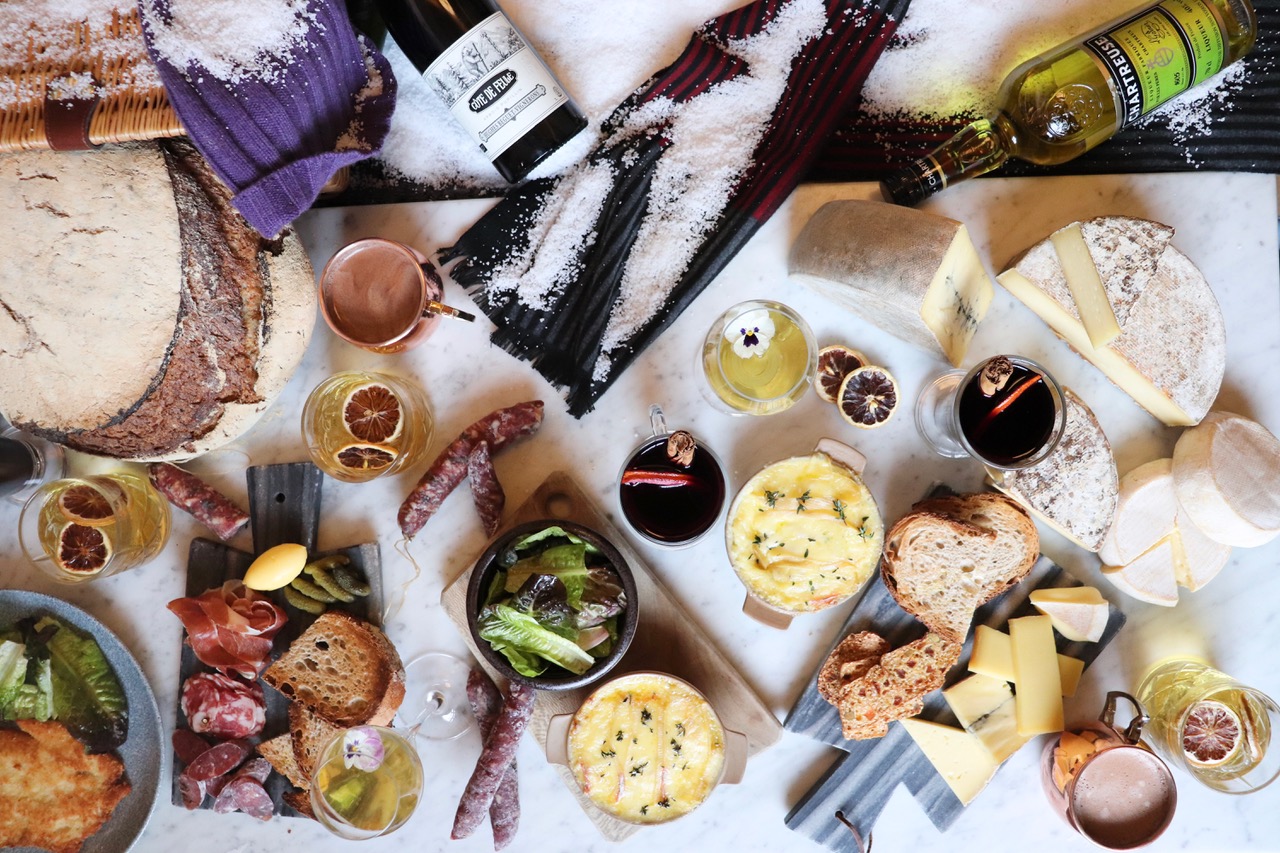 With ski season rapidly approaching, St Pancras Brasserie and Champagne Bar by Searcys is set to launch a new Après-Ski menu, celebrating the best of alpine treats and speciality cocktails. Available from 2 January to 4 April 2020, Après-Ski starts at Europe's longest Champagne bar, transporting guests to the slopes with a comforting menu of dishes to share and specialty drinks – from charcuterie and cheese boards, to boozy Green Chartreuse cocktail specials – perfect for those hopping aboard the winter Eurostar ski train routes.
Situated in the heart of the bustling hub of St Pancras, guests are invited to sit back and soak up the charm of the station at the Champagne Bar, or in the art-deco surrounds of the Brasserie, offering the ideal space for a pre-ski train snack, friendly meeting place or evening pitstop.
Designed to showcase the best of traditional winter nibbles and dishes, the new Après-Ski menu includes boards of French mountains charcuterie; and Alps cheeses (Morbier, Comté, tome de Savoie, Reblochon) served with freshly baked bread, alongside ski season classics of Savoyarde Tartiflette and Chicken Schnitzel.
There will also be a selection of wintery Chartreuse cocktail specials, including an Alpine Old Fashioned (Whisky, Genepi Liqueur, Green Chartreuse, Honey), and a celebration of fizz with the Alpine Royale Emerald – a zesty mix of Green Chartreuse and Orange, topped with Searcys selected Cuvée Champagne.
Those wanting something warmer can opt for Mulled Wine, or a new signature Hot Chocolate special, topped with lashings of cream and available with a cheeky dash of Green Chartreuse.
Available at both the Champagne Bar and Brasserie, the new Après-Ski menu at St Pancras by Searcys marks the start of Eurostar's Ski Train routes, which will run from December 2019 until April 2020, heading direct to Moûtier's, Aime-la-Plagne and Bourg-St-Maurice; a short distance from popular destinations including Courchevel, Tignes and Val d'Isère.