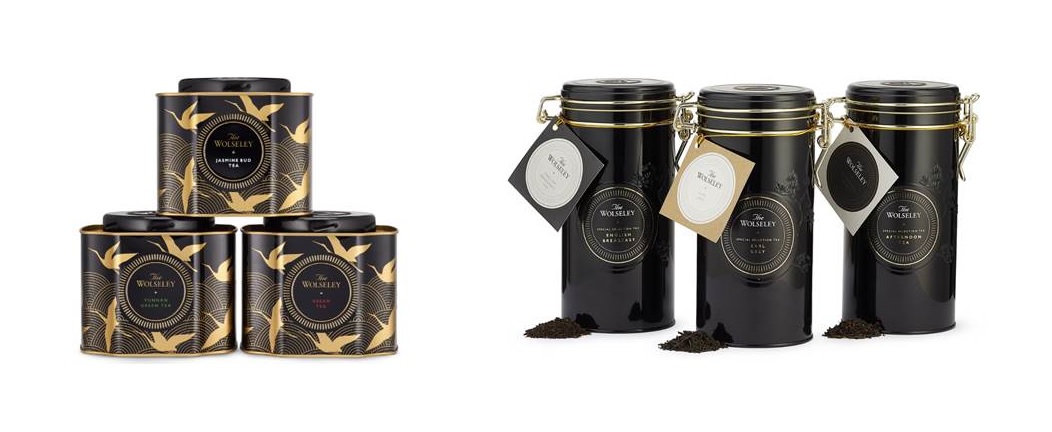 The luxury wholesale supplier to the premium hospitality industry, Canton Tea, has partnered up with The Wolseley Shop on their latest collection. Together they created a range that offers pyramid tea bags inside tea caddies, designed with an elegant Chinoiserie motif, evocative of the interior of The Wolseley itself, and a selection of loose teas in Tin Gift Sets.
The Tea Caddy Collection features the following flavours:
Assam

– a royal blend, rich and full-bodied black tea with a unique malty taste from the historic tea plantations of Northern India's Brahmaputra Valley. It is best enjoyed with a dash of milk for a brisk start to the day.

Yunnan Green

– a light and refreshing tea from the high mountains of Yunnan in South West China. Sweet notes of fresh pea-shoots and nuts leave a mild and delicate aftertaste.

Jasmine Bud

– a fragrant tea, combining smooth green tea leaves with the sweetest notes of jasmine blossom grown in the sunny hills of Southern China. A refreshing drink for any time of day – light, bright and with heady aromatic notes.
Meanwhile, the loose teas included in the Tin Gift Sets are:
Chocolate Loose Leaf Tea Tin

– the perfect blend for adventurous tea drinkers. The Chocolate Tea is both indulgent and luxurious, a velvety, rich blend of Indian Assam and Chinese Yunnan black loose-leaf teas expertly combined with Peruvian cocoa nibs and Madagascan vanilla.

English Breakfast Loose Leaf Tea Tin

– for an uplifting start to the day. The Wolseley's English Breakfast Tea is a revitalising blend of loose leaf black teas from Assam, Ceylon and Kenya.
The products are available at thewolseleyshop.com, in the Piccadilly flagship and from The Wolseley Shop's first dedicated retail space at Bicester Village. The Wolseley Shop also offers select products and exclusive hampers at Selfridges, and is soon to launch at Harrods, Fenwick and Mr Porter.