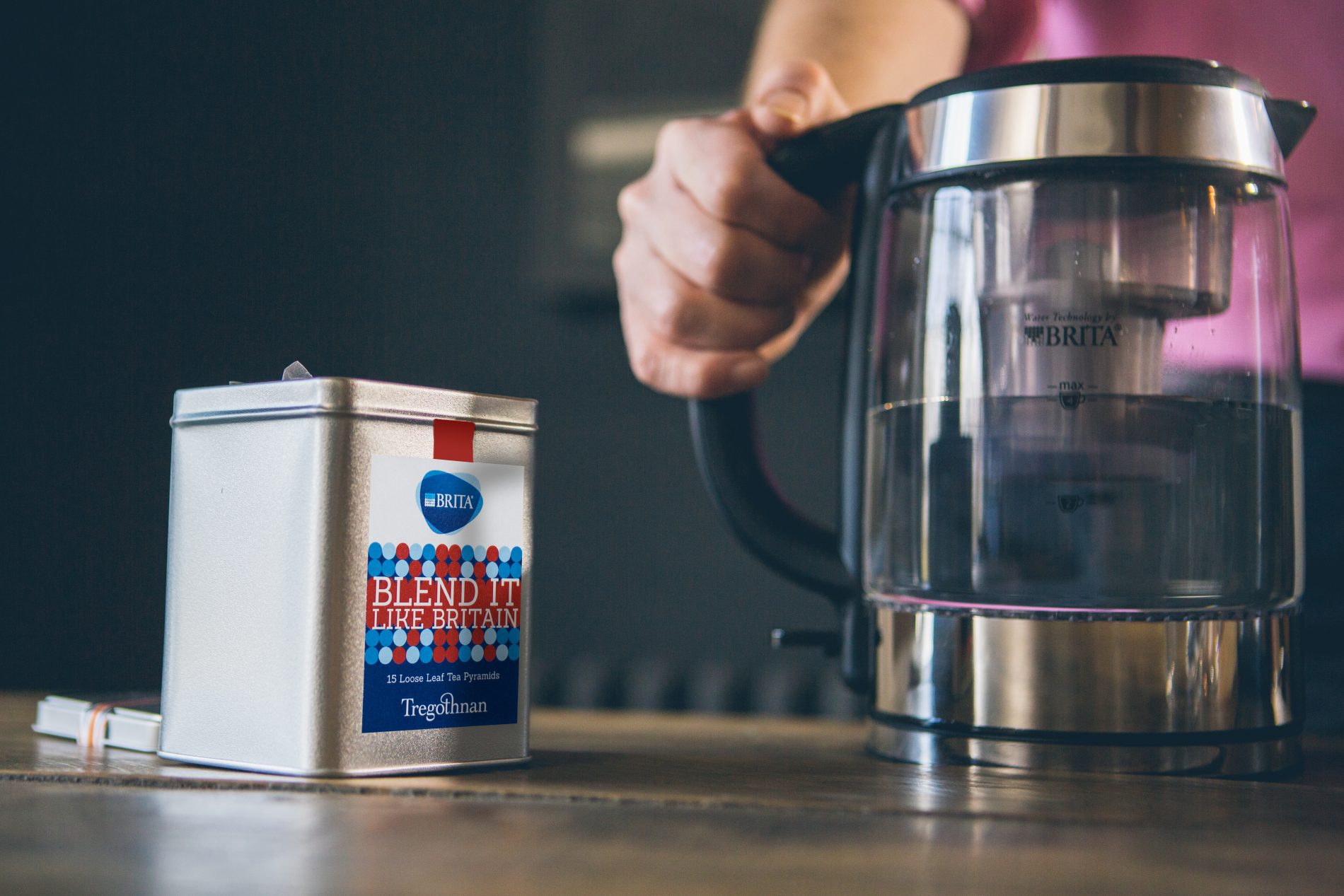 BRITA collaborates with the only English tea plantation, Tregothnan, to produce the first ever tea curated by the British public to unite the nation
A nationwide study of 2,000 people was undertaken to unearth tea habits and taste preferences
Millennials drink an average of 2.7 cups of tea a day, whilst over 55's drink a minimum of four per day
22% of respondents prefer aromatic tea, 15% bold and 13% creamy
Desired effects from tea include 'refreshing' (44%), 'relaxing' (44%), and 'calming' (28%)
'Blend it like Britain' tea is available from tregothnan.co.uk and costs from £14.95 – £17.95
Tea drinkers of the UK have spoken, and BRITA has listened. As a nation united by its love of tea, BRITA wanted to know what characteristics make an impeccable cup of tea, so put the question to the people. The UK's tea lovers were asked what flavours, characteristics and aromas they'd love in their perfect brew. The insights were then used to develop a bespoke tea blend through an exclusive partnership with Tregothnan – the UK's first ever tea plantation. The result is 'Blend it like Britain', a new twist on the quintessentially British tea blend, that launches today, and is available from tregothnan.co.uk at £14.95 – £17.95 – all profits will be donated to the mental health charity, Mind.
The bespoke tea is specifically designed to be enjoyed with filtered water to bring out the full taste and aroma of the cuppa – as 99% of it is made of water, quality is very key. Around 60% of the UK has hard or very hard water[1] which significantly impacts the quality of tea. BRITA filters remove taste-impairing substances found in tap water such as chlorine and help release the full flavour and aroma of tea.
The research has also revealed the time of the day the nation prefers to indulge in a cuppa, as well as the desired effects of their tea to ensure that 'Blend it like Britain' encompasses everything that the nation wants. It turns out, nationwide we appreciate a cup of tea first thing in the morning (84.5%). However, regionally, over 12% of Liverpudlian's, 10% of Londoner's and 10% of tea drinkers in Leeds confessed that they often fancy a cuppa in the middle of the night. Almost 80% of us choose Black tea with milk as our favourite brew, with green tea in second place as the hot tipple of choice for 40% of the nation. The antioxidants and nutrients could be the reason behind green tea's popularity as it's known to improve brain function, reduce fat and lower the risk of cancer, along with many other impressive benefits.
Based on preferential taste, 28% of the nation chose fruit, 23% picked sweet and 18% highlighted citrus as notes important for their tea. This informed the five vibrant components chosen to complement Tregothnan's existing tea plantation leaves:
In order of characteristics, lovers of tea would rather:
Assam: bold and woody
Lemon verbena: citrusy and fruity
Chamomile: sweet, calming and relaxing
Black mint: refreshing
Rose petals: aromatic
Aromatic (22%)
Bold (15%)
Creamy (13%)
Truly English tea leaves are grown with precision and care at the Tregothnan Estate in Cornwall. This creation represents the spirit of British tea lovers and the ingredients burst with bold, zesty, aromatic and refreshing notes; infused with a subtle sweet hint. Encased in a silken 100% biodegradable and plastic-free pouch, the quality and the taste is never compromised.
Purveyors of filtered tap water, BRITA considered the different types of tea and the desired physiological effects that tea lovers want from their cuppa, to ensure that 'Blend it like Britain' hits the spot to heighten senses.
'Blend it like Britain' is available in collectable beautiful, bespoke caddy tins or refill packs.
Sarah Taylor, Managing Director of BRITA UK, said: "We are really proud to have created a people-powered, collaborative, unique tea blend with Tregothnan. Drinking tea is such a part of our identity and something that people of all ages do every day. We strongly believe that the nation should be able to enjoy our favourite past time by drinking tea at its best, and never be short-changed on taste and quality."
Jonathon Jones, Managing Director of Tregothnan Trading, said "As passionate tea advocates, it's been great to team up with liked-minded partner BRITA. This has been a labour of love and we're looking forward to people experiencing the new tea blend, 'Blend it like Britain', that tastes even better when brewed with BRITA's quality filtered tap water."
The evolution of tea consumption
The study of over 2,000 tea drinkers revealed that there is a big generational difference in the way people drink their tea across the country.
16-24-year-olds tend to have a sweet tooth and add an average of one and a half teaspoons of sugar to their tea
Over-55s add just over a third of a teaspoon (39%)
Furthermore, the younger you are, the more likely you'll branch out from the popular 'builders tea', with 34% of 16-24-year-olds choosing herbal teas, compared to just 24% of over-55
The number of cups drunk in a day also varies; with Generation Z (the generation after Millennials born from the mid-1990s to the early 2000s) drinking almost three (2.69) cups on average, compared to over-55s' four or more cups a day.
'Blend it like Britain', will be available to purchase for £14.95 – £17.95 from tregothnan.co.uk for a limited time. All profits from sales will be donated to the mental health charity, Mind.
For more information visit www.brita.co.uk