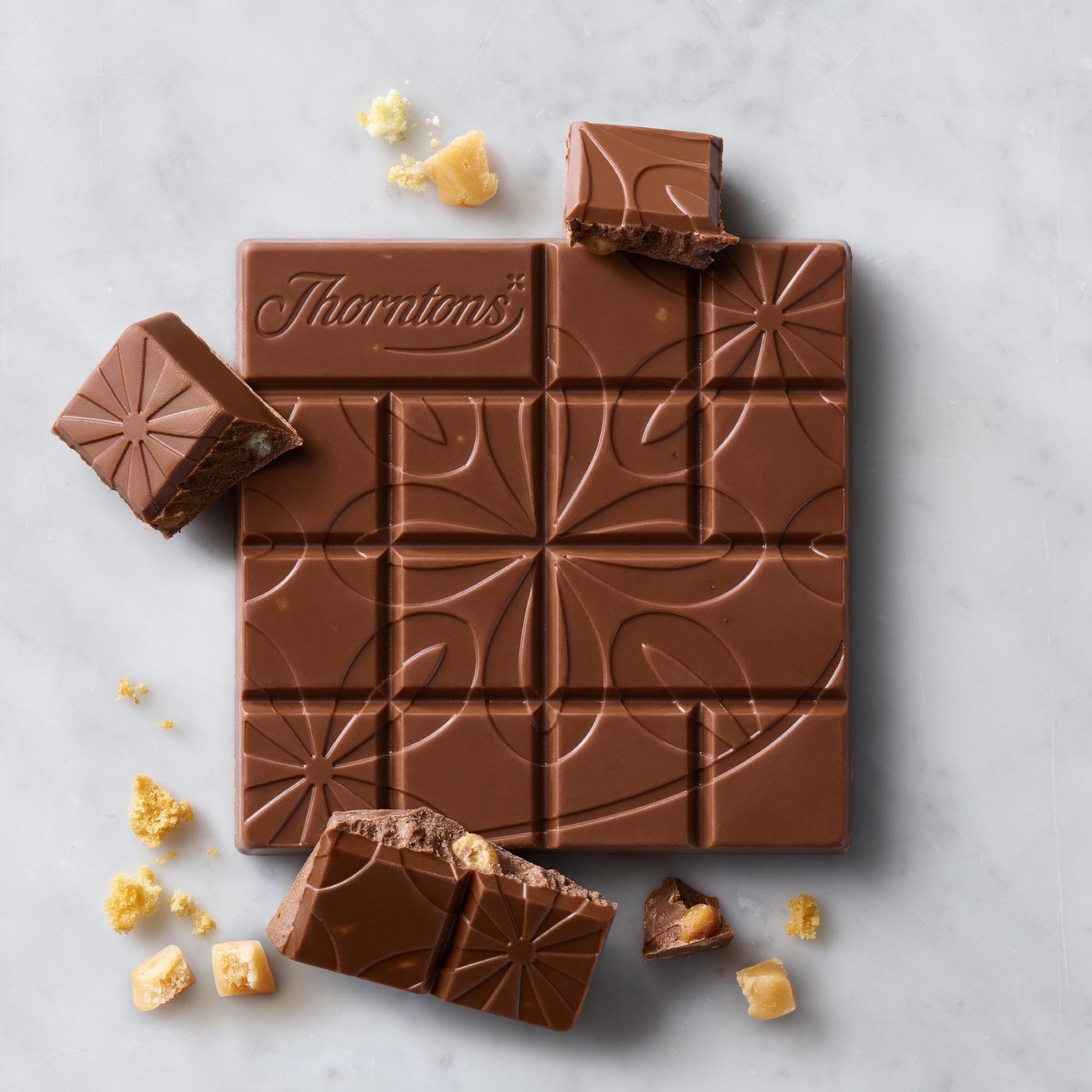 … bursting with flavour and delicious ingredients for a wonderfully unique taste experience
Treat yourself to a touch of decadence this spring with Thorntons melt-in-the-mouth chocolate blocks.
Taking a moment for yourself is one of life's little luxuries, and there's no better partner for 'me time' than a piece from a Thorntons chocolate block. With unique recipes, enticing flavours and velvety smooth chocolate, each block offers a blissful escape from the hustle and bustle of everyday life, letting you bask in a moment of pure relaxation.
Crafted with Thorntons expertise and knowledge, each block is packed full of the finest whole ingredients enveloped in thick chocolate, offering an enchanting sensation of tastes and textures with every bite.
The luscious Caramel Cheesecake sees delicious real fudge pieces complemented with crumbly shortcake biscuit and a hint of sea salt to create an exquisite taste experience. For those that prefer something a little more intense, a bite of a delicious 70% Dark block is a perfect way to tantalise the taste buds and immerse yourself in a moment of 'me time'.
If you're looking for something to entice and excite, why not tempt your taste buds with the Orange Crisp, full of real pieces of zesty orange and crispy waffle. Or for a little bite of heaven pick up the Honeycomb, where flavoursome honeycomb pieces are wrapped in delectable Thorntons milk chocolate.
Ian Tweedale, Marketing Director of Thorntons comments, "Each enchanting offering in our Thorntons blocks range delivers a full and satisfying flavour, creating an uncompromisingly rich and intense taste experience that's perfect for a moment of me-time."
So next time you want to treat yourself, make sure it's with a Thorntons chocolate block.
Thorntons blocks will be available in all major supermarkets in the UK and Ireland from June 2019, RRP £2.00 (90g)