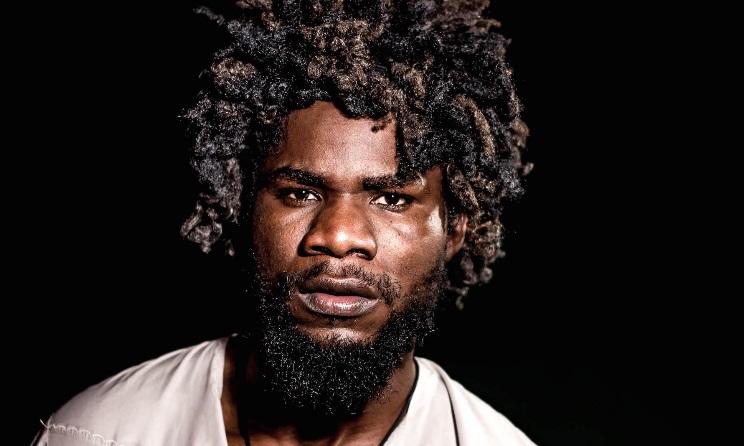 Incarcerated hip hop artists and political activist Chama Fumba also known as Pilato, had his request for bail approved and will be allowed to move about freely until his trial for unlawful assembly reaches the courts.
Pilato fled to South Africa four months ago after the Lusaka Magistrate Court issued a bench warrant for his arrest. Pilato, who has been highly critical of President Lungu and his aides, returned to Zambia to show that he's prepared to demonstrate that the charges against him are much more than casino games on the part of the political hierarchy of the country and touch the core of the country's values and future.
Pilato's self-imposed exile started after he wrote and performed a song entitled Koswe Mompoto (which in the local Bemba dialect translates to "rat in the pot") which referred to Zambia's ruling party's corruption and angered Lungu. Pilato supports the UPND, a rival party. UPND leaders attended the court session where his bail was granted.
Pilato
Pilato, born Chama Fumba, is from Ndola, Zambia's third-largest city. He was raised in poverty in a copperbelt township and started his career writing poetry at the age of 10. By 2010 poetry had become his music and hip hop became his mode of expression. Pilato has become known as the "voice of the voiceless," speaking out against wrongs that he sees in society, specifically political corruption.
Pilato began to incorporate political expression into his music from the beginning. One of his early songs was a satire in which he referred to some Zambian MPs as "Mental Patients," earning him the attention and wrath of the ruling Patriotic Front party. He got death threats after his 2013 "Bufi" labeled the late President Michael Sata a "Father of Lies" and in 2015 he threw his support behind opposition leader Hakainde Hichilema, performing for him throughout Zambia.
Hichilema lost in a tight election and the PF has kept Pilato in its sights ever since. That hasn't stopped the musician who, shortly after the 2015 election, recorded "Aphiri Anabwela," Nashil Pischen Kazembe's 1970s hit where he changed the lyrics to "Alungu Anbwela" as a criticsm of President Lungu. He was charged with "conduct likely to breach peace" and the case drew widespread media coverage around the world.
Last year Pilato turned his back on the UPND and pledge loyalty to the ruling PF. However this year he returned to form, writing and performing Koswe Mompoto which criticizes the PF and its leaders.
Going Forward
Pilato returned from South Africa on Wednesday and was picked up at Lusaka airport due to his Koswe Mompoto which was generally seen as accusing President Edgar Lungu and his ministers of being corrupt.
Pilato received death threats after he released the song which was written as part of a protest against the government's procurement of 42 fire-fighting vehicles at a cost of 850,000 Euros ($1 million). Pilato charged that the purchase was an example of the government's graft.
Pilato was arrested with five other activists. They all pleaded not guilty to charges that they had engaged in an illegal protest that took place last year outside of Parliament. Magistrate Mwaka Mikalile originally ordered that Pilato be detained over his failure to appear in court at a previous hearing (when he was in South Africa) but on Monday she overturned that ruling and allowed Pilato to leave jail on bail.
The police protested strenuously against the release but Keith Mweemba, Pilato's lawyer, told the court that the artist was not a flight risk and that the threats on his life had caused him to flee the country. He submitted evidence, including footage where PF supporters vowed to "deal with him." Magistrate Mikalile said that the evidence convinced her that Pilato's decision to flee the country cannot be questioned.
Release
Zimbabwean musician Thomas Mapfumo has joined global calls to demand justice for Pilato. Mapfumo, who is known as the Lion of Zimbabwe, enjoys a huge fanbase across the globe for his energetic chimurenga music. He has also produced political-inspired scores, one of the best known being Hatidi Politics which carries the message to politicians that they can't take the electorate for granted.
Mapfumo commented on Pilato's arrest, saying "The Zambian government is targeting people like Pilato because they are standing up and demanding accountability from their government. Pilato is a victim of a government that is trying to consolidate its base through the limiting of freedom of expression and in this case artistic expression. He is not a criminal. Instead of targeting criminals who are eroding state institutions, they are using him as a scapegoat. He must be released immediately and unconditionally."
Mapfumo continued, saying "The Zambian government is targeting musicians like Pilato and activists to clearly send a chilling message that any dissenting view will not be tolerated. In participating in this protest these individuals have done absolutely nothing wrong – they are certainly not criminals," said the legendary musician.
Another activist, Laura Miti, will be standing trial with Pilato. She was quoted as saying "despite this arrest we will continue to demand for accountability from the leaders."Every other day there are new revelations of corruption. Just now we have heard of the president acquiring land in Swaziland and so we continue to demand for accountability."
New reports indicate that President Lungu has plans to build a $3.9 million mansion on a piece of land in Swaziland.