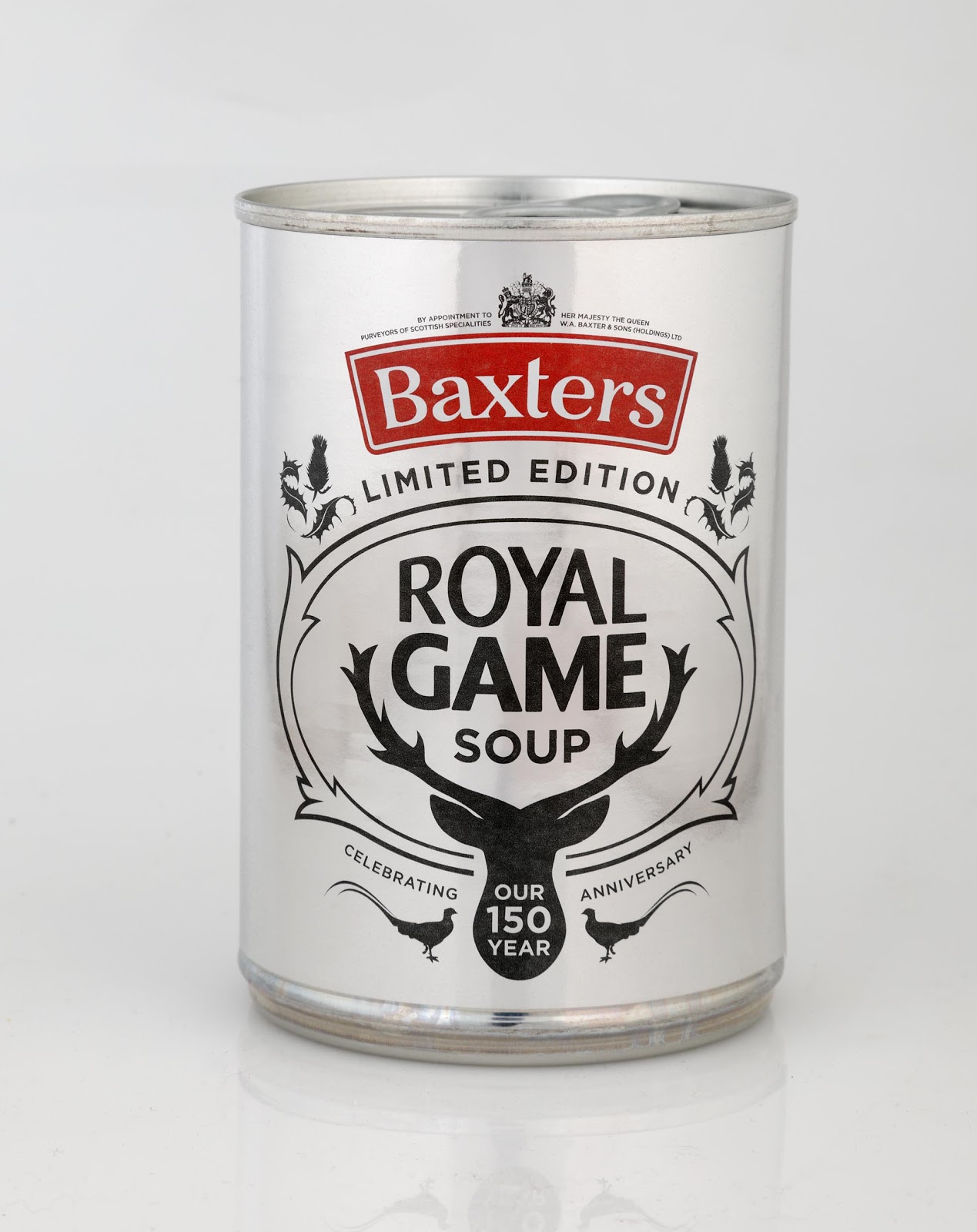 To celebrate its 150th anniversary, a limited edition label, designed by Springetts, has been launched by Baxters Food Group for its iconic Royal Game soup. The newly designed tins, which bear a contemporary label inspired by one of the original 1930s designs, can be found on the shelves of supermarket stores nationwide, marking the UK family-run food producer's milestone year.
As the first soup ever created by the Baxter family, Royal Game is still as popular today as it was when it was first created in 1929, selling thousands of units every week. While the sumptuous venison and pheasant soup was originally stocked only by luxury retailers like Harrods and Fortnum & Mason, the Baxters favourite can now be found in most supermarkets across Britain.
"From our inception as a small grocery store in 1868, we have grown into a global food business and we're proud to be celebrating our 150th anniversary this summer," said Audrey Baxter, Executive Chairman and Group CEO at Baxters.
"We continue to be inspired by a passion for great tasting food and have developed so many new, innovative products over the years but it seemed fitting to take a look back through the archives to mark this milestone. Royal Game was one of the first soups my grandmother Ethel created and the limited edition tin gives our loyal customers an opportunity to share a little piece of our history," he continued.
Despite its heritage, the much-loved soup has many qualities sought after in a modern diet, including being low in fat, low in calories and high in protein meat. The Baxters Royal Game soup will be stocked in Tesco, Sainsbury's, Asda and Morrisons stores nationwide from mid July 2018 with an RRSP of £1.10.
Baxters Food Group Limited and its subsidiaries are manufacturers of high quality ambient food, supplying retail, industrial and foodservice customers in the UK market and key overseas markets. The company operates in the premium part of various categories such as soups, canned meats, pickles, side of plate products, vinegars, sauces and preserves. Its products are sold under a variety of brands owned by, or licensed and co-packed by the Group.