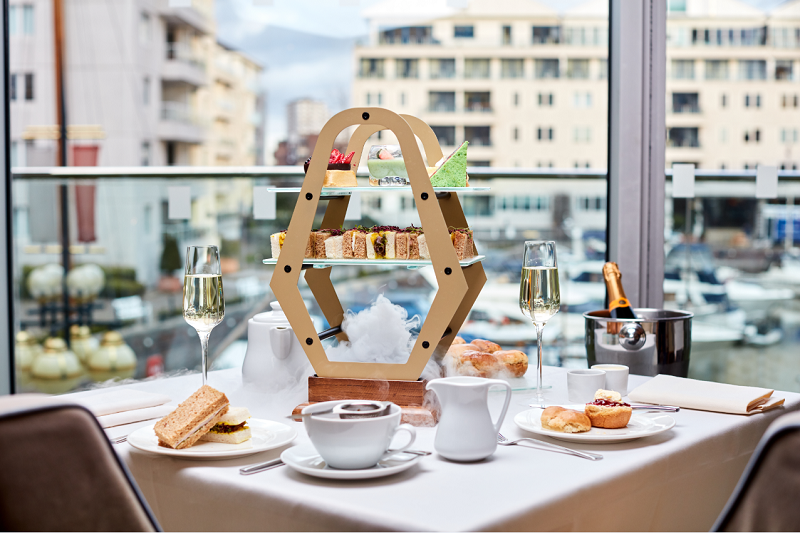 The Chelsea Harbour Hotel has launched this month a Travel Through Time Afternoon Tea in collaboration with Whittard of Chelsea. The new afternoon tea will be taking guests on a time travel journey from its advent in 1840 by the Duchess of Bedford through to the present day.
Travel Through Time includes a selection of sandwiches and desserts from various periods throughout history. The delicious menu includes finger sandwiches filled with classic and contemporary delights such as salmon and cucumber, a modern twist on the quintessential cucumber sandwich created in the 1700s, coronation chicken, a sandwich created in 1953 specifically for Queen Elizabeth II's coronation, and brie and purple piccalilli, a quirky take on the classic British teatime treat.
The desserts also follow the same theme and guests should expect sweets such as flummery, a traditional jelly-like dessert made from oatmeal and originating from 1623 with a delicious rhubarb twist, passionfruit and berry egg, a creamy passionfruit mousse topped with a seasonal berry selection and inspired by the 1885 Fabergé egg, and a chocolate rainbow cake fashioned in the shape of the gnomon of a sundial pointing to four o'clock, the traditional time to enjoy afternoon tea.
The food will be served on a bespoke, time machine-inspired afternoon tea stand, completed with dry ice, which makes for a truly magical experience. The Travel Through Time Afternoon Tea at The Chelsea Harbour Hotel costs £28 per person or £38 with a glass of champagne and will be available on an ongoing basis.
Located in the heart of Chelsea, The Chelsea Harbour Hotel is a luxurious, five-star hotel that boasts panoramic views over Chelsea Harbour Marina and the River Thames. The hotel's harbourside restaurant, Chelsea Riverside Brasserie is perfect for indoor and alfresco dining while taking in the stunning views.