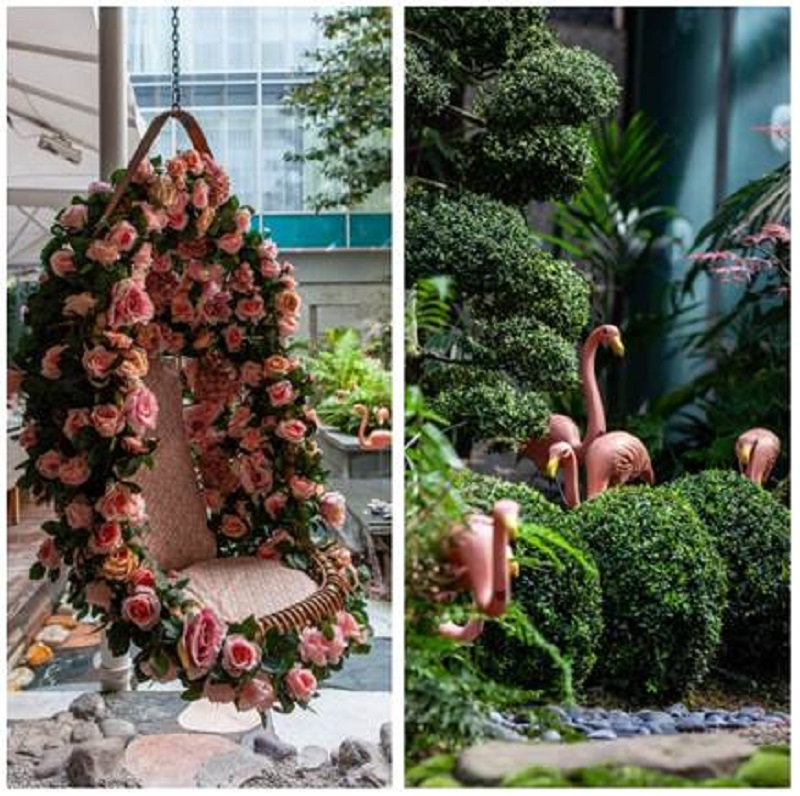 To mark the 50th anniversary of Laurent-Perrier Cuvée Rosé, Sanderson have collaborated with Laurent-Perrier and mothers2mothers (m2m) to launch the Laurent-Perrier Cuvée Rosé Courtyard Garden. Sanderson's iconic garden was transformed into a pink heaven, full of flamingos and floral accents. Available from the 2nd of May until the 26th of September, the garden invites guests to enjoy the famous Mad Hatters Afternoon Tea with a Cuvée Rosé twist, from which a donation will be made to m2m.
For the summer season, The Courtyard Garden at Sanderson has turned the seated swing into a throne for the Queen of Hearts, adorned with pink roses for the perfect Instagram picture. Surrounding the chair is a flock of 50 flamingos, as remembered from Alice's famous croquet match.
In this colourful and playful space, guests can enjoy summer dining. The always popular Mad Hatters Afternoon Tea is full of familiar characters and tales from the stories of Lewis Carroll's 'Alice in Wonderland'. The menus are hidden inside vintage books whilst sandwich plates feature ticking clocks. For this special collaboration, the Mad Hatters Cuvée Rosé Tea includes the Pink Floquet Cake – a strawberry flamingo with a white chocolate Laurent-Perrier Cuvée Rosé croquet truffle.
Africa-based, global NGO m2m works to create healthy families and make sure every child grows up with a bright future, by tackling HIV and other critical health issues. They do this by training employing and helping to empower mothers living with HIV to become healthcare workers who can then offer advice and support to other women and their families in the same situation. During this special collaboration with Sanderson, £1 is added to every Mad Hatters Afternoon Tea bill and donated to m2m.
Sanderson is thrilled to be raising awareness and funds for m2m in this collaboration, while celebrating the milestone anniversary of the globally-renowned Laurent-Perrier Cuvée Rosé.