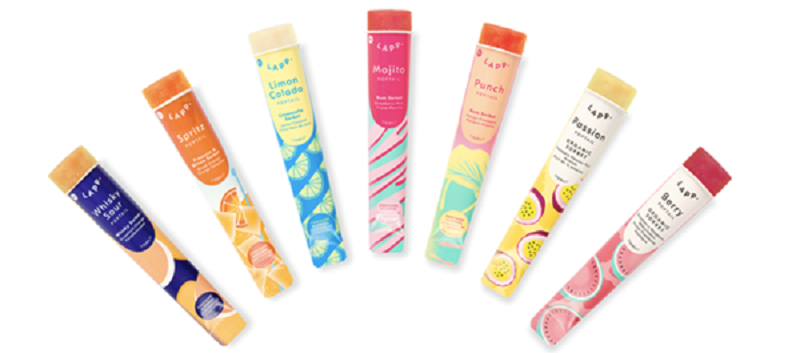 Poptails by LAPP has welcomed the summer season with the launch of two new alcoholic Calippo-shaped cocktail sorbets strictly for adults: Whisky Sour, made with Whisky, Orange & Grapefruit and Spritz made with Prosecco, Bitters & Blood Orange. Each 110ml ice lolly is priced at £4.50 and is sold only to those aged 18+.
These new flavours are joining the existing range, containing: Strawberry Mojito, made with Rum, Strawberry & Mint, Limon Colada, made with Limoncello, Lemon & Coconut; and Tropical Punch, made with Rum, Mango & Pineapple.
In addition, the Hackney-based brand has also introduced two non-alcoholic organic flavours for everyone to enjoy: Berry, made with Strawberry, Raspberry & Watermelon and Passion, made with Pineapple & Passion Fruit, each priced at £3.50.
Poptails by LAPP range is vegan, gluten-free, fat-free, under 130 kcals and made with no preservatives or colourings. It can be found in SPAR by EAT 17 at three of its locations: Homerton (Hackney),Walthamstow and Bishop's Stortford, as well as in UberEATS in Hackney, The Crown & Shuttle in Shoreditch, The White Hart in New Cross, Shoreditch Platform and Studio Spaces E2.
A seasonal pop-up will take place at Shoreditch BOXPARK between the 19th and 24th of June, where people can try out the new ice lollies. Summer festival goers can also cool down with a Poptail at Field Day, Houghton, Gottwood and Wilderness as well as Cabourg Mon Amour in Normandy. The brand will also be selling at exclusive locations in Ibiza and Holland.
"LAPP is not just about Poptails. It is a trend-setting lifestyle brand. Our promise is to offer the very best quality and innovative products that taste as delicious as they look. Mindful consumption is at the heart of what we do," said Cecilia Thomas, co-founder of Poptails by LAPP.
LAPP offers a bespoke service that delivers the Poptail party to you – whether it's a launch party, wedding or office summer party, LAPP and their handy freezer bike will be the coolest brand to work with this summer.