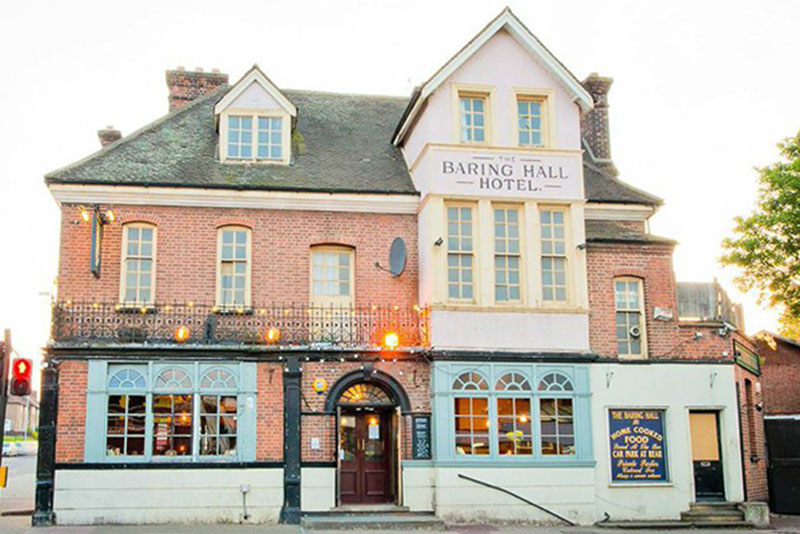 The Baring Trust, a local heritage organisation, have triggered the Community Right to Bid for this nominated Asset of Community Value. Friends of the Baring Hall Hotel in Grove Park, Lewisham are calling on the whole community to club together to help buy this historic public house, which is 'dripping with history' according to campaigners.
In June 2018, The Baring Hall Hotel and associated stable block was added to the list of Buildings of Special Architectural or Historic Interest. The building is now Listed Grade 2. It is also one of the first pubs to be nominated as an Asset of Community Value under the Localism Act 2011. The community now have until May 6th 2019 to put in their bid to buy.
The Friends of the Baring Hall Hotel are urging local residents to get involved and take action to save this beloved pub because they believe that, despite the protections of Grade 2 and ACV listing, there is a strong likelihood that if the bid fails the pub will eventually be turned into residential flats.
The Baring Hall Hotel has always been at the hub of Grove Park. Locals have expressed that the pub is a key and essential part of community life in an area where there are very few venues to meet and socialise.
During its time, the pub has played host to successful comedy nights with special guests Al Murray The Pub Landlord and Harry Hill, family occasions, The Queen's 90th birthday party celebrations as well as many community group meetings. Campaigners stress that there is potential to do a lot more, such as restoring the hotel upstairs as part of a training scheme for young people in the area wanting to work in the hospitality industry.
The current owners are selling the pub and the campaigners have until May 6th 2019 to submit the bid and are working with locality to build a coalition of serious investors and crowd-funders to purchase the Baring Hall which is on sale for over £1 million.
People who would like to support the community in building capacity to develop their community right to bid can donate via the Campaign's Local Giving page: https://localgiving.org/charity/the-baring-trust/