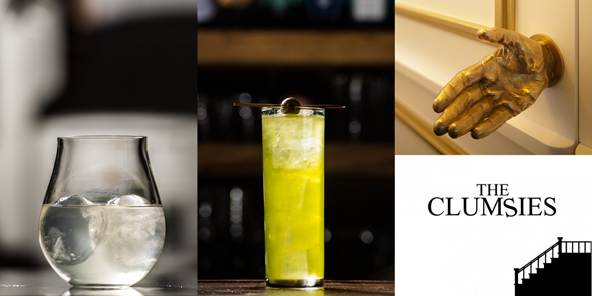 This September, St Martins Lane hotel will be waving a final goodbye to the summer heatwave with a 4-day residency from multi-award winning bar from Athens, The Clumsies. Ranked 6th place in 'The World's 50 Best Bars in 2017' and recent winner of 'Best International High-Volume Cocktail Bar' at the Tales of the Cocktail awards, The Clumsies will be popping up at Blind Spot, St Martins Lane's elusive speakeasy, from Tuesday 25th to Friday 28th of September.
The highest bar featured on the 50 best list not to be located in London or New York, The Clumsies has gained an international reputation for its innovative cocktails and charming hospitality. The brainchild of award-winning bartenders Vassilis Kyritsis and Nikos Bakoulis (the eponymous 'clumsies'), The Clumsies' ethos is based on the belief that bartenders are not only judged by the impeccable execution of a recipe, but also by the way they connect with the customer.
This September The Clumsies will be bringing their expertise to the heart of Covent Garden, mixing away behind Blind Spot's boutique tea counter façade and secret golden hand. Guests will be able to sample a selection of their award-winning serves, including the Popeye and Olive, a sweet and sour mix of Star Of Bombay gin, mint, spinach, green apple, and green olive. For a nostalgic taste of holiday, the Hippocampus Summer Edition is a medley of Bacardi Heritage, kiwi, mango, and sunscreen aroma. For those who prefer a bitter edge, the Clumsy Negroski is made from Grey Goose La Poire vodka, house-blended sweet vermouth, Campari, beeswax, and pepper. Bespoke to Blind Spot will be the Clumsy Martini, an exclusive take on the classic consisting of Grey Goose vodka, pickled rhubarb, manzanilla sherry, and Otto's Athens vermouth.
The Blind Spot team, with their own 'Spin the Globe' menu already an innovative celebration of the global cocktail scene, are delighted to be welcoming a taste of Athens through their hidden door this September.