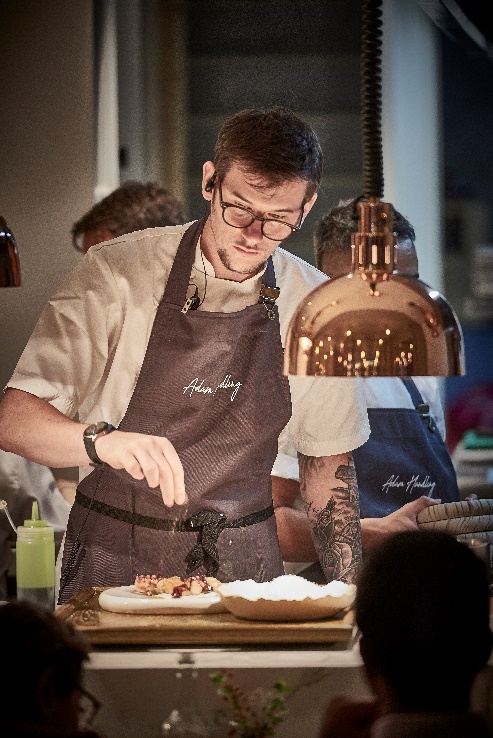 Adam Handling's flagship restaurant, Frog by Adam Handling opens its doors again on 1st August, with stunning new menus and pavement dining in the heart of Covent Garden. Eve Bar will also open on the same date.
Adam Handling claims that the new restaurant menus 'are our best yet' and credits his team for working so hard with him during lockdown to develop some remarkable new dishes. These sit alongside the signature dishes which will always have a place on his menus.
New dishes on Adam's a la carte, tasting menu and Adam's vegetarian tasting menu include Veal sweetbread, bolognese, kohlrabi; 'Pimped up' aubergine; Crab, pickled melon, Chicken and chips; and 'Meadowsweet, apple, pine'.
As well as the new menus, Frog by Adam Handling has been addressing the new safety guidelines for restaurants in their innovative way, including developing their own anti-bacterial alcohol-free hand washes using only natural oils. There will only be one chef and waiter per table, and new Perspex screens have been set up at the pass so that diners can enjoy counter eating there whilst watching the kitchen in action. Temperatures will be taken on arrival (staff and guests), there will be greater spacing between tables, and a decision has been taken not to use masks or gloves. "We want to create as normal an atmosphere as possible. We don't want eating out to be an alienating experience, and we're confident that we can provide a safe environment without them," says Adam.
Outdoor seating on the terrace for up to 36 will be set up along Southampton Street, offering diners drinks and snacks during the day and evening. The terrace food menu will be available at Eve Bar too and includes some new street food specialities including a Fish finger sandwich made from turbot trim and set inside an Asian-style milk bun with hollandaise and traditional tartare sauce, and Corn ribs with a sweet and hot gochujang dressing and fried togarashi peanuts.
Drinking and eating in Eve Bar will be a more spacious experience with up to 20 people only having access to the bar and snugs. New Perspex screens will allow guests to drink at the bar and enjoy a new cocktail list including Yuzu to Bees, with Hendrick's, yuzu, crystalized honey, pine tincture, Fever Tree ginger ale, and Pandan Old Fashioned with Woodford Reserve Bourbon, Monkey Shoulder, pandan leaf, clarified banana juice, Cynar, bitters.
Adam has also introduced one change that he believes is essential to the continued viability of the business. "We're going to have to charge a non-refundable deposit for each diner on booking, there's no way that we could cope with 'no shows' with the reduced seating guidelines that we have to adhere to. It's not something that we would choose to do, but the economic realities make it essential over the next few months at least."
Bookings can be moved once without losing the deposit, in consideration of COVID-19 cases. The restaurant will be open for lunch and dinner from Tuesday to Sunday.