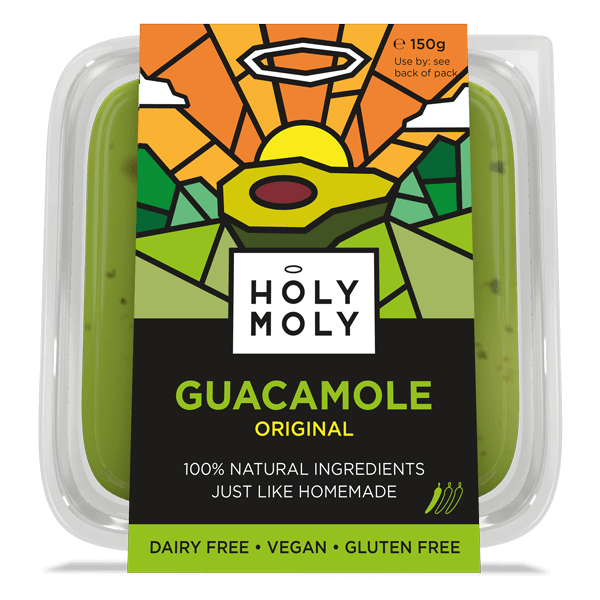 Holy Moly, the British brand revolutionising the UK's ready-to-eat snacking market with its smashed avocado and guacamole ranges, that taste just like homemade, has launched its Original Guacamole SKU into Tesco stores nationwide.
Holy Moly's all-natural, nutritious Original Guacamole has been made available in 540 Tesco stores across the UK from 20th July 2020.
The product will be one of a very limited number of branded dips operating in the category on Tesco shelves, helping Tesco to 'premiumise' the category and meet soaring post-Covid demand for health centric products in general and dips specifically. This partnership is central to Tesco's strategy of supporting independent UK brands that are committed to innovation and meeting consumer demand during the current climate.
Since Coronavirus, there has been huge growth in the dips category and in-home snacking during Lockdown, with Kantar reporting a 33.3% growth in dips from April to May 2020. Sales are expected to maintain as Lockdown eases, driven by the growth in demand for food products that support home entertaining.
Holy Moly's Original Guacamole is a versatile culinary staple that can be enjoyed on its own, or used as an ingredient as part of a larger dish. Each pot contains around two sun-ripened Hass avocados, which are grown, hand-picked and hand-scooped on a four-generation family farm in rural Mexico. Unlike other guacamoles, it is also free from dairy, preservatives, additives, gluten, is kosher, suitable for vegans and has no added sugar.
The Brits are a nation of self-declared avocado aficionados, spending £176 million on the fruit in 2018. With the dips category also experiencing a period of strong growth in 2020 due to a rise in consumer spending on 'big nights in', the public is ripe for new and exciting products. Holy Moly's Original Guacamole delivers the answer to the avocado lottery by providing perfectly ripe, fresh, all-natural and delicious guacamole in a convenient, ready-to-eat format every time.
Holy Moly produces its Original Guacamole by combining the best avocados in Mexico with cutting edge science. The brand was the first in the UK to create fresh avocado-based products using High Pressure Processing (HPP). This all-natural process is commonly used in cold-pressed fruit juices and doesn't use chemicals or high temperatures, preserving the taste, texture and nutrients of each avocado.
It delivers all the nutritional benefits of the avocado and is a convenient way to enjoy the fruit on a daily basis. Indeed, each tub is a rich source of fibre, iron, potassium, vitamins B & E and monounsaturated fats, which can help protect against heart disease and lower blood pressure.