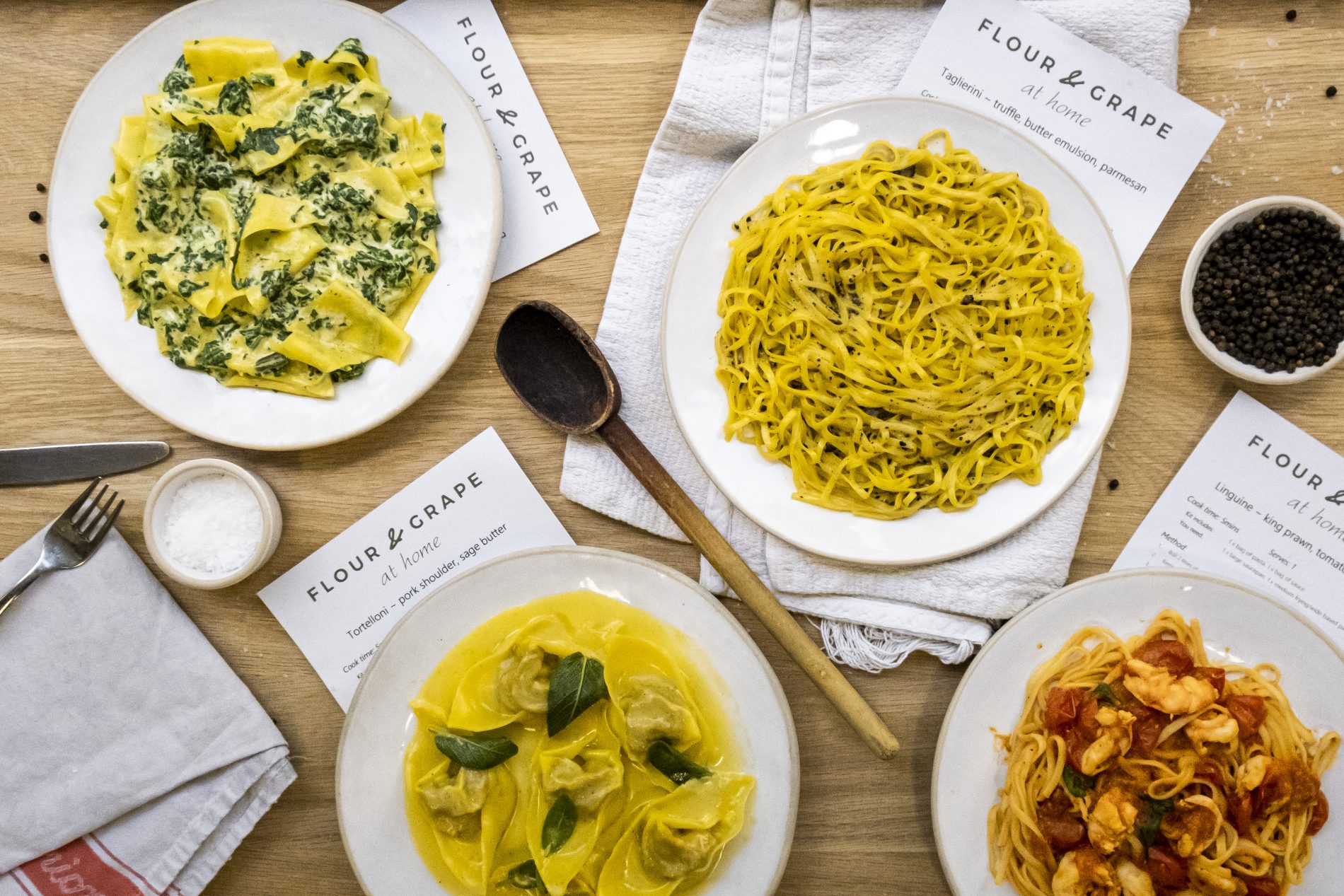 Flour & Grape, the Bermondsey restaurant famous for its indulgent, yet affordable and authentic pasta and wine, has launched Flour & Grape At Home – giving customers the chance to recreate their favourite dishes at home with ease.
Perfect for date nights in, impressing friends at a dinner party or a delicious birthday celebration, Flour & Grape is offering a selection of crowd-pleasing pasta dishes, as well as a bespoke selection of antipasti, desserts and cocktails designed to bring restaurant standard freshness and quality straight to your door. Each pasta dish can be paired with a specially chosen wine to help elevate the tasting experience. With only regional Italian wines on the menu, the team are truly passionate about serving the best options and strive to feature more unusual choices at a reasonable price in order to make exciting flavours more accessible.
Pasta dishes to cook up at home in less than 10 minutes will be available to collect from the restaurant, or those lucky enough to live within a five-mile radius of the famous pasta powerhouse can have it delivered it straight to their door. Each kit includes everything needed to create the highest quality pasta dish, including pasta made freshly that day, alongside sauce and parmesan, with step-by-step recipe cards so you can enjoy hassle free indulgence transported straight from Flour & Grape's dining room to your own.
With staying in being the new going out and many consumers still feeling cautious about returning to restaurants, not to mention lots of them having struggled to get a table at Flour & Grape during busy times, the team is looking to recreate the tasty and indulgent experience at home. Customers can now not only create and devour their favourite dishes, but also enjoy them alongside a specially paired wine designed to bring out the flavour.
After months of experimenting the team have perfected the preparation process and have developed clever packaging, allowing the freshest ingredients to be delivered straight to the door without compromising on taste.
Founder Nick Crispini commented, "Flour & Grape Pasta At Home has been something we were looking to develop long before lockdown – so it was imperative we got it exactly right rather than rushing to get something over the line. This is very much a long-term shift in our business model rather than a stop-gap response to the pandemic. With many consumers staying in during this time, we are looking to bring the experience of eating out to their door."
Food
Flour & Grape uses only the finest ingredients and produce, with their pasta being rolled freshly every-day, to ensure the best tasting and freshest flavours each time. Dishes are also affordable, starting from only £7.
The menu features a range of Flour & Grape's most iconic pasta dishes, including:
·       Tortelloni (Roasted pork shoulder, sage butter)
·       Taglierini (Preserved truffle, butter emulsion, parmesan)
·       Pappardelle (Beef short-rib ragu)
·       Bucatini (Tomato, black olive, caper, chili. VEGAN)
·       Fazzoletti (Spinach, mascarpone, nutmeg, parmesan)
·       Linguine (King prawn, tomato, garlic, chilli)
·       Fagottini (Ricotta, spinach, tomato, parmesan)
·       Vegetable Lasagna (Summer vegetables, tomato, bechamel, parmesan)
The website will be live for pre-orders from 9am Tuesday 28th July 2020.
Collection and delivery will be available at the following times:
Wed & Thurs: 3pm-6pm
Fri: 3pm-5pm
Sat & Sun: 1pm-5pm