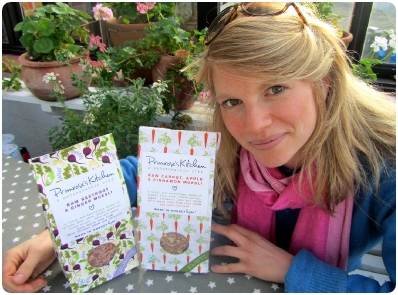 Primrose's Kitchen today announces that it will be stocked in Waitrose stores across the country! Following the huge success of Primrose's Kitchen in department stores and independent food stores across the UK and in Europe, the award-winning muesli producer is now stocked in 198 Waitrose stores nationwide. Waitrose will stock Primrose's Kitchen Raw Vegetable Muesli in both the Raw Carrot & Cinnamon and Raw Beetroot & Ginger flavours.
The step from department stores and independent food stores to a major national supermarket chain has been important to Primrose's Kitchen, helping more people to learn about a naturopathic diet. Founder Primrose Matheson, has a background in naturopathy and complementary healthy studies and creates products following the naturopathic principles: be natural, eat natural, live natural.
With increased awareness of the chemicals and preservatives added to many foods in this day and age, Primrose's Kitchen offers a natural alternative that doesn't compromise on taste. Naturopathic Nutrition stresses the use of whole and organic foods as medicine – an integral concept of healing in many indigenous societies. Today, we see that a return to chemical-free foods, along with other dietary measures, is an effective answer to many health complaints and common conditions.
Primrose, Founder of Primrose's Kitchen, commented: "I decided to create Primrose's Kitchen after feeling unenthusiastic about the 'health foods' available when looking for something for myself. I decided to invent my own delicious, nutritious and exciting products and they proved quite popular! To now be launching into Waitrose is an incredible feeling. Healthy foods are not just "health foods" anymore, they are becoming mainstream which is what they should have been all along. People are becoming more aware and responsible about what they are eating which is an important step in reconnecting ourselves with our bodies and health and being more connected to our planet as a whole.
"We have seen an increase in demand for our products as well as an interest from our customers looking to lead a more natural lifestyle. Waitrose will help us offer an alternative to traditional breakfast mueslis to a wide audience and we're excited to see what the response will be."
Primrose's Kitchen products are not only fantastic as a nutritious breakfast but can act as a great snack or light lunch throughout the day. The Raw Vegetable Mueslis can also be used in a range of delicious recipes such as this gluten free, dairy free, refined sugar free berry and beetroot mini cheesecakes:

Ingredients
1 cup Primrose's Kitchen beet and ginger muesli
7 soft dates
2 tbsp water
2 1/2 cups cashews, soaked overnight
1/2 cup lemon juice
1/2 cup agave syrup
1 tbsp coconut oil, liquefied
2 tsp vanilla extract
Frozen blackberries and raspberries
Method
In a food processor, mix the muesli, the water and the dates to combine until a dough forms.
Press the mixture firmly into muffin cups, use the back of a spoon or your fingers to flatten the surface. Set aside.
In a blender, whiz the drained cashews, agave syrup, lemon juice and vanilla till smooth.
Add the hot coconut oil and blend again.
Use a big dessert spoon to dollop the mixture over the base you have prepared. Pop some of the frozen berries inside.
When you have finished, set in the freezer for at least three hours. Transfer to the fridge to soften a little before serving. Right before serving, align the rest of the frozen berries neatly on top.
Food
Primrose
Shopping
Waitrose