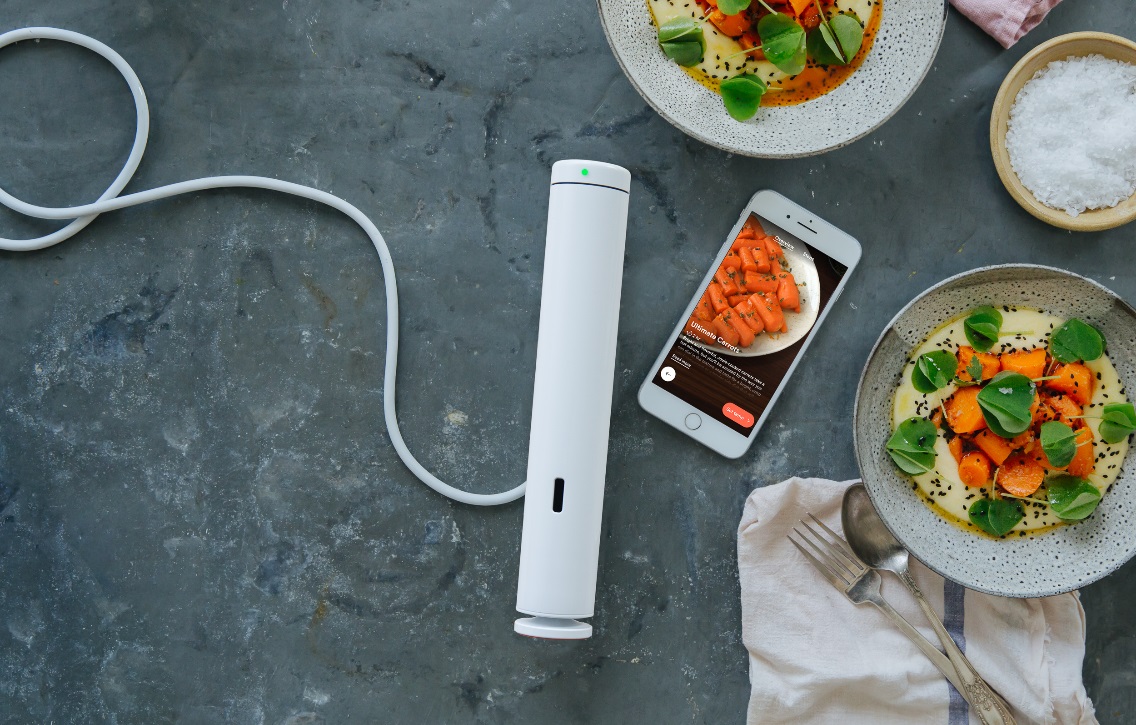 Seattle-based food and technology company ChefSteps has announced the launch of its incredibly powerful, at-home sous vide tool – Joule – in the UK. With a registered waiting list of nearly 5,000 people, the product is available for purchase via Amazon.
Created by Chris Young and Grant Crilly in 2012 out of a desire to help people cook more, cook better, cook smarter and have more fun in the process, Joule is a heating element made for partial water immersion.
Controlled exclusively by its groundbreaking app, water is heated and held at a predetermined temperature in accordance with the selected recipe. This is done with absolute accuracy to ensure that the food placed within the water is cooked evenly. Joule guarantees perfect results, every time, empowering sous vide veterans and novices alike. Bluetooth- and WiFi-enabled, Joule offers freedom to cook from anywhere. The intuitive interface and exclusive, ChefSteps-produced videos encourage creativity and experimentation without the risk of spoiling food.
Joule is only 11 inches in height, 1.85 inches in diameter, and 450 grams in weight, making it lighter than even the smallest consumer sous vide device available today and also small enough to easily fit in a top kitchen drawer. It can be used with almost any standard casserole pot or deep pan and is designed for a lifetime of durability, meaning it can survive an accidental full immersion in water.
"Sous vide is a big part of what we do in our kitchen, but we were frustrated by the existing sous vide gadgets, which are confusing and awkward for the home cook to use. So we decided to take the lead on creating a better sous vide experience for our community of cooks. Joule is a culinary tool that was designed and built to help cooks of every skill level and to make sous vide a real part of today's kitchen—a tool that can help you make amazing meals on busy days or wow guests with special-occasion feasts. Following huge success in the US, we are excited to bring Joule to the UK," commented CEO and co-founder Chris Young.