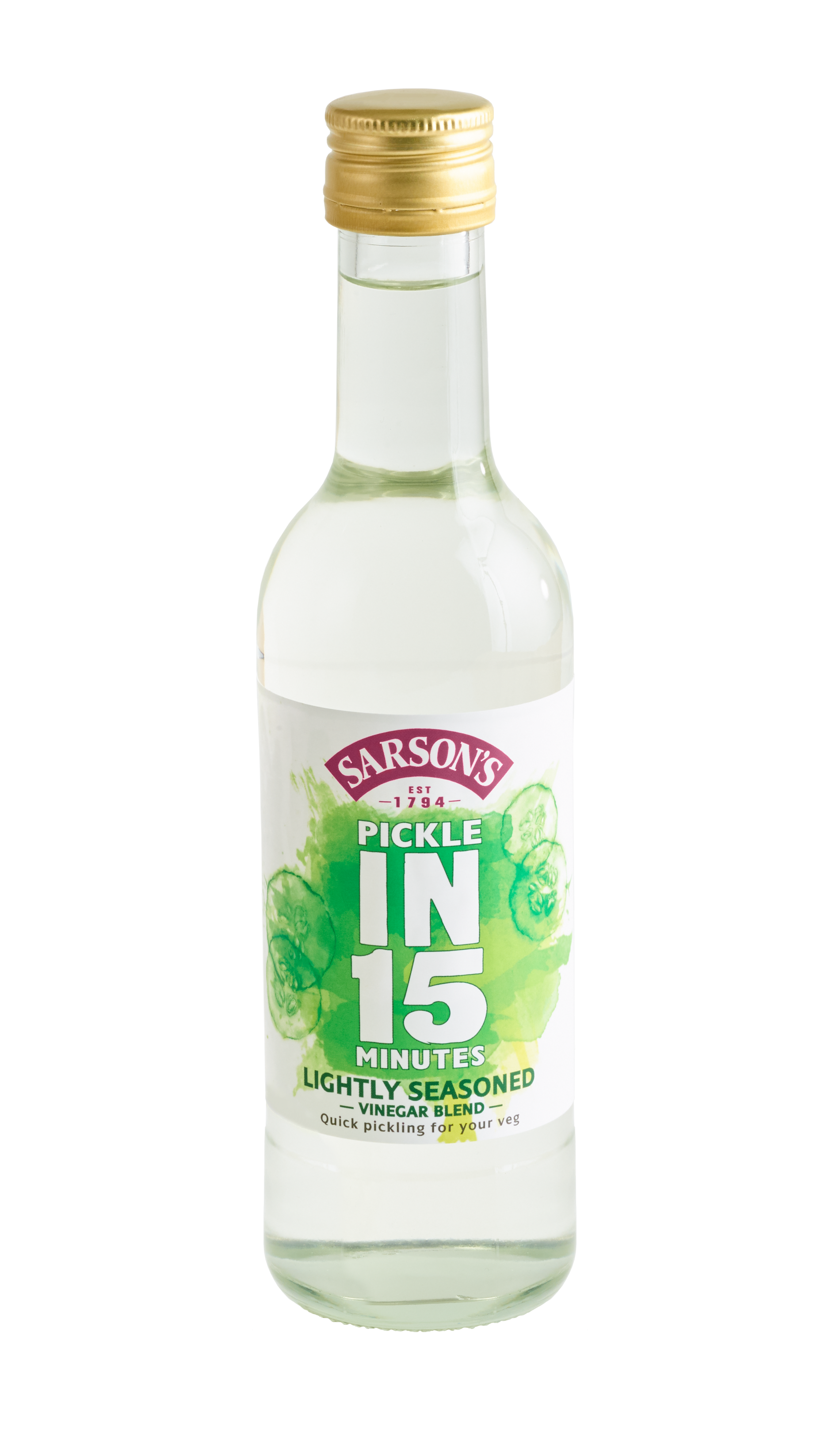 Sarson's latest product has hit supermarket shelves this summer and the nation's foodies can expect bold and exciting flavours in a flash. Sarson's has launched a Lightly Seasoned 'Pickle in 15 Minutes' vinegar blend, which gives food lovers a unique way to add vibrancy to their favourite dishes with sensational flavours that tickle the taste buds and jazz up vegetables and fruit.
The vinegar blend is hugely versatile and infuses thinly sliced, diced or spiralised ingredients with a crisp and fresh tanginess, helping lift ordinary dishes into extraordinary ones in just 15 minutes.
With quick pickling a hot trend for celebrity chefs and restaurants, 'Pickle in 15 Minutes' allows aficionados and rookies alike to replicate the industry's best kept secret in their own home, elevating their meals and accompaniments quickly.
This latest release is easy to incorporate into home cooked meals, with a simple three-step process – 'slice, infuse for 15 minutes, enjoy', meaning those looking to put a mouth-watering spin on their food can do so with ease.
Sarson's Lightly Seasoned 'Pickle in 15 Minutes' is be available at Tesco stores nationwide for £1.69 RRP.
Here is a quick recipe from Sarson's website to help you make the most out of 'Pickle in 15 Minutes':
Quick-Pickled Avocado with Salmon Bagel
Ingredients
½ avocado

1 small pinch of chilli flakes

150ml of Lightly Seasoned Vinegar blend

1 bagel

90g cream cheese

100g smoked salmon

Freshly ground black pepper
Make the pickling
De-stone and peel the avocado and slice lengthways. Add the slices to a bowl with the chilli flakes and pour the vinegar over to cover. Allow the ingredients to infuse for 15 minutes. Cut the bagel in half horizontally using a bread knife and toast.
To serve
Spread the cream cheese evenly between both halves of the bagel. Lay the smoked salmon over and top with a generous amount of pickled avocado. Season with pepper and serve.