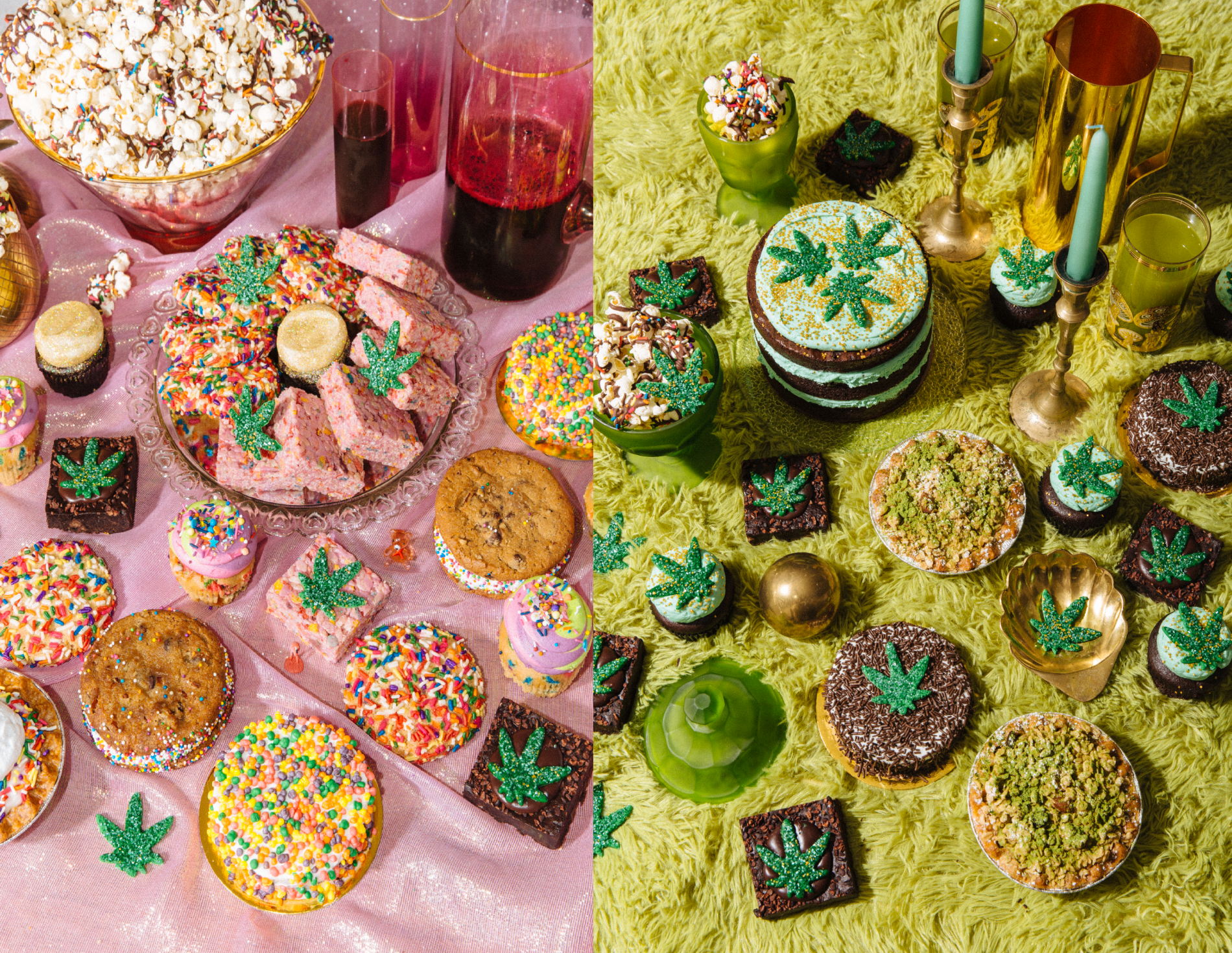 The golden, CBD infused pop-up FEELZ has been launched at by CHLOE, in Covent Garden and One Tower Bridge. For a limited time only, customers are invited to indulge in by CHLOE's FEELZ sweet treats range that consists of multi-coloured items that all contain CBD oil.
The deliciously vibrant items from the limited edition collection include CBD infused brownies, cupcakes, sprinkled cookies, cookie sandwiches, confetti cakes and a peanut butter bone for dogs. Both locations have been completely transformed for the pop-up and are now covered wall to wall in golden 70's decorations.
"I am a big believer in the benefits of CBD and the potential of this ever-expanding industry.  After seeing the overwhelming positive response we received from our Daily Hit Brownie in New York earlier this year, I was inspired to create a full line of CBD-infused items for by CHLOE. customers in both the US and UK. We hope to help bring CBD to the mainstream just like we did with plant-based food when we first opened by CHLOE. more than three years ago," commented by Chloe co-founder, Samantha Wasser.
The London range is made up of the following six unique menu items:
Rice Krispie Pinkie Treat – A bright pink treat of marshmallow, Fruity Pebbles cereal and brown puffed rice at £4.25.

Chocolatey Leafy Browney – New York's sell-out chocolate brownie decorated with a marijuana-shaped fondant leaf at £4.95.

Chocolatey Leafy Cupcakey – Chocolate cupcake decorated with edible gold glitter and topped with a marijuana-shaped fondant leaf at £4.50.

A-TO-CBDEY Cookey – Potato chips, pretzels, pecans and marshmallow chocolate cookies at £3.95.

Rainbowey Cookey Sammie – Two by CHLOE. old fashioned cookies sandwiched by frosting and coated in rainbow sprinkles at £7.95.

Chocolatey Nerdy Cake – A mini by CHLOE. chocolate cakes covered in vanilla frosting and crunchy rainbow Nerds at £9.00.
Initially launched in New York, the FEELZ pop-up has travelled all the way to London for a six-week takeover, starting with Monday, the 15th of October until friday, the 30th of November at both CHLOE locations.