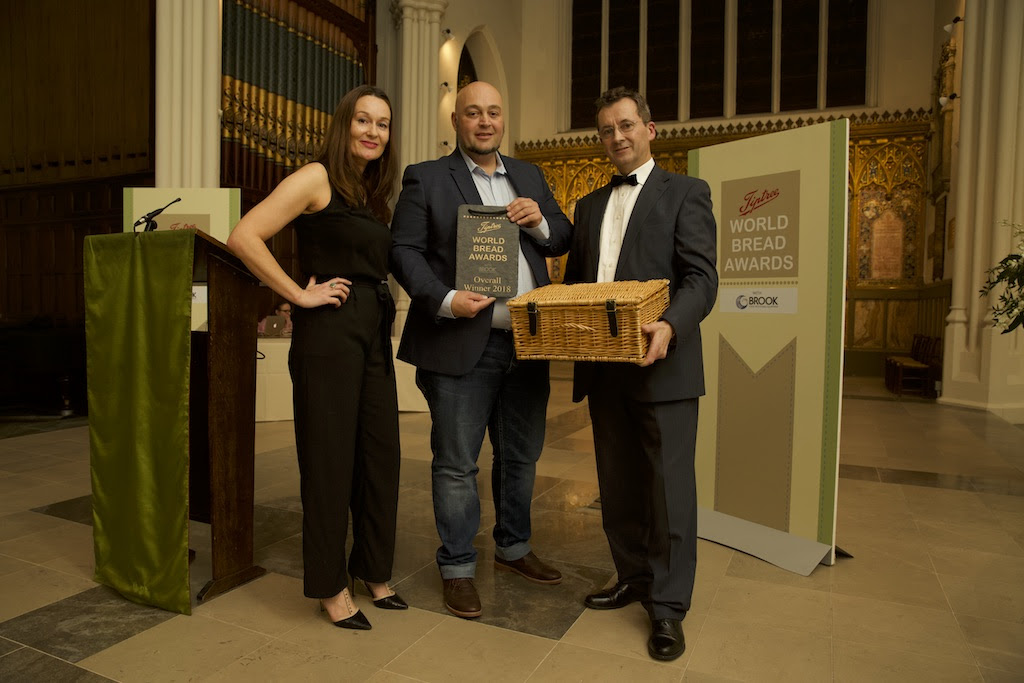 The winners of Tiptree World Bread Awards with Brook Food have been announced at St John's Church, Hyde Park on Tuesday, the 16th of October 2018. Hosted by Stephen Hallam, Master Baker, Managing Director of Dickinson & Morris and Chair of the Judges, the awards ceremony declared Istvan Nadhazi of M's Bakery, Bournemouth as Winner of the Real Bread Campaign supported by Shipton Mill category– and Overall Winner of the Awards.
Istvan was presented with £1,000, a Tiptree hamper and trophy.
"The field was more competitive than ever," said Hallam, whose fellow judges, all 90 of them, included legendary baker Richard Bertinet, Dr John Foster of BBC's Victorian Bakers and Harry Lomas, Executive Head Chef, Wembley Stadium.
Istvan beat off competition from hundreds of loaves sent in from around the United Kingdom – delivered by courier, taxi and in person on the morning of the judging at Cathedral Hall, Westminster Cathedral, to ensure maximum freshness.
Tiptree World Bread Awards with Brook Food, launched in January 2013, seek to celebrate the very best of British bread baking. "The choice, range and quality of bread in Britain today is immense," said Caroline Kenyon, Director of the Awards.
Full list of categories and winners:
Overall Winner
Istvan Nadhazi M's Bakery, Bournemouth French Country Sourdough
Brook Food Sourdough
Ed Clark, Pastonacre, Pastonacre, Norfolk,  Sourdough
Zeelandia Wholegrain
Dominic Salter, Salt Bakehouse, Gloucestershire, Seeded Khorasan Sourdough
Ciabatta
Martha Brown, Forge Bakehouse, Sheffield, Long Fermented Ciabatta
Gluten Free
Davina Steel, MannaVida, Essex, Garlic & Rosemary Focaccia
Carr's Flour Baguette
Justin Gourlay, Real Patisserie, East Sussex, Artisan Sourdough Baguette
Real Bread Campaign supported by Shipton Mill
Istvan Nadhazi, M's Bakery, Bournemouth, French Country Sourdough
Great British White
Linda Kianfar, Foodhaven, East Sussex, Farmhouse
Fruit Bread
Ian Hill, Riddle Me Rye, Edinburgh, Chocolate, Cherry, Almond & Toasted Coconut Sourdough
Flatbread
Roger Haycock, Roger's Bakery, Huddersfield, Focaccia
Speciality Sweet
Paul Robinshaw, Flour Water Salt, Macclesfield, Copenhagen
Speciality Savoury
Mark Bennett, Patisserie Mark Bennett, Dorset, Roasted Roots & Herb Sourdough
Muntons Malt Bread
Carina Carlstrom, Loaf Bakery, Farnham, Seeded Malted Flatbread
Irish Wheaten Loaf
James Herron, Cookie Jar, Newcastle, Northern Ireland, Traditional Wheaten Bannock
Tiptree Showstopper
Tami Isaacs Pearce, Karma Bread, London, Challah Queen Tzanzhong Orange Blossom
Tiptree Patisserie Trainee Baker
Caroline Jevachandran, National Bakery School
Home Baker Open
Jessica Van der Schee, London, Country White
Home Baker Sourdough
Graham Kinnear, Northamptonshire, Cheddar & Ale Sourdough
People's Choice
Today Bread, Walthamstow