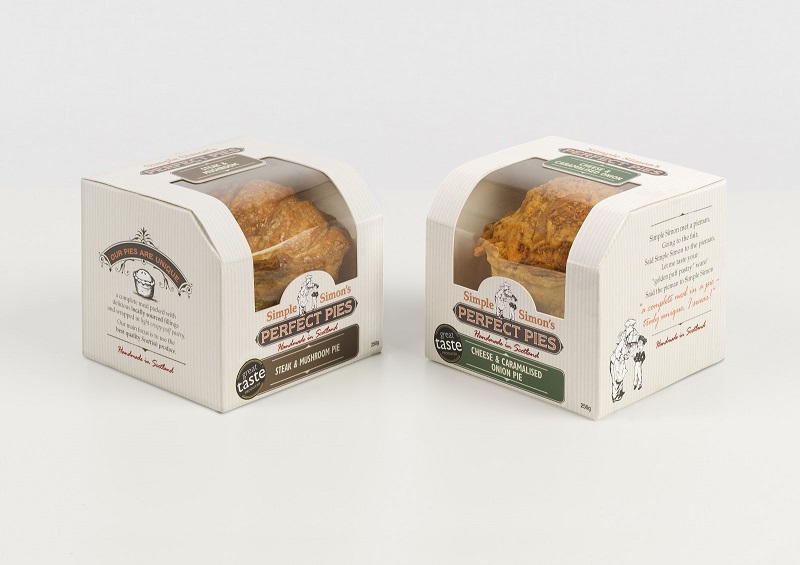 Simple Simon's Perfect Pies have swapped the plastic wrap on their pies for recyclable cardboard boxes, which complement the pies' distinctive shape. All options, including meat, fish, vegetarian and vegan are available for £4.95 each and can be ordered online or from selected retailers.
The pies can be bought individually, as slices or in boxes of 12 (priced at £13.20). The wholesale price list, for orders of minimum 12 pies, include Gourmet Scottish Breakfast Pie for £3.55, Chicken and Tarragon £3.42, Chicken and Gammon £3.26, Steak and Mushroom £3.45, Steak and Ale £3.38, Haggis, Neeps and Tattie £3.30, Heather Honeyed Venison £3.68, Haddock and Leek £3.62, Super Beets and Roasted Root £3.33, Cheese and Caramelised Onion £3.39, Vegetarian Haggis, Neeps and Tattie £3.30.
Simple Simon's Perfect Pies was established in 2005 in Coulter, a tiny village in the south of Scotland. The team of seven people creates recipes, bakes the pies and dispatches then all over Britain. The pies can also be found in Wholefoods, Waitrose and Dobbies, as well as a host of delis, farm shops, restaurants, cafes and pubs. The team also sells directly to customers online and at farmers markets and food shows.
Their boxes are packed with ice gel, which retains suitable temperatures for 48 hours. Orders over £50 or more benefit from post and packaging free of charge, while for orders between £30 and £49.99 the postage and packaging charge is £7.95 and for orders below £30 the post and packaging is £9.95.