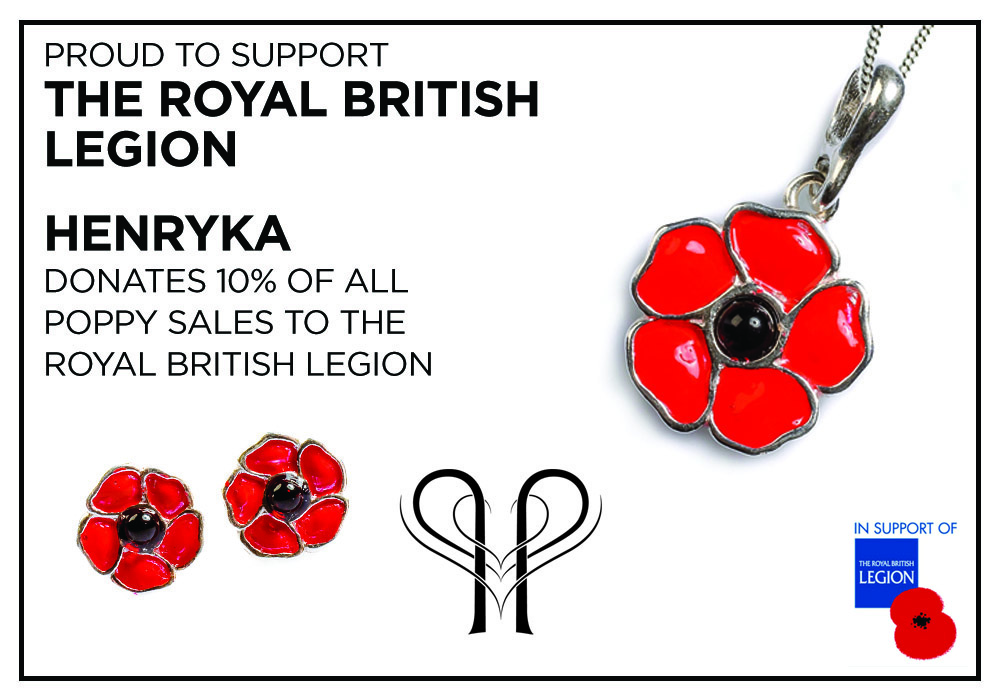 Henryka, the British jewellery brand, and the armed forces charity, The Royal British Legion, have partnered up to raise funds for the charity's annual Poppy Appeal. The three-piece Poppy collection, which includes stud earrings, hook earrings and a necklace, is officially in support of, and recognised by, the Royal British Legion, allowing customers to wear pieces with pride and confidence.
Henryka will donate 10% from the sale of each piece to the charitable cause that aims to support servicemen and women and their families. Crafted in sterling silver, the pieces are set with cherry amber cabochons and surrounded by hand-painted enamel petals. All three red Poppy designs have an RRP of £45.
Henryka has many successful charity partnerships that are supported by dedicated jewellery designs, such as the Angel Wing necklace for The ELY Memorial Fund, the Forget Me Not flower jewellery collection for the Alzheimer's Society, and the Miniature Bumble Bee necklace for the British Beekeepers Association.
Henryka has enjoyed a positive period of growth in the last 12 months and can now boast 80 stockists across the UK, Ireland and the Channel Islands. Its new Antler collection and Christmas-themed designs are expected to excel in the lead-up to the festive sales period.
Henryka was founded by designer Anna Emmett in 2006 and is based in Hereford, where it has also had an own-brand shop since 2010. Collections are inspired by nature, using handpicked gemstones selected by Anna and her jewellery design team to create elegant silver jewellery that is instantly recognisable in Henryka's unique, Bohemian style. The brand's four core ranges are Botanics, Shapes & Stones, Birds & Bees and All Creatures Great & Small.
Henryka has set an ambitious target of opening 100 new accounts with independent retailers by the end of 2018. To date, it has welcomed close to 80 retail partners across the UK and Ireland thanks to successful showings at the Company of Master Jewellers' Trade Event and International Jewellery London. Its stockists include independent retailers, department stores, museums, garden centres and retail spaces at popular tourist attractions.