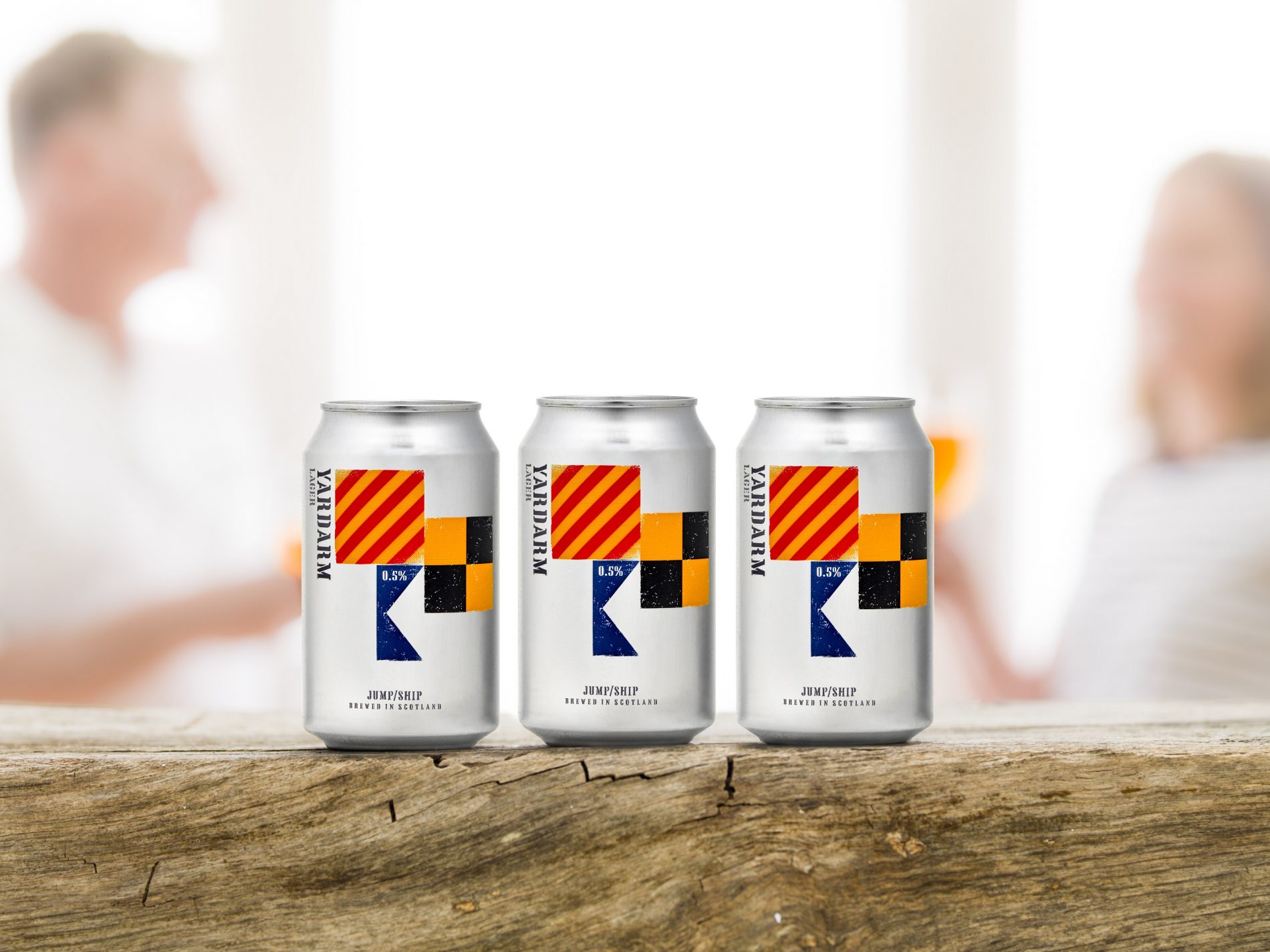 Scotland's first alcohol-free brewing company, Jump Ship Brewing today launches Yardarm, its first beer. The launch comes after a successful crowdfunding campaign, supported by RBS BackHerBusiness, which reached its target in only six days, raising £15,000 in total. More than 170 people backed the campaign from right across the UK and internationally.
Available in 330ml cans, Yardarm, is a crisp, lively lager with a good balance of malt and hops and is the first beer to be released from Jump Ship Brewing.  Brewed in small batches, Jump Ship Brewing uses natural brewing techniques, combining barley, hops and yeast with soft Scottish water, to create as much flavour as possible, with minimal alcohol.
Beer lovers can buy Jump Ship beers online at www.jumpship.beer selling via Drydrinker, the UK's biggest alcohol-free online retailer. At a RRP of £1.99, their beers can be shipped nationally and internationally. Jump Ship is also in discussions in the on-trade with specialist pubs, restaurants and wholesalers looking at stocking the beer.
Sonja Mitchell, a keen sailor, beer-lover and mother of three, decided to 'jump ship' from her marketing job to launch the business. The idea behind Jump Ship was born in December 2018 out of a love of beer but a horror of hangovers. Keen to enable more people to enjoy great beer without the booze, Sonja set out to discover if she could produce a world-class alcohol-free beer in Scotland.
Sonja, who brewed this beer from her own recipe, describes Yardarm as a zesty, biscuity and discretely bitter lager. It is brewed with Citra and Styrian Bobek hops for a full flavour finish, similar to a well-balanced IPA.  The beer is gluten-free, vegan and lower in calories than standard beers.
Commenting on the new alcohol-free beer Sonja Mitchell, said:
"It's been incredible to see the response to the crowd-funding bid. Having the backing of so many amazing people, not only gives me the financial resources needed to get to market, but I also know that there's a crowd of people looking forward to drinking my beer. The wind is truly in my sails. It's time to Jump Ship!
Commenting on the name of the first release, Sonja said:
"The yardarm is the edge of the spar (or yard) on a mast where sails are set. It used to be a tradition in the navy that sailors were given their first ration of rum when the sun reached over the yardarm (about 11am in summer in the North Atlantic).  'Sun's over the Yardarm' is a common call out for the first drink of the day, and at only 0.5% ABV, you could even enjoy our Yardarm lager for breakfast if you liked!"
Jump Ship Brewing is keen to ensure the business has a strong charitable focus with Sonja committed to donating at least 10% of the profits to a variety of charities, which will be nominated by Jump Ship's customers or 'ship mates' as they are aptly called.
Yardarm contains 40 calories per can with roughly a third of the calories found in an equivalent can of 4% ABV beer.  At less than 0.5% ABV, it contains roughly the same level of alcohol as a large ripe banana.